Home » KINGDOM OF THE WINDS (2008)
KINGDOM OF THE WINDS (2008)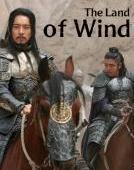 Asia Team Romania are onoarea de a oferi, in premiera in Romania, subtitrarea la toate cele 36 de episoade ale acestui serial care, in aceste momente, tine cu sufletul la gura aproape 20% din populatia Coreei de Sud, dupa cum o arata statisticile. Nimeni nu a mai incercat pana acum sa-si asume responsabilitatea demararii unui asemenea proiect ambitios, cu atat mai mult cu cat este vorba de o realizare din Extremul Orient. In ultimii ani, insa, datorita in mare parte si echipei Asia Team Romania, un numar considerabil de productii asiatice au putut deveni accesibile si publicului din Romania, odata cu existenta si a unor subtitrari de calitate, asa cum filmele asiatice le merita din plin. O premiera a fost insasi infiintarea acestui site, unde fanii productiilor asiatice sunt tinuti la curent cu tot ce misca in lumea filmului din Extremul Orient si nu numai. Tot cu o premiera am ales sa incheiem acest an, prin subtitrarea acestui serial facandu-se inca un pas inainte in proiectul Asia Team. Speram ca efortul nostru va fi apreciat de catre toti cinefilii iubitori de filme asiatice, carora inca de pe acum le uram vizionare placuta si sarbatori fericite in compania acestui serial fascinant.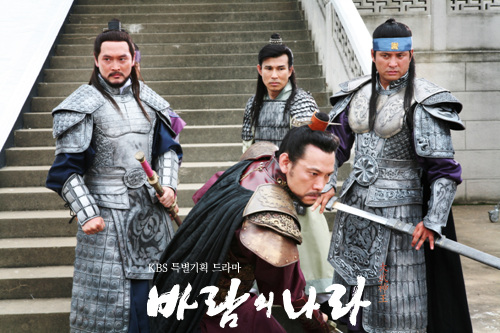 "Kingdom of the Winds" este cea mai noua k-drama de epoca produsa si lansata de televiziunea coreeana KBS. Perioada de rulare la televiziune este intre 10 septembrie 2008 si 8 ianuarie 2009, timp in care vor fi difuzate toate cele 36 de episoade ale sale. Costurile de productie s-au ridicat la peste 20 de milioane de dolari, si dupa difuzarea primelor episoade, serialul s-a dovedit a fi un real succes. "Kingdom of the Winds" s-a lansat la 2 ani distanta de un serial coreean cu un subiect similar, care a facut furori in Coreea de Sud, este vorba de "Jumong", o drama istorica produsa de concurentii MBC in 60 de episoade, care datorita popularitatii au fost extinse la 81. Serialul portretiza viata lui Jumong Taewang, fondatorul regatului Goguryeo.
"Kingdom of the Winds" prezinta o poveste oarecum legata cronologic de cea din "Jumong". Mai exact, este vorba de viata nepotului lui Jumong, Moo Hyul, care mai tarziu va deveni Daemusin. In rolul principal este distribuit Song Il Kook, acelasi care l-a portretizat pe Jumong in urma cu 2 ani. Song Il Kook il interpreteaza, de data aceasta, pe Moo Hyul (Muhyul), nepotul regelui Jumong, care va deveni cel de-al treilea rege al Goguryeo.
EPISODUL 1; EPISODUL 2; EPISODUL 3;
EPISODUL 4; EPISODUL 5; EPISODUL 6;
EPISODUL 7; EPISODUL 8; EPISODUL 9;
EPISODUL 10; EPISODUL 11; EPISODUL 12;
EPISODUL 13; EPISODUL 14; EPISODUL 15;
EPISODUL 16; EPISODUL 17; EPISODUL 18;
EPISODUL 19; EPISODUL 20; EPISODUL 21;
EPISODUL 22; EPISODUL 23; EPISODUL 24;
EPISODUL 25; EPISODUL 26; EPISODUL 27;
EPISODUL 28; EPISODUL 29; EPISODUL 30;
EPISODUL 31; EPISODUL 32; EPISODUL 33;
EPISODUL 34; EPISODUL 35; EPISODUL 36;
ARHIVA SUBTITRARI LIMBA ROMANA
ALTE MATERIALE LEGATE DE SERIAL:
"Kingdom of the Winds: in loc de epilog" (Articol)
"In Life and Death" MV (Soundtrack)