Home » COFFEE PRINCE (2007)
COFFEE PRINCE (2007)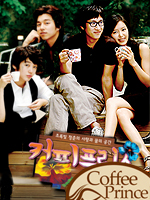 Anul 2007 a fost unul de senzatie pentru postul coreean de televiziune MBC. Pe langa serialul "The Great King", care a spart cam toate recordurile in domeniu (cel mai scump serial "all time" din Coreea, cel mai bine platit actor in rolul principal – Bae Yong Joon) si a avut una din cele mai mari audiente, MBC a scos aproape in aceeasi perioada serialul Coffee Prince. Dupa un inceput ezitant, avand premiera pe 2 iulie 2007, "Coffee Prince" (cunoscut si sub numele de "The First Shop of Coffee Prince") a urcat treptat, de la ratinguri nationale de 14,4 (ep.1), 18,1 (ep.3) si 19,3 (ep.5), la 23,2 (ep 6), atingand varful de rating in Coreea la ep 12 (29,9). Comparativ, "The Great King" a avut o medie a ratingului de 29,5, insa a atins varful la ultimul sau episod, 35,7. Trebuie facuta aceasta comparatie dintr-un motiv foarte simplu: "Coffee Prince" a fost marea perdanta a anului 2007. Serialul a fost complet complexat la Premiile MBC din 2007 de "The Great King", alegandu-se cu o multime de nominalizari (8 la numar) si cu doar 3 premii. Cu toate acestea, in scurt timp "Coffee Prince" si-a castigat o mare popularitate, si asta nu doar in Coreea, ci si peste hotare (in Filipine a atins si ratinguri de 37%, in conditiile in care acolo s-a difuzat o varianta de 55 episoade mai scurte).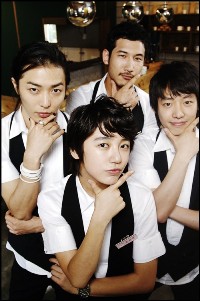 Serialul are 17 episoade a peste o ora fiecare. In rolurile principale veti avea ocazia sa cunoasteti alte 3 staruri ale serialelor coreene. In primul rand e vorba de actrita Yoon Eun-Hye (23 de ani la data filmarilor), de asemenea cantareata, model si prezentatoare tv. Si-a castigat popularitatea in serialul "Goong" ("Princess Hours"), insa in "Coffee Prince" a devenit si mai celebra. Serialul i-a ridicat cota, devenind una din primele 20 de actrite cele mai bine platite din Coreea. Rolurile principale masculine revin unor actori tineri si aratosi, extrem de talentati. Gong Yoo, care este si model in viata de zi cu zi, a dat lovitura cu acest serial, dupa ce anterior a intrat in atentia telespectatorilor pentru rolul sau din serialul "One Fine Day". La fel, inaltul Lee Sun Gyun a fost lansat in lumea buna de acest serial, la scurt timp prinzand un rol principal in serialul din lumea medicala "White Tower". Bonus ! In serial va aparea, intr-un rol secundar, nimeni altul decat interpretul lui Chubalso din "Kingdom of the Winds" si starul din "Antique", Kim Jae Wook.
Datorita popularitatii serialului, MBC a decis sa realizeze un episod special, Gong Yoo urmarindu-l din mijlocul a 1000 de fani din intreaga Asie. Serialul a castigat si 3 premii MBC: Premiul de Excelenta pentru actrita Yoon Eun-Hyo si premiul pentru interpretare pentru actorul Gong Yoo. A 20-a editie a premiilor producatorilor coreeni din februarie 2008 a fost castigata de serialul "Coffee Prince", considerat cel mai bun serial al anului 2007, iar la premiile Baeksang din aprilie 2008, Yoon Eun-Hyo a castigat din nou premiul pentru cea mai buna actrita, alaturi de producatorul serialului, ce a castigat premiul pentru cel mai bun producator debutant.
Care este povestea care va va delecta de-a lungul celor 17 episoade ?

Go Eun Chan este o tanara de 24 de ani pe care situatia precara a familiei a obligat-o sa accepte orice fel de slujba. Livreaza lapte dimineata, preda taekwondo unor copii si are o slujba cu jumatate de norma unde livreaza mancare la domiciliu. Neavand un aspect fizic prea feminin, tanara e deseori confundata cu un baiat.

Choi Han Kyul este un tanar de 29 de ani care nu are alt scop in viata decat sa se distreze. Este nepotul rasfatat al presedintei unei mari companii alimentare si se intoarce din SUA la cererea bunicii sale. Desi fac parte din lumi complet diferite, cei doi se vor intalni in mod accidental.

Celalalt cuplu din serial este reprezentat de Han Yoo Joo si Choi Han Sung. Han Yoo Joo este o tanara pictorita care se intoarce la Seul dupa 2 ani de studii la New York. Choi Han Sung, varul lui Choi Han Kyul (nepotul rasfatat) si fostul iubit al lui Han Yoo Joo, este un producator muzical de succes. Cei doi incearca sa treaca peste despartirea provocata de Yoo Joo si sa reinceapa o relatie. Problemele apar imediat deoarece Yoo Joo se asteapta sa fie iubita in acelasi fel, neconditionat si total, dar pe Han Sung suferinta provocata de despartire il schimbase destul de mult. Destinele tuturor acestor personaje se vor intalni mai intai accidental, apoi se vor intretaia definitiv in momentul in care Choi Han Kyul va prelua o cafenea (devenita ulterior "Coffee Prince").
Momentele comice si interpretarea de exceptie a actritei Yoon Eun-Hye a rolului baietoasei si noncomformistei Go Eun Chan, confuziile create de celelalte personaje la vederea aspectului ei barbatesc si numeroasele surprize placute ce apar pe parcurs vor face deliciul celor ce vor urmari cu sufletul la gura acest serial, care are absolut de toate. Unul din cele mai vizionate seriale coreene din toate timpurile, un "must see" pentru toti fanii adevarati ai serialelor asiatice. Vizionare placuta tuturor !