Home » DONG YI (2010)
DONG YI (2010)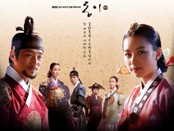 "Dong Yi" este noul serial coreean dramatic de epoca care continua seria serialelor de succes pe teme similare inaugurata de "Jewel in the Palace" si continuata de "Yi San". Cunoscut si sub numele "Dong Yi – Jewel in the Crown", poate mai mult din considerente de marketing si reclama, serialul il are la timona pe veteranul Lee Byung Ho (65 de ani), care anterior a regizat alte doua succese din perioada istorica apropiata actiunii din "Dong Yi", "Jewel in the Palace" si "Yi San". Serialul, care initial se preconizeaza a avea 50 de episoade, a inceput sa fie difuzat la televiziunea coreeana MBC incepand cu 22 martie 2010, intr-un ritm de 2 episoade pe saptamana. Dar de la primul episod, acesta a avut ratinguri in urcare, de la 17,2 % ajungand pana la 19,2% in prezent. Comparativ cu Queen Seon-Deok,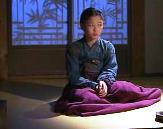 anteriorul succes al postului MBC, ale carui prime 2 episoade au avut ratinguri de 16%, sarind de la episodul 3 peste 20 %, putem spune ca "Dong Yi" nu a rupt gura targului. Cu toate acestea, raportat la serialele difuzate pe intervalul orar similar pe alte posture de televiziune coreene, "Dong Yi" a surclasat principalul serial al unui canal concurrent, KBS, "Birth of a Rich Man", ce are ratinguri oscilante intre 14-16%. Fiind un serial in difuzare, este greu sa anticipezi evolutia viitoare a serialului in preferintele telespectatorilor, insa avandu-l ca regizor pe Byung Ho, e greu de crezut ca serialul va dezamagi asteptarile tuturor.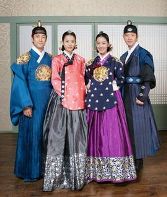 Un alt punct forte al serialului, dupa regie, este distributia. Fanii serialelor asiatice din Romania vor avea surpriza de a recunoaste o multime de actori vazuti in seriale anterioare traduse in limba romana de Asia Team Romania sau postul public de televiziune. Actrita Han Hyo-joo o interpreteaza pe Dong Yi. Fanii serialului "Iljimae" probabil o vor recunoaste pe interpreta lui Eun Chae, personajul care reuseste sa patrunda in sufletul eroului Iljimae. Poate nu va vine sa credeti, insa similitudinile merg mai departe, iar actorul-copil care o interpreteaza dezinvolt, cu un mare talent, pe Dong Yi in copilarie, Kim Yoo Jung, a interpretat-o si pe Eun Chae in copilarie, in serialul "Iljimae" (acea fetita care asculta cu Iljimae cantecul unei mierle in livada cu pruni infloriti).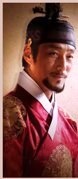 Ji Jin-hee (protagonistul serialului "Jewel in the Palace" si al filmului "Soo") revine pe micul ecran in rolul regelui Sukjong. El interpreteaza un rege elevat, insa stangaci in unele situatii, hotarat insa si cu multe slabiciuni. Nu este genul de personaj care sa atraga toate privirile, asa cum o face Kim Nam-Gil in "Queen Seon-Deok", iar la 38 de ani pare putin batran pentru rolul sau. Ramane de vazut cum va fi apreciata prestatia lui de telespectatori. O aparitie care trezeste frumoase amintiri este a lui Jung Jin Young, interpretul regelui Yuri in serialul "Kingdom of the Winds". El interpreteaza un personaj pozitiv prin excelenta, pe care constiinta si datoria fata de tron il calauzesc mereu spre cararile ocolitoare ale spinoaselor intrigi de la Curte, in rolul Comandantului Suh. Cat despre restul personajelor, veti regasi o multime de figuri cunoscute care in alte seriale au avut roluri secundare, dar care e imposibil sa fi trecut neremarcati (e vorba de actori aparuti in Hong Gil Dong, Yi San, Iljimae sau Jewel in the Palace).
Serialul prezinta viata Doamnei Choi Sook-bin, care a avut o origine umila si al carei destin a fost marcat de intrarea la Curtea Regala de la o varsta frageda, incepand lungul drum catre o ascensiune spre varf. De o inteligenta si intuitie iesita din comun, aceasta va reusi, pas cu pas, sa invete culisele luptei politice si a intrigilor de la Palat din timpul regelui Suk-jeong (1661-1720), iar mai apoi sa devina concubina regala, dand nastere unui fiu. Serialul prezinta si perioada de dupa nasterea fiului regelui Suk-jeong, si lupta lui Dong Yi pentru protejarea fiului ei, pe care l-a crescut oferindu-i o educatie si o disciplina stricta.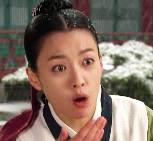 Cu toate ca serialul este, in mare parte, o fictiune, talentul regizoral si cunosterea foarte buna a perioadei istorice analizate reuseste sa redea farmecul unei epoci si a unei vieti – cea de la Palat – care altfel ne-ar fi fost greu sa o intelegem. Doamna Choi Sook-bin (Dong Yi in serial) a existat in realitate, insa ea nu a fost decat una din cele 10 consoarte ale regelui Suk-jeong. Inainte de a deveni concubina regala, nu exista nici un fel de insemnari despre viata acesteia, astfel ca scenaristii serialului si-au putut da frau liber imaginatiei, inventand o poveste impresionanta a unui destin crunt, pe fondul unei intrigi politiste. Se spune ca Doamna Choi Sook-bin, slujitoare la Palat a reginei Inhyeon, s-ar fi rugat intr-o seara pentru sanatatea reginei, cand regale Suk-jeong, trecand prin apropiere, ar fi auzit-o si, miscat de bunatatea ei, ar fi facut-o concubina regala.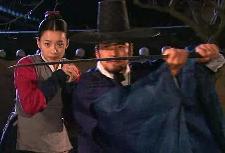 Desigur, imaginatia scenaristilor a redat aceasta scena in serial, insa doar esenta ei: intr-o seara, in timp ce se plimba prin gradina, regale aude sunetul suav al unei melodii cantate la un instrument traditional coreean de Dong Yi. Fara a sti cine canta melodia, porunceste ca interpretul sa fie adus in fata lui. Intalnirea celor 2 se amana pentru un timp, insa se va produce intr-un cu totul alt context, departandu-se de realitatea istorica. In schimb, personajele principale din serial sunt figuri reale ce au trait la Curte in acea perioada.
Dar sa nu dezvaluim prea multe despre acest serial, pentru a nu distruge farmecul vizionarii lui si descoperirii fiecarui lucru in parte, cu fiecare episod nou. Daca v-a placut "Yi San", universul imaginat de Lee Byung Ho si culisele vietii de la Palat, "Dong Yi" va va oferi aceeasi atmosfera si numeroase alte surprize placute. Subtitrarea realizata de echipa noastra se ridica la nivelul asteptarilor tuturor cinefililor iubitori de calitate, fiind realizata in spiritul limbajului epocii. Vizionare placuta !
Prezentare realizata de cris999 (c) www.asiacinefil.com