Home » KIMI WA PETTO (2003)
KIMI WA PETTO (2003)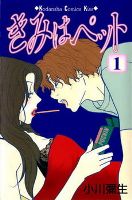 Sub numele initial "Tramps Like Us" ("Kimi wa petto"), in 2000 era lansata in Japonia seria josei manga a autoarei Yayoi Ogawa. Literal, "josei manga" s-ar putea traduce prin "manga doamnelor", fiind un gen aparte in cadrul manga al carei fir principal se axeaza pe experientele de zi cu zi ale femeilor din Japonia. In general "josei manga" acopera vietile femeilor mature, insa exista si unele care abordeaza viata de liceu si anii adolescentei. Ele portretizeaza povesti de dragoste realiste, opuse povestilor idealizate ale "shojo manga"(destinate audientei de pana in 18 ani). Initial a aparut un singur capitol din aceasta manga, insa succesul ei a determinat o continuare, iar pana in 2005 au fost scrise 82 de capitol care au fost publicate in 14 volume intre decembrie 2000 si decembrie 2005. Manga a fost ulterior distribuita si pe continentul nord-american, luand numele "Tramps Like Us", dar si in Franta, Germania sau Italia.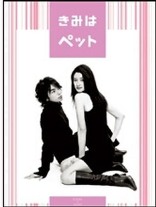 In 2003, televiziunea japoneza TBS a achizitionat dreptul de realizare a unui "live-action" in 10 episoade dupa aceasta manga. In rolurile principale au fost distribuiti doi actori in voga la acea vreme, in plina ascensiune in industria de film japoneza. Koyuki (pe numele intreg Kato Koyuki) este in present o vedeta, in Japonia. A jucat, pana la acest rol, in filme precum Kairo (Kiyoshi Kurosawa), Alive sau The Last Samurai (cu care a debutat oficial la… Hollywood !), iar recent actrita a avut o prestatie de calitate – probabil cea mai importanta din cariera – in blockbuster-ul finantat de americani "Blood: The Last Vampire". Alte roluri memorabile ce au propulsat-o spre statutul de star au fost: "Eragon", "The Blue Wolf:to the Ends of the Earths and Sea", "Gegege no Kitaro", "Redcliff", iar cel mai nou film in care a fost distribuita e mult asteptatul "Kamui Gaiden". Koyuki este un fost model devenit actor in seriale, iar apoi in filme pentru marele ecran. A aparut intr-o multime de reclame la televiziune, iar rolul din Kimi wa petto este si primul ei rol intr-un serial de televiziune. Partenerul ei din serial este Matsumoto Jun, care nu mai are nevoie de nici o prezentare. S-a remarcat in serialul "Gokusen" (2002), iar un an mai tarziu accepta sa-l interpreteze pe Momo in Kimi wa petto. Ira de aici cariera lui s-a schimbat. A urmat "Hana Yori Dango" in 2005, 5 premii castigate pentru 5 roluri diferite, un rol in remake-ul dupa filmul lui Kurosawa ("Hidden Fortress")"The Last Princess", si o popularitate de invidiat in randul actorilor japonezi ai noului val. La 27 de ani, Matsumoto are lumea la picioare.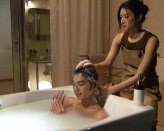 "Kimi wa petto" este un serial de comedie cu note de romantism, agreabil si amuzant deopotriva. Sumire (Koyuki) este o ziarista frumoasa, de succes, si inteligenta. Toate aceste calitati ii fac pe cei din jur invidiosi, acestia inchipuindu-si ca Sumire este fericita si are o viata implinita. Insa lucrurile nu stau deloc asa. Intr-una din zile, intorcandu-se debusolata de la lucru, gaseste in fata blocului ei o cutie, iar in ea… un tanar aratos, ranit si zgribulit de frig. Miloasa, aceasta il duce in apartamentul ei si-l trateaza. Ii da numele Momo, dupa cainele ei din copilarie, si decide sa-l pastreza ca pe "animalul ei de companie". Acesta e inceputul unei realtii neobisnuite si a unei vieti neasteptate traite impreuna de cei doi, de pe pozitia de stapan si animal docil. In scurt timp dificultatile vietii nu ezita sa apara, insa cei doi incearca sa treaca peste ele cu optimism si speranta.Dar poate exista, iubirea, dincolo de prietenie, in acest context ?
Un serial optimist, plin de buna dispozitie si situatii intortochiate din care personajele noastre vor incerca sa razbeasca chiar si atunci cand ele par fara iesire. Nu este un serial exclusivist, dedicat doar femeilor, putand fi urmarit fara probleme de intreaga familie, in special ca este suprinzator de bun, transmitand experiente de viata remarcabile. Desi a fost realizat in 2003, serialul continua sa ramana in preferintele japonezilor si astazi, fiind inclus intr-un top 10 al celor mai bune seriale all-time facute in Japonia. Nu intamplator in acest an, producatorii coreeni intentioneaza sa faca un film inspirat din manga japoneza de succes. Inca un motiv sa fie savurat de amatorii de comedii romantice fara nici un regret, pentru ca in mod sigur nu vor fi dezamagiti.
Echipa asiacinefil tine sa multumeasca pe aceasta cale colaboratorilor din Ungaria (Ariana si echipa Sekai Fansub) pentru disponibilitatea fara rezerve manifestata de a ne ajuta in promovarea acestui serial greu de procurat inclusiv de pe site-urile de specialitate., ca si ajutorului oferit la nevoie din Japonia de o persoana inimoasa (Emi). Speram ca efortul echipei si al colaboratorilor nostri sa fie apreciat la justa valoare de amatorii acestui gen de seriale din Romania (si nu sunt deloc putini). In functie de parerea lor ne vom putea orienta pe viitor si spre abordarea altor genuri de seriale, inclusiv apartinand si altor cinematografii decat cea coreeana.
Prezentare realizata de cris999 © www.asiacinefil.com