Home » THE FUGITIVE: PLAN B (2010)
THE FUGITIVE: PLAN B (2010)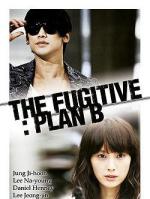 Daca pana acum asiacinefilii indragostiti de seriale au avut parte de realizari romantice, melodramatice, istorice sau de spionaj, de aceasta data echipa Asia Team Romania va ofera subtitrat in limba romana un serial de senzatie: "The Fugitive: Plan B". Este vorba de un serial ce combina actiunea cu umorul, oferind buna dispozitie si adrenalina cat cuprinde. Serialul este regizat de noncomformistul Kwak Jung-Hwan, cel care in acest an a dat lovitura carierei cu anteriorul serial regizat, nici mai mult nici mai putin decat mult laudatul "Chuno-Slave Hunters". Cheon Seong-Il este scenaristul, cel care ne-a incantat anterior cu scenariul la acelasi "Slave Hunters" sau la filmul de succes "My Girlfriend is an Agent". Serialul, de 20 de episoade, a inceput sa fie difuzat la postul coreean KBS2 pe 29 septembrie, si si-a surclasat concurenta din zilele de difuzare ale episoadelor inca de la primul episod, ce a inregistrat un rating de 20% la nivel national.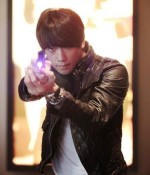 Distributia serialului este, cum era de asteptat, pe masura asteptarilor. In rolul principal apare megastarul muzicii pop coreene, Rain, cel care in 2007 aparea in "People Magazine" in topul "Celor mai frumosi oameni"din lume, dup ace debutase in lumea filmului cu rolul din "I'm a Cyborg but that's OK" a lui Park Chan-wook in 2006, film ce a castigat premiul Alfred Bauer la Berlinale. Rain este popular in intreaga Asie, la concertele sale biletele epuizandu-se in doar cateva minute (la primul sau concert solo tinut in Japonia biletele s-au epuizat in… 30 de secunde, online !) Faima lui a ajuns repede si peste hotare, concertand alaturi de vedete internationale precum Madonna, Michael Jackson, U2 sau Ricky Martin. A jucat in mai multe seriale coreene de succes, precum Full House, A Love to Kill sau Sangdoo ! Let's go to School, iar recent a debutat la Hollywood cu rolul din "Ninja Assassin". Conform statisticilor pentru primele 2 episoade, ce au fost deja difuzate in Coreea, serialul "Fugitive: Plan B" a prins cel mai bine la toate categoriile de varsta pana la persoanele de 50 de ani, iar acest succes se datoreaza fara indoiala prezentei megastarului in distributie. Veti vedea un Rain care nu are nici un fel de retineri cand vine vorba de scenele de actiune, iar episodul 3 il va arata dezlantuit.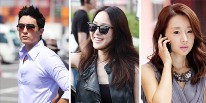 Daniel Henney este o alta vedeta distribuita in acest serial de top. Carismaticul actor coreeano-american, fost model, a avut un debut fulminant pe micul ecran cu rolul din My Lovely Kim Sam Soon, un serial ce se anunta unul oarecare, dar care a dat lovitura in 2005, devenind unul din cele mai urmarite seriale coreene din toate timpurile. De atunci, Henney a aparut intr-o multime de reclame si emisiuni de divertisment, iar in 2009 a debutat la Hollywood cu rolul Agent Zero din "X Men-Origins: Wolverine". Dupa aparitia din serialul "Spring Walts", Henney a fost distribuit intr-un serial inspirat din lumea medicala, "Three Rivers", difuzat toamna trecuta la canalul american de televiziune CBS. Actrita de 31 de ani Lee Na-Young revine dupa 6 ani pe micul ecran intr-un serial, anterior avand aparitii reusite in seriale care nu au avut un succes deosebit, precum "Ireland" sau "8 Love Stories". Totusi, ultimii ani actrita si i-a dedicat vietii personale, dar si filmelor pentru marele ecran, cea mai importanta colaborare fiind cu Kim Ki-duk la filmul "Dream". In "Fugitive: Plan B" actrita va suferi o transformare importanta de imagine, avand o privire impresionanta si patrunzatoare, ce tradeaza deopotriva mister si tristete. Lee Jeong-Jin si Yun Jin-Seo (Wol Hee din "Return of Iljimae") completeaza distributia, in care vor avea aparitii episodice o multime de personaje cu care v-ati familiarizat deja din serialul "Chuno –Slave Hunters".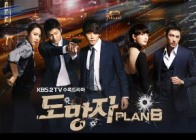 Filmul are o multime de scene de urmariri cu masina fantastic realizate (nu uitati ca la carma serialului e regizorul lui Chuno !), inclusiv scene filmate la inaltime, dintr-un avion. Serialul a inceput filmarile in Japonia, dar mai apoi acestea s-au mutat intr-o serie de tari asiatice (China, Filipine, Macao), avand un buget consistent. Serialul are parte de efecte vizuale de senzatie, specifice filmelor pentru marele ecran, incercand sa surprinda dinamica, exotismul si frumusetea locatiilor unde s-au efectuat filmarile. Toata lumea se astepta la scene spectaculoase deosebite, avand in vedere antecedentele regizorului, iar imbinarea spectaculosului cu un scenario captivant, plin de surprize, au dus la un serial incitant, asa cum nu s-a mai vazut demult.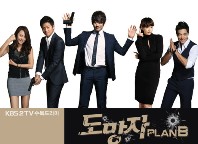 Despre ce este vorba in "The Fugitive" Plan B" ? In timpul Razboiului Coreean, o mare suma de bani dispare. La 60 de ani mai tarziu, in prezent, banii reapar, ducand la o urmarire cum nu s-a mai vazut, pe intreg mapamondul. Jin Yi (Lee Na Young) pare o femeie inocenta, care are motive ascunse sa se apropie de Ji Woo (Rain). Planurile ei sunt complicate de o neasteptata aventura pe care o are cu acesta, in timp ce numerosi urmaritori se afla pe urmele lor. Kieko, o faimoasa cantareata japoneza al carei tata e membru al temutei Yakuza, e si ea implicata intr-o relatie cu acelasi Ji Woo, si astfel triunghiul amoros s-a creat. Care dintre cele doua va reusi, in final, sa castige dragostea lui Ji Woo ? Si ce rol are acea uriasa suma de bani regasita de cel considerat " cel mai bun detectiv privat din Asia" ? Faptul ca lucrurile se complica si intriga devine tot mai captivanta cu fiecare episod scurs sunt suficiente argumente pentru a urmari inca un serial deosebit, tradus in premiera in Romania de Asia Team Romania (traducator maman_12003). Vizionare placuta !
Prezentare realizata de cris999 – asiacinefil.com