Home » MARELE REGE ŞI CELE PATRU ZEITĂŢI (2007)
MARELE REGE ŞI CELE PATRU ZEITĂŢI (2007)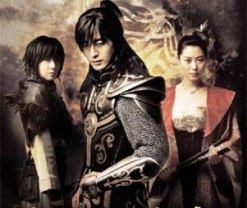 "Marele Rege si Cele Patru Zeitati" va invita intr-o lume cu creaturi fantastice si legende uimitoare, o poveste care imbina magia cu aventura si istoria cu mitul. Serialul insista pe prezentarea vietii (inconjurata de o aura magica si de fantezie) celui de-al 19-lea rege din dinastia fondata de Jumong, al regatului Goguryeo, din secolul IV e.n. Legenda spune ca fondatorul miticului Jooshin, fiul Regelui din Cer, asemeni miturilor fondatoare europene, ar fi creat stravechiul Jooshin cu ajutorul a patru Zeitati: Dragonul Albastru, Tigrul Alb, Fenixul si Sarpele Testos. El ar fi proorocit ca peste multi ani va reveni pe pamant, in noaptea in care pe cer va aparea steaua Jooshin. Numai ca peste 2.000 de ani, cand in sfarsit apare mult asteptata stea, nu unul, ci doi printi se nasc sub semnul ei. Care este adevaratul Rege Jooshin ? Care e, de aceasta data, misiune alui pe pamant ? Legenda acestora da viata acestui serial, urmarind personajele in fiecare episod.
Realizarea serialului este una de exceptie, cum chiar putine filme de lung metraj (nu seriale) de top de la Hollywood au realizat de-a lungul timpului. Acest lucru nu trebuie sa mire, cata vreme filmarea celor 24 de episoade a durat aproape 2 ani (spre deosebire de Kingdom of the Winds, spre exemplu, unde totul s-a filmat in 7 luni). Bugetul serialului este cel mai mare din istoria unei televiziuni coreene, ridicandu-se la 45 de bilioane de woni (aproape 36 milioane de dolari !) Serialul a atins cele mai mari ratinguri la nivel national la o televiziune coreeana, ajungand pana la 37 % !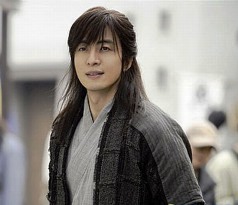 Succesul serialului s-a datorat in mare parte si personajului principal interpretat de starul Bae Yong Joon (BYJ) (pe care l-ati vazut in "April Snow", "Untold Scandal" sau din seriale mai vechi, dar de succes, precum "First Love" sau "Winter Sonata"). Castigator a numeroase premii pentru interpretare, Bae Yong Joon a devenit in scurt timp extrem de popular in intreaga Asie, conform unei publicatii fiind idolul femeilor de varsta mijlocie si casatorite. Aceeasi publicatie a sustinut chiar ca multe femei japoneze s-au apucat sa invete istoria si limba coreeana datorita lui Bae, care in 2004, la 10 ani de la debut, a facut un turneu in intreaga Asie, in Japonia fiind asteptat pe aeroport de peste 5.000 de persoane. Pentru a intelege si mai bine popularitatea actorului, e suficient sa amintim faptul ca Bae Yong Joon se spune ca este, in prezent, cel mai bine platit actor coreean, primind in medie aproximativ 170.000 $ pentru fiecare episod dintr-un serial in care joaca. Bae detine propria companie de productie si de manageriere a tinerilor actori, multi fiind lansati in seriale de succes. Ca un fapt divers, in timpul filmarilor la serial, Bae s-a accidentat grav la gat in timpul unei scene de lupta din episodul 17, terminand cu dificultate filmarile.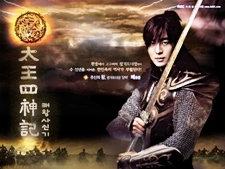 Una din locatiile unde s-a filmat serialul, pe insula Jeju, a devenit un loc vizitat de mii de coreeni; autoritatile au amenajat un parc in acel loc care incerca sa imite capitala Goguryeo, obtinand venituri si la 2 ani de la difuzarea serialului. Decorurile serialului si costumele personajelor se ridica la nivelul bugetului urias, iar imaginile sunt de o calitate exceptionala, multe scene fiind lucrate cu o minutiozitate rar intalnita pana si la productiile pentru marele ecran, sporind nivelul calitativ artistic al serialului. Dar pentru ca succesul sa fie deplin, producatorii au avut o echipa de prima mana care a realizat niste efecte speciale deosebite, care incanta si delecteaza fantezia telespectatorilor episod de episod. Coloana sonora este asigurata de renumitul compozitor japonez Joe Hisaishi, a carui muzica a delectat zeci de milioane de amatori ai filmului asiatic: "Ponyo on a Cliff", "Yamato", "A Chinese Tall Story", "Howl's Moving Castle", "Spirited Away", "Kikujiro", "Sonatine" etc. etc.

SOUNDTRACK
Un serial de exceptie, un scenariu pe masura care aminteste de miturile biblice si de "Lord of the Rings", care cu siguranta va entuziasma. Atentie ! Este un serial de o cu totul alta factura decat Kingdom of the Winds, balanta inclinand mai mult spre genul "fantezie" decat istoric, insa acomodarea se va face foarte repede. Speram ca am oferit suficiente argumente pentru vizionarea lui tuturor fanilor filmului asiatic.
TRAILER:

ARTICOLE DESPRE SERIAL SI ACTORI

Partea 1: Realitate istorica si fictiune

Partea 2: Politizarea istoriei si furtuna iscata de serial

Partea 3: Cum ar fi fost daca…

Partea 4: Destinul actorilor: cine sunt acestia ?

Partea 5: Bae Yong-joon, regele incoronat al serialului

Partea 6: Influenta lui Bae Yong-joon si impactul serialului
 
SOUNDTRACK – melodiile principale ale serialului, subtitrate in romana
EPISODUL 1; EPISODUL 2; EPISODUL 3; EPISODUL 4;
EPISODUL 5; EPISODUL 6; EPISODUL 7; EPISODUL 8;
EPISODUL 9; EPISODUL 10; EPISODUL 11; EPISODUL 12;
EPISODUL 13; EPISODUL 14; EPISODUL 15; EPISODUL 16;
EPISODUL 17; EPISODUL 18; EPISODUL 19; EPISODUL 20;
EPISODUL 21; EPISODUL 22; EPISODUL 23; EPISODUL 24;