Home » TIME BETWEEN DOG AND WOLF (2007)
TIME BETWEEN DOG AND WOLF (2007)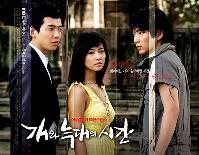 Dupa ce l-ati vazut in Iljimae si in alte 3 filme traduse de echipa noastra ("The King and the Clown", "Fly, Daddy, Fly" si "May 18"), a sosit momentul sa-l vedeti pe Lee Jun-ki intr-o ipostaza cum nu l-ati mai vazut, in serialul de succes "Time Between Dog and Wolf". Starul a ajuns la o mare popularitate in intreaga Asie si gratie acestui serial de actiune, cu tenta dramatica, utilizatorii de pe internet votandu-l pe Lee drept cel mai popular actor coreean in 2008 (lucru care nu ar trebui sa mire cate vreme acelasi an 2008 l-a adus din nou in prim plan pe Lee, odata cu Iljimae). Lee Jun-ki o are ca partenera in acest serial pe Nam Sang Mi, care si-a facut o cariera in comedii si comedii politiste, precum "Sweet Spy", "Spy Girl", "She's on Duty" sau "Too beautiful to lie". In serial aceasta interpreteaza un personaj onest, cu o personalitate puternica, extreme de apreciata de cei din jurul ei. Celalat personaj care graviteaza in jurul eroului acestui serial este Chong Kyung Ho, cunoscut fanilor k-dramelor din "Sorry, I love you" sau recentul "Princess Ja Myung Go". Acesta interpreteaza rolul prietenului din copilarie al lui Lee Jun-ki, dar pe care destinul il va pune intr-o situatie ingrata, pe care urmeaza sa o descoperiti urmarind serialul.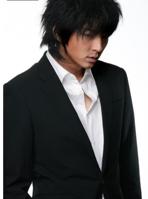 Serialul a avut, la momentul difuzarii la televiziunea coreeana MBC un rating, la nivel national, in medie de 16%. Titlul filmului este o metafora; o metafora a devenirii. In limba franceza exista o expresia: "entre chien et loup". Aceasta isi gaseste explicatia in momentul de dupa apusul soarelui, cand intunericul se asterne si alunga ziua, si cand, datorita amurgului, nu poti realiza daca animalul din fata ta este un caine credincios sau un lup siret si flamand. Sangeriul acelei atmosfere stranii iti transmite o teama; teama de necunoscut, teama de a nu putea face distinctia intre realitate si iluzie, care brusc devin niste termeni vagi. Este momentul in care fara sa vrei simti ca viata te invita sa-i arunci o privire retrropectiva, pentru ca te simti pierdut inttre jocul realitatii si cel al imaginatiei. Ora dintre caine si lup este momentul de cumpana din calea devenirii unei persoane. Si fiecare episod al acestui serial este o astfel de ora.
Subiectul serialului este unul captivant, cu un final pe masura. Sub cerul stralucitor al Thailandei, o tanara procuror de origine coreeana se straduieste sa trimita dupa gratii membrii unei uriase organizatii interlope, numita banda Cheong, motivate fiind nu numai de spiritul de justitie si datorie, ci si de moartea sotului ei, care a pierit in conditii incerte, dar legate de aceeasi banda. Lupta ei e continuata de fiul sau Soo Hyun si de familia care l-a adoptat pe acesta dupa moartea mamei, lucrand ca tanar ofiter de securitate la Agentia Nationala de Securitate a Coreei de Sud. El este insa impins pe calea dezonoarei de firea sa nestapanita si de o intalnire neasteptata, in urma esecului in prima sa misiune ca agent de securitate. Din acel moment viata lui ia o turnura nedorita si periculoasa, nu numai pentru el, ci si pentru toti cei dragi lui. Sub ochii nostri se desfasoara o poveste captivanta despre ura si razbunare, despre loialitate si prietenie dincolo de moarte, unde pana si iubirea are regulile ei proprii si nefiresti.
Un serial captivant, care te va tine cu rasuflarea taiata la fiecare episod din cele 16. O delectare pentru fanii Lee Jun-ki si pentru amatorii serialelor de calitate asiatice. O traducere pe masura serialului, marca Asia Team Romania, oferita in exclusivitate in Romania de www.asiacinefil.com.