Home » NOUTÃŢI
Rain primeşte o ofertã pentru filmul "While You Were Sleeping"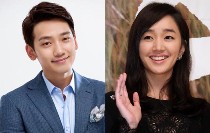 Zvonurile din industria de divertisment spun ca Rain ia in considerare un nou rol intr-un film. De data aceasta va fi un film coreean, spre bucuria si usurarea fanilor din Coreea. In data de 11 februarie, un ziar de stiri a scris ca Rain si Soo Ae au fost confirmati pentru a aparea impreuna in filmul "While You Were Sleeping" (In timp ce tu dormeai) si se fac ultimele aranjamente pentru a cadea de acord.
Ei bine, se pare ca ziaristii s-au grabit (cum o fac destul de des) si nu au verificat stirea inainte de a o publica. "While You Were Sleeping" a avut in plan pe Rain si Soo Ae in rolurile a doi soti, dar se pare ca numai o parte (sau chiar nici atat) va participa la acest proiect. Soo Ae a decis sa nu accepte sa joace in acest film, in timp ce Rain inca se mai gandeste. Agentia actorului si cantaretului Rain a declarat pentru Newsen ca "Rain este acum in China si filmeaza pentru un serial chinezesc. Am primit o oferta pentru "While You Were Sleeping", dar nu s-a decis inca nimic. Suntem inca in discutii."
Descrierea "While You Were Sleeping" este destul de vaga si te duce cu gandul la celebrul film in care a jucat Sandra Bullock. Se pare insa ca este numai traducerea titlului din coreeana si nimic mai mult. In plus, un film coreean cu acest nume a fost deja produs in 2008, existand o mare probabilitate ca pana la lansarea filmului, ce e doar in stadiul de proiect, pana si titlul sa se schimbe, cum se procedeaza de obiecei. Filmul se doreste a fi o melodrama ce spune povestea unui sot devotat sotiei sale; ne asteapta cumva un film mai trist?
Faptul ca Soo Ae a jucat deja in melodrama "A Thousand Days' Promise" sa fi fost motivul pentru care a refuzat? Teama de a nu repeta un alt proiect asemanator? In "A Thousand Days' Promise" actrita a intruchipat o femeie care isi pierde memoria din cauza bolii Alzheimer si omul care o iubeste decide sa stea langa ea. Desi ar fi fost interesant sa vedem interactiunea dintre cei doi actori, Rain si Soo Ae, se pare ca nu avem noroc. Regizorul filmului va fi Lee Jung Chul, care a mai colaborat cu Soo Ae in trecut la "Family", in 2004. Se preconizeaza ca filmarile vor incepe in a doua jumatate a acestui an.
Soo Ae este o actrita curtata de producatori, ea alegandu-si roluri "oeyunaegang" (care sa para blande dar sa fie hotarate si puternice).
Este cineva care nu-l cunoaste inca pe celebrul Rain sau Jung Ji Hoon? Si-a inceput cariera de actor cu "Sang Doo! Let's Go To School", in 2004, castigand primul mare premiu cu rolul din "Full House", un serial de mare succes. Dupa un rol excelent interpretat in "A Love To Kill" a incercat si un rol ales cu grija, pe marele ecran, in "I'm a Cyborg, But That's Ok" din 2006 cu care a si castigat Premiul Alferd Bauer la Festivalul International de Film de la Berlin. Si-a incercat apoi norocul si peste ocean jucand in "Speed Racer" in 2008, alaturi de John Goodman si Susan Sarandon. In 2009, dupa 8 luni de antrenamente asidue si regim alimentar extrem, Rain este capul de afis al productiei "Ninja Assassin", devenind primul coreean care castiga un premiu MTV. In 2010 joaca in "The Fugitive. Plan B", o comedie plina de savoare si in 2012 in megaproductia "R2B: Return to Base". Dupa eliberarea din armata Rain alege pentru fanii coreeni un serial cu un scenariu destul de lejer (poate nu tocmai cea mai fericita alegere) jucand in "She's So Lovable" si apoi filmeaza in China pentru filmul "For Love Or Money".
Articol realizat de chocolate_cleo