Home » NOUTÃŢI
Yoo Seung Ho ia în calcul un rol într-un serial de comedie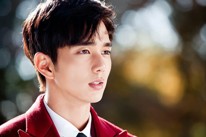 Cine nu-si aduce aminte de simpaticul, dar vicleanul print Chun Chu din faimosul "The Great Queen Seondeok"? Yoo Seung Ho reusea sa controleze un rol ce avea sa-i aduca si alte roluri din ce in ce mai importante in "Flames of Desire", "Warrior Baek Dong Soo", "Arang and the Magistrate", "I Miss You" sau "The Magician" din 2015.
Dupa atatea roluri in care ne storcea lacrimi, simpaticul actor se gandeste la un rol in care sa puna in valoare calitatile de actor de comedie. Serialul "The Man Living in Our House" este adaptarea unui webtoon al lui Yoo Hyun Sook care a mai scris si "I Steal Peeks At Him Every Day" si "Ho Gu's Love" (dupa care s-a facut "Flower Boy Next Door"). Noul serial va fi difuzat de KBS si produs de Kim Jung Min ("Princess's Man", "Joseon Gunman"), avand ca scenarist pe Kim Eun Jung care a scris scenariul pentru "Flower Boy Next Door".
"The Man Living in Our House" este un webtoon de 60 de episoade despre o tanara femeie a carei viata se intoarce brusc cu susul in jos din cauza unui barbat ce pretinde ca este tatal ei vitreg. Partea pe care aceasta nu o poate intelege este ca barbatul este de aceeasi varsta cu ea, si, desi mama ei a murit, barbatul are un certificat de casatorie ce arata negru pe alb ca cei doi au fost casatoriti inaintea mortii mamei sale. Eroina, de meserie stewardesa, este convinsa ca are de-a face cu un escroc cu niste motive ascunse pentru care s-a casatorit cu mama ei inainte ca aceasta sa moara, si este hotarata sa il dea in vileag.
Yoo Seung Ho ar interpreta rolul unui fermier pe nume Go Nam Gil (un joc de cuvinte ce inseamna "drum greu"). In ciuda varstei de 25 de ani a trecut deja prin multe in viata si a fost un mare mafiot in trecut. Este un tanar generos si cu inima buna, un personaj cu multe laturi ale caracterului-lumina si intuneric, caustic si inocent, scopul sau in viata fiind sa-si protejeze familia.
Serialul va fi difuzat incepand din luna octombrie la KBS, dupa serialul "Moonlight Drawn By Clouds" si inainte de asteptatul "Hwarang: The Beginning". Ramane de vazut daca Yoo Seung Ho va accepta rolul propus, in special ca din 2010 nu a mai aparut in nici un serial difuzat de KBS.
(Sursa: dramabeans)
Articol realizat de chocolate_cleo – asiacinefil