Home » DIVERSE
Wu Kong (2017) – Eddie Peng duce mai departe cu succes franciza "Monkey King"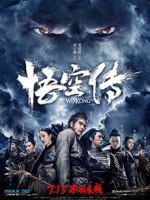 Cu nu mai putin de 104 milioane de dolari incasari la box-office, cea mai noua productie din franciza "Monkey King" lansata cu o luna de zile in urma in cinematografele chinezesti, "Wu Kong", ne poarta in timp inaintea celorlalte parti lansate pe piata in anii trecuti, "Monkey King" si "Monkey King 2". Mai exact, "Wu Kong" e practic un prequel, precedand povestea din partile deja lansate, pentru o mai clara cunoastere a celebrei figuri mitologice chinezesti Sun Wukong, cunoscut ulterior sub porecla de Regele Maimuta. Daca in prima parte, "Monkey King", Sun Wukong a fost interpretat de Donnie Yen, iar in sequelul ce i-a urmat de Louis Koo, de aceasta data a venit randul unui actor in mare voga in China sa-i dea viata, e vorba de simpaticul Eddie Peng. Peng e vedeta momentului in industria chineza de film, aparand in mari succese de box-office ale ultimilor ani ce i-au crescut considerabil cota si popularitatea, precum "Operation Mekong", "Call of Heroes", "Cold War 1 si 2" sau in productia americano-chineza "The Great Wall". Distributia e completata de mai multe figuri cunoscute ale filmului chinezesc (poate cel mai sonor nume din rolurile secundare e Shawn Yue), insa faptul ca productia nu abunda de vedete explica si succesul sau mai mic la box-ofice in comparatie cu The Monkey King – 182 milioane dolari, respectiv The Monkey King 2 – 193,7 milioane dolari. Derek Kwok e cel ce regizeaza aceasta productie, regizorul avand la activ un alt blockbuster al ultimilor ani, "Journey to the West: Conquering the Demons" (2013), care cu 215 milioane dolari incasari la box-office devenea pana in 2015 (cand a fost detronat de "Monster Hunt") filmul chinezesc cu cele mai mari incasari din toate timpurile. Si, deloc intamplator, in "Journey to the West" protagonist este tot… Sun Wukong !
Muntele Huaguo e locul unde Sun Wukong (Eddie Peng) a vazut primul rasarit si asfintit de soare al vietii sale. Insa locul de care il lega toate amintirile frumoase ale vietii sale, Muntele, nu mai exista. A fost distrus de zeii din Regatul Ceresc dupa ce o legenda spune ca pe acest munte a trait un colos ce refuza sa-si accepte soarta. Cum soarta tuturor fiintelor vii era controlata de Astrolabul Destinului, situat in adancimile Regatului Ceresc, colosul razvratit de pe Muntele Huaguo a fost considerat un demon si, dupa un conflict legendar cu Regatul Ceresc, a fost distrus. Fragmente din el au cazut pe Pamant, iar in acele locuri, totul a prins viata. Fragmentul cazut pe Muntele Huaguo a fost inima colosului, care a prins din nou viata metamorfozandu-se in… maimuta. Astrolabul Destinului afla de acst lucru si distruge din nou Muntele, starnind furia maimutei, nimeni alta decat Sun Wukong. Drept urmare, acesta decide sa mearga in Regatul Ceresc pentru a provoca haos si a distruge Astrolabul. Miza este una uriasa: dobandirea dreptului de a fi stapan pe propria lui soarta.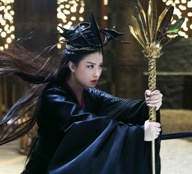 "Wu Kong" este poate cea mai realista si serioasa parte a ceea ce poate fi considerata deja o trilogie a Regelui Maimuta. Avand putin umor in prima parte, povestea e prezentata intr-un mod cat se poate de serios, departandu-se de specificul lui "Journey to the West" – umorul si tonul relaxat de abordare. Avand cateva idei serioase legate de intelegerea puterii si a modului in care aceasta perverteste, dar si un amalgam de ideologii pe care un ochi atent le poate sesiza (ce ziceti de un Rege Maimuta… anarhist sau nihilist, asa cum o sugereaza ultimele 3 cadre ale filmului ?), filmul nu se departeaza de la specificul sau – fantezie si actiune, puse in scena cu ajutorul a numeroase efecte speciale. Desigur, realizate la marea arta de o echipa de profesionisti. Personajul central, Sun Wukong, bine interpretat de Eddie Peng – desi parca acestui Rege Maimuta ii lipeste putin doza de nebunie ce-l caracterizeaza, ne e prezentat ca un aparator al locului sau de bastina, deci un razboinic ce doreste sa fie stapan pe propria lui soarta. Pe parcurs, trecand printr-o multime de aventuri, ne e dezvaluita si latura lui romantica, dar si naivitatea sa in raport cu lumea in care traieste. Shawn Yue e minunat in rolul Erlamg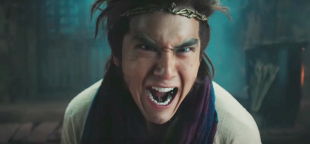 (cunoscut si ca Yang Jian in mitologie), cel ce avea sa devina pazitorul Portii Sudice a Regatului Ceresc si principalul rival al Regelui Maimuta, un personaj mereu retinut, marcat de traume si suferinte din cauza harului pe care il poseda si de care stapana Regatului Ceresc incearca sa profite, ochiul divin, care odata activat l-ar fi transformat in nemuritor. Nu poate fi trecuta cu vederea stapanirea de sine a acestui personaj, lipsa lui de entuziam, seninatatea cu care Shawn Yue ii da viata si transmite zbuciumul sau interior. De remarcat si coloana sonora a productiei, ce se ridica la nivelul intregii realizari, fiind una din cele mai melodioase coloane sonore din vreun film de epoca sau fantezie facut vreodata in China, semn ca realizatorii chinezi au inteles cum pot excela si in acest domeniu, ridicand in mod clar calitatea de ansamblu a productiei. Mai trebuie spus ca scenariul adaptat de regizor are la baza un popular roman publicat pe internet al lui Jin Hezai, "Biografia lui Wukong". Un film de actiune, aventura si fantezie reusit, ce ne indica un progres remarcabil al cinematografiei chineze, ce se ridica, cel putin in materie de productii fantastice, la nivelul realizarilor de la Hollywood.
Traducerea, adaptarea si timingul manual au fost efectuate in premiera in Romania de gligac2002 (Asia Team) pentru asiacinefil.
Prezentare realizata de cris999 – asiacinefil