Home » ASIA TEAM ROMANIA
Written By (2009)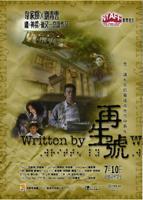 Regizorul Wai Ka-Fai, realizatorul primului film din seria Police Tactical Unit (2003), care acum 2 ani a reusit sa obtina o nominalizare alaturi de Johnnie To la Leul de Aur de la Venetia pentru productia "Mad Detective", cunoscut scenarist din industria de film din Hong Kong, revine, dupa 2 ani, in scaunul regizoral cu "Written By". Avand o slabiciune pentru subiectele supranaturale si pentru fantezii, Wai reuseste de aceasta data de unul singur (anterior colaborase cu Johnnie To la astfel de productii) sa regizeze un film care exploreaza teme spirituale, filosofice si fantastice deopotriva. Acesta beneficiaza de sprijinul unor actori talentati, figura cea mai cunoscuta fiind Lau Ching Wan, actorul lui preferat, distribut si in alte filme anterioare ale sale ca Mad Detective, The Shopaholics sau Himalaya Singh. Aceasta drama cu accente de fantezie, una din productiile importante ale anului din Hong Kong, reuseste sa impinga emotiile si ideile dincolo de artificial si coerenta, oferind o poveste simpatica si simpla in acelasi timp, insa captivanta prin frumusetea ei.
"Written By…" este povestea sinuoasa a unei familii care se confrunta cu o tragedie: in urma unui accident de masina, tatal moare, iar cei doi copii minori si mama raman singuri. Trecerea timpului nu reuseste sa stinga durerea familiei: fiica mai mica devine scriitoare, fiul devine fotbalist, iar mama, pentru a-si omori timpul, urmeaza cursurile facultatilor, unele dupa altele. Pana intr-o zi, cand fiica – Melody – se decide sa scrie un roman pentru a fi mai aproape de tatal ei. Un roman in care subiectul este viata familiei… spusa exact pe dos. Si imaginatia lui Melody incepe sa zburde… tatal ei este, in roman, singurul supravietuitor al accidentului, insa orbeste si-si duce viata ajutat de o menajera filipineza. Curand, acesta incepe sa fie contactat de spiritul familiei decedate… Si atunci se decide, la randu-i, sa scrie un roman… care este exact realitatea.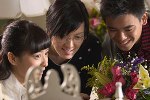 O poveste in poveste care la un moment dat te poate induce in eroare, in special ca evolutia evenimentelor este simpla si directa, fara prea multe introduceri. Realitatea si fantezia se intrepatrund pe nesimtite, pana cand totul ia turnura unei incurcaturi care creaza confuzie in mintea spectatorului. Intelegerea totala a ce se petrece in film nu e necesara, sustine regizorul acestuia, deoarece planurile si realitatile fiecarui personaj se intrepatrund suficient incat spectatorul sa perceapa esenta. Linia narativa a filmului este un puzzle de mari proportii, iar efectele speciale "low-budget" sunt privite de critici ca un plus al productiei. Mesajul pe care il transmite acest film nu este unul revolutionar, insa se simte si este potrivit, avand o oarecare greutate. "Written By" ramane daca nu cel mai bun film al anului in Hong Kong, cu siguranta unul din cele mai speciale.