Home » DIVERSE
What a Man Wants (2018) – Shin Ha-kyun şi Lee Sung-min, între fidelitate şi relaţii extraconjugale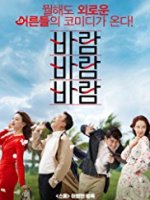 Lee Byeong-hun (a nu se confunda cu celebrul actor Lee Byung-hun sau cu celebrul regizor al lui "Jewel in the Palace", Lee Byung-hoon) e un tanar regizor coreean (doar 38 de ani) aflat deja la al patrulea film din cariera, cea mai notabila productie a sa fiind comedia "Twenty" din 2015, ce spunea povestea a trei prieteni din liceu ajunsi la 20 de ani, varsta schimbarilor si optiunilor in viata… De aceasta data regizorul e co-scenarist (la "Twenty" si-a scris singur scenariul), colaborand la povestea noului sau film cu inca doi scenaristi ale caror povesti nu au produs pana in prezent vreun succes rasunator. "What a Man Wants", dupa cum o spune si titlul, incearca sa raspunda la retorica intrebare "oare ce-si poate dori un barbat de la viata ?" apeland la umor si romantism. Asadar avem in fata o comedie romantica despre mariaje si aventuri extraconjugale, in care capul rautatilor e cuplul de actori Lee Sung-min ("Sori: Voice from the Heart", "Real", "Broken") – Shin Ha-kyun ("The Villainess", "Running Man", "The Devil's Game"). In rolul "victimelor" (a se citi "a sotiilor cuminti si naive") le revedem pe Jang Young-nam (intr-un rol secundar sters) si pe indragita Song Ji-hye ("A Frozen Flower", "Codename: Jackal"), la fel de apriga ca in toate rolurile din telenovelele romantice in care a fost distribuita. Rolul de "femme fatale" ii revine actritei Lee El (din recentul serial "A Korean Odyssey"), ce are o prestatie remarcabila. Lansat pe 9 aprilie in cinematografele coreene, filmul s-a descurcat destul de bine pentru genul sau la box-office, avand incasari de 9 milioane de dolari.
Seok-geun (Lee Sung-min) e taximetrist pe insula Jeju si duce o viata aparent lipsita de griji. Are o casa si o sotie iubitoare cu care s-a casatorit in urma cu 20 de ani. Dar dincolo de imaginea mariajului perfect se ascunde firea usuratica a acestuia, care se mentine in "forma" datorita aventurilor extraconjugale pe care nu ezita sa le ascunda cu tact de propria sotie. Contrar firii sale e Bong-soo (Shin Ha-kyun), sotul sorei sale Mi-young (Song Ji-hye), cele doua cupluri locuind sub acelasi acoperis de mai bine de 8 ani. Bong-soo e un idealist, care la nivel de principii e fanul iubirii sincere si devotate, neezitand sa-si puna in practica aceste concepte. Sub nici o forma nu si-ar insela in vreun fel sotia, pe care o iubeste neconditionat de cand s-au cunoscut cu multi ani in urma in Italia, unde se aflau pentru un curs de gastronomie. Intr-o buna zi, insa, Bong-soo isi vede cumnatul taximetrist in compania unei cucoane apetisante, sarutand-o cu foc. Seok-geun realizeaza ca a fost surprins, dar merge nepasator mai departe, ca si cum nu s-ar fi intamplat nimic. Treptat, incearca sa-l corupa pe Bong-soo, transformandu-l intai in complice in sustinerea minciunilor lui justificative in fata sotiei, iar mai apoi insistand asupra beneficiilor unei aventuri pentru bunul mers al relatiei de cuplu. Incoruptibilul Bong-soo se tine tare, pana cand la orizont apare o tanara atragatoare, Jenny, noua tinta a lui Seok-geun…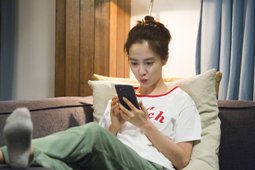 Filmul regizorului Lee Byeong-hun e o productie realizata dupa model hollywoodian, departandu-se cu mult de tipicul filmelor coreene de gen. Altfel spus e o comedie romantica cu accente pe alocuri dramatic de realiste despre doua relatii de cuplu mai aparte. Pe de o parte avem cuplul Seok-geun/Dam-deok, cu o vechime de peste 20 de ani de casnicie, in care totul pare a decurge firesc. Pana cand, desigur, aflam ca Seok-geun, interpretat magistral de Lee Sung-min, e un Don Juan ce isi metine vigoarea si perfomantele in pat prin… exercitiu, fiind in afara spatiului conjugal un cuceritor innascut. Fost designer de montagnes russes, in prezent e sofer de taxi de lux, petrecand ore in sir la partide de billiard unde agata tinere apetisante. Ultima lui cucerire e Jenny, o tanara hotarata, tocmai iesita dintr-o relatie sfarsita urat, ce nu ezita sa se aventureze intr-o relatie extraconjugala cu Seok-geun. Desigur, totul departe de ochii sotiei acestuia, care nu banuieste nimic. Celalalt cuplu este Bong-soo/Mi-young, ei constituind adevarata atractie a povestii. Bong-soo (interpretat de Shin Ha-kyun) e sotul model pentru Mi-young (Song Ji-hyo). Au urmat amandoi un curs de gatit in Italia, unde s-au si cunoscut si mai apoi s-au casatorit, in urma cu 8 ani. Mai apoi s-au mutat in casa fratelui lui Mi-young, Seok-geun (aici putin scartaie scenariul, data fiind o oarecare diferenta de varsta intre Lee Sung-min (50 de ani in viata reala) si Song Ji-hyo (36 de ani), dar pentru farmecul povestii putem trece cu vederea peste asta), si de atunci au locuit impreuna sub acelasi acoperis, fiecare cu propria familie, pe insula Jeju. Mi-young si-a deschis un restaurant italienesc, unde sotul ei e bucatarul sef, insa Bong-soo e mare amator de retete chinezesti, nu de putine ori intrand in conflicte cu sotia lui pe teme culinare. Bong-soo e un tip onest, care nu si-ar insela sotia sub nici o forma, adept al principiului ca oamenii sunt din fire buni. E un idealist naiv, care in momentul in care va fi corupt de cumnatul sau Seok-geun va opune o rezistenta aparenta, pana cand Jenny, noua cucerire extraconjugala a lui Seok-geun pune ochii pe el si-i da peste cap toate principiile… Incurcaturile in care vor intra cei doi cuceritori vor da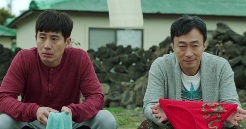 tonul productiei, cand unul vesel, amuzant pana la lacrimi prin umorul de situatie, cand unul amarui, ca realitatea in care traiesc eroii nostri. Regizorul Lee Byeong-hun nu realizeaza ceva inedit, astfel de productii despre casnicie si cupluri s-au mai realizat in cinematografia coreeana, insa "What a Man Wants" are un farmec aparte. Data atat de locatia unde se desfasoara actiunea – insula Jeju – cat si de interpretarea de clasa a actorilor, pe care, cu exceptia lui Song Ji-hyo, nu te-ai astepta sa-i vezi intr-o astfel de ipostaza. Realist si amuzant, filmul aduce o viziune occidentala asupra perspectivei relatiilor dintre barbati si femei in societatea coreeana contemporana, care a evoluat mult fata de perspectiva ce o vedem reflectata in filmele si serialele anilor '90-2000. Nu va asteptati la nimic clasic si previzibil, si nici nu dati crezare marketingului ce a promovat acest film sub sintagma "Cea mai nostima comedie pentru adulti a anului". Tot ce e nostim e, pana la urma, usor estompat de nota exagerata de realism data de regizor povestii, rezultatul fiind o realizare in stilul unui "Bewitching Attaction", "Antique" sau a k-dramei "Dear You". Daca doriti sa vedeti ceva atipic cinematografiei coreene, e alegerea ideala. Ramane intrebarea… si totusi, ce-si doresc barbatii ?
Traducerea, adaptarea si timingul manual au fost realizate in premiera in Romania de gligac2002 (Asia Team) pentru asiacinefil.
Prezentare realizata de cris999 – asiacinefil