Home » NOUTÃŢI
Va debuta Lee Jun-ki la Hollywood pe uşa din dos ?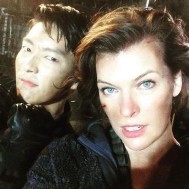 Urmatoarea oprire din cariera lui Lee Jun-ki pare a fi… statia Hollywood ! Conform mai multor surse din industria de film, dar si agentiei care il reprezinta, Namoo Actors, Lee Jun-ki va fi unul din membrii distributiei productiei americane "Resident Evil 6: The Final Chapter". Actorul se afla in prezent in Africa de Sud, insa nu s-a dezvaluit ce fel de rol va interpreta acesta in ultima parte a seriei Resident Evil. Se spune ca acesta s-ar pregati pentru rol, in conditiile in care nu mai are nici un angajament in acest an, filmarile la "Scholar Who Walks the Night" finalizandu-se de mai bine de o luna de zile.
Stirea despre posibila distribuire a lui Lee Jun-ki in film vine la putin timp dupa postarea de catre protagonista seriei, Milla Jovovich, a unei poze pe contul ei de Instagram, in care apare alaturi de actorul coreean. Aceasta a comentat, pentru fanii ei: "Sa lucrez in ultimele cateva nopti cu incredibilul maestru 3 Dani la Taekwondo si actorul Lee Jun-ki a fost nebuneste de amuzant si incurajator. Ma face sa-mi doresc sa ma intorc la cursuri si sa imi finisez cunostintele de arte martiale !" "Resident Evil 6" va fi ultima parte a seriei incepute in 2002 si se filmeaza deja in Cape Town (Africa de Sud) din luna august. Regizorul filmului e Paul Anderson, nimeni altul decat sotul protagonistei Milla Jovovich. Filmul e preconizat sa aiba premiera in Statele Unite in ianuarie 2017.
Daca Lee Jun-ki va debuta la Hollywood sau e prezent in Africa de Sud doar ca si consultant pentru scenele de lupta ramane sa aflam probabil in viitorul apropiat. Pozitiv e faptul ca seria "Resident Evil" in sfarsit a ajuns la capat de drum, nu de alta dar moda sequel-urilor nesfarsite spune totul despre ce a ajuns in prezent cinematografia americana, si nu e tocmai ceva onorant. Cum nu e tocmai o veste buna un posibil debut al lui Lee Jun-ki intr-un astfel de film, la Hollywood. Ar fi fost o mandrie pentru toti coreenii si fanii actorului de pretutindeni daca acesta ar fi avut un rol cel putin secundar, intr-un film american, asa cum s-a intamplat cu Lee Byung-hun sau Bae Doo-na. Faptul ca nu apare in distributia largita anuntata de directorii de casting in conditiile in care filmarile au inceput deja inseamna un singur lucru: daca va fi distribuit, va avea o aparitie scurta, abia notabila. Daca un asemenea rol se numeste cu surle si trambite "debut la Hollywood", probabil mai bine ar fi ca actorul sa se lipseasca de el. Nu trebuie uitat nici faptul ca din 2007, Lee Jun-ki nu a mai fost distribuit in nici o productie pentru marele ecran, dupa revenirea din armata aparand in 4 seriale, cate unul in fiecare vara. De pe micul ecran din Coreea direct la Hollywood pare a fi un salt destul de mare…
Articol realizat de cris999 – asiacinefil