Home » ASIA TEAM ROMANIA
Twilight Gangsters (Grandma Gangsters) (2010)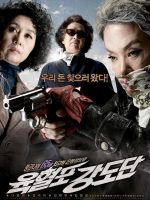 Twilight Gangsters este un remake dupa filmul german Jetz Oder Nie. Zeit Ist Geld (Now or Never) al regizorului Lars Buchel care a avut premiera in luna decembrie a anului 2000. Criticii si oamenii simpli au concluzionat ca pelicula poate fi situata in galeria celor mai bune productii cinematografice din Germania. Desi Immanuel Kant a demonstrat ca ratiunea e motorul si singurul faptas al actiunilor noastre, bunicutele Carla, Lilli and Meta au reusit sa arate ca ceea ce conteaza in aceasta viata e sa ne traim momentul conform dorintelor noastre.
Banda bunicutelor (Revolver Gangsters Gang sau Twilight Gangsters) urmareste destinul unor doamne de varsta a treia care au visat toata viata lor sa calatoreasca in Hawaii. Pentru ca acest vis sa devina realitate, ele au economisit banut cu banut timp de opt ani de zile si au furat bunuri din magazinul universal al cartierului pe care mai apoi le-au vandut pe nimic categoriilor defavorizate din aceeasi zona "rezidentiala". Asadar, a sosit si ziua cand ultimul ban din pretul unui bilet spre minunata plaja a Waikiki-ului a fost adaugat. Din pacate, "bunicutele" si-au ales gresit agentia bancara unde doreau sa plateasca prin virament biletele spre paradis agentiei de turism. De ce? Pentru ca exact in aceeasi zi, doi raufacatori au dat lovitura jefuind banca in care se aflau cele trei doamne.
Ceea ce se va intampla in continuare este rezultatul indiferentei celor care formeaza o parte din societate. Adica, o institutie bancara (particulara sau de stat) dovedeste ca dincolo de iluzia corectitudinii, ramane de fapt un mare balon de sapun si e un monstru care nu tine cont de persoana, ci doar de active, dobanzi si de elementul concret si imediat. Pana la urma, un camatar ramane un ucigas de suflete si in final devine calaul trupului nostru. Daca acest lucru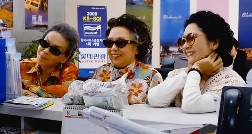 a devenit o obisnuinta in mentalul colectiv, atunci faptul ca politia aplica si foloseste ca metoda de lucru discriminarea, asta va ramane mult timp un lucru de neconceput pentru un om educat. Asadar, aventura celor trei doamne: Jung-ja (Nah Moon Hee), Young-hee (Kim Soo Mi) si Shin-ja (Kim Hye Ok) va fi un mic manifest al persoanelor marginalizate si uneori chiar batjocorite de catre noi, oamenii "normali". Fanii filmelor si serialelor coreene vor avea o surpriza, deoarece vor recunoaste in rolurile principale cateva actrite veteran: Na Moon-He a avut roluri de mama intr-o multime de filme accesibile si in Romania: "May 18", "Voice of a Murderer", "You Are My Sunshine", "Crying Fist", sau in seriale precum "My Lovely Kim Sam Soon" sau "Amnok River Flows". Kim Su-Mi a aparut in "King and I" sau "Mapado", in timp ce Kim Hye-ok a interpretat pe nimeni alta decat pe sarcastica "doamna Shin" in serialul de succes "Bad Guy". Un film ce trebuie vizionat nu doar prin prisma jocului actoricesc, ci si a mesajului voalat transmis, de actualitate mai mult decat oricand si pe meleagurile mioritice.
Prezentare realizata de ionicar – www.asiacinefil.com