Home » DIVERSE
Train to Busan (2016) – Gong Yoo în apocalipsa zombi ce zguduie box-ofice-ul coreean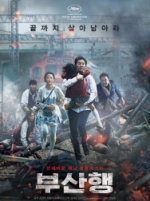 Seok-woo (Gong Yoo) e un broker la o companie de brokeraj mult prea preocupat de meseria sa. Lumea il priveste ca pe un parazit ce suge sangele altora, traind pe spinarea clientilor sfatuiti sa investeasca sau nu la bursa, in functie de ponturile oferite discretionar de Seok-woo. Mult prea preocupat de slujba, acesta isi neglijeaza familia. Nu e de mirare ca e divortat, iar promisiunile facute fiicei sale a carei custodie o are sunt mereu incalcate. In conditiile in care se apropie ziua de nastere a fetei sale, Soo-an, aceasta il preseaza sa mearga la mama ei in Busan. De aceasta data nu mai poate sa scape de responsabilitate, mai ales ca popularul cadou ales de angajatul sau pentru ziua de nastere a lui Soo-an e o dezamagire completa pentru fata. Lasand tot lucrul deoparte, Seok-woo isi ia fiica si se urca pe trenul de mare viteza KTX spre Busan. La scurt timp de la plecarea din gara, evenimente neasteptate se produc, tara cazand in haos in urma unor revolte scapate de sub control. Pe tren, evenimente stranii duc la declansarea unei epidemii, persoanele infestate devenind zombi si vanand persoanele neinfectate. Lupta pentru supravietuire incepe….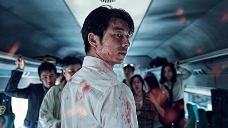 "Train to Busan" continua traditia filmelor hollywoodiene cu zombi, copiind tot ce acestea au avut mai bun de oferit de-a lungul timpului. Altfel spus, avem in fata o productie comerciala pana in maduva oaselor, lipsita de orice urma de originalitate, in care regasim toate cliseele specifice genului. Trenul spre Busan e o metafora simplista a societatii umane in general, nu neaparat a celei coreene. Asa cum ii sade bine acestui gen, scenaristul aduna in acest tren personaje variate, exponenti din toate categoriile de varsta si sociale, cu temperamente diferite, ce reactioneaza diferit in situatii extreme. Practic avem o bucata din sociateta decupata din lumea reala si transplantata intr-un decor stabilit de scenarist, intr-un spatiu inchis in care supravietuirea e mai importanta decat umanitatea insasi. Compasiunea fata de Celalalt dispare in momentul in care teama pentru propria viata te face sa constati ca esti singur, pe cont propriu si ca nimeni nu te ajuta. Momentele de tensiune din film arata metamorfozarea brusca a fiintei umane pe baza instinctuala, apropierea acestuia de stramosul comun numit maimuta ca forma de manifestare a instinctului de supravietuire. In astfel de filme, in general interpretarea actorilor e un element secundar, atentia spectatorului mutandu-e pe povestea in sine, pe explorarea suspansului si pe latura spectaculoasa, in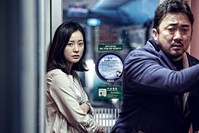 masura sa socheze. Gong Yoo e destul e sters, rolul lui dand de inteles ca orice alt actor putea interpreta o asemenea partitura. Poate singura prestatie remarcabila e cea a fetitei actor Kim Soo-ahn, ce interpreteaza mai mult decat convingator personajul Soo-an. Intreaga distributie e de calitate, iar scenariul scris de Yeon Sang-ho (un specialist mai degraba in animatii, in acest an lansand o animatie cu o tema asemanatoare lui Train to Busan, "Seoul Station", de fapt un prequel la acest film) e satisfacator pentru un astfel de film cu buget ridicat. Mai trebuie spus ca "Train to Busan" a obtinut pste 124 de milioane de dolari incasari la box-office in intreaga lume, fiind de departe liderul din acest an la incasari in Coreea. Daca v-a placut "Snowpiercer", in mod sigur veti fi si fanii lui "Train to Busan", despre care unii critici au spus ca e un "Snowpiercer cu zombi".
Traducerea si adaptarea au fost efectuate in premiera pentru asiacinefil de gligac2002 (Asia Team). Subtitrarea este una de calitate, cu timing refacut manual linie cu linie, fidela limbii vorbite in film, neavand la baza traducerile de amatori existente in momentul de fata in mediul online, de foarte proasta calitate.
Prezentare realizata de cris999 – asiacinefil