Home » ASIA TEAM ROMANIA
Thirst (2009) (subtitrare in limba romana)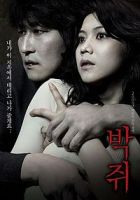 "Thirst" a fost filmul anului in Coreea de Sud. Regizat si scris de Park Chan-wook, filmul e o adaptare libera dupa romanul lui Emile Zola, "Therese Raquin". Filmul a fost nominalizar la Palme D'Or in acest an si a castigar Premiul Juriului la acelasi festival de la Cannes. Filmul a avut peste 11 milioane de dolari incasari in Coreea, strangand peste un million de spectatori in salile de cinematografe. In rolurile principale, cu 2 prestatii de exceptie, au fost distribuiti Song Kang-ho (colaborator apropiat al lui Park, o figura emblematica pentru filmul coreean contemporan, cu roluri in "Shiri", JSA", :Memories of Murder" sau, mai recent, "The Host" ori "Secret Sunshine") si Kim Ok-bin, vedeta serialului Over the Rainbow si a lung-metrajelor Dasepo Girls si The Accidental Gangster, care a castigat in acest an premiul pentru cea mai buna actrita pentru rolul din "Thirst" la Festivalul International de film fantastic din Catalonia. Dupa spusele lui Park, filmul trebuia sa se numeasca initial "The Bat", pentru a accentua sinistrul, insa, a spus acelasi regizor, "nu este vorba doar de vampiri. Este un film despre pasiune si despre un triunghi amoros. Simt ca e ceva oarecum unic, pentru ca nu e doar un thriller si nici doar un simplu film horror, ci, in acelasi timp, si o ilicita poveste de dragoste". Filmul este crontroversat nu atat prin faptul ca este primul film coreean care sparge bariera tabu-ului acestei cinematografii legat de nuditatea frontala a unui personaj masculin, cat prin reactiile vehemente starnite de pozitia Bisericii Catolice la adresa realizatorilor filmului, care in mod direct, sustinea aceasta, i-a afectat imaginea.
Parintele Hyun, membru al Bisericii Catolice din Coreea de Sud, este un om pasionat de meseria sa si de acordarea de ajutor oamenilor sarmani si disperati. Orfan de mic, acesta s-a dedicat cu pasiune slujirii Domnului, sub obladuirea unui calugar orb. Insa in momentul in care mai multe persoane dragi mor din cauza bolilor acestei lumi, Hyun decide sa mearga in Africa, la laboratoarele Emmanuel. In aceste laboratoare parintele Emmanuel a reusit, la vremea lui, sa gaseasca partial antidotul pentru un virus mortal, numit Virusul Emmanuel. Daca populatia africana nu a mai fost afectata de virus, in mod straniu i-au cazut victima misionarii caucazieni si asiatici. Pentru a gasi un antidot, Hyun se ofera voluntar intr-un experiment. I se injecteaza virusul si apoi un antidot, dar, cum era de asteptat, moare. In scurt timp, insa, revine la viata… ca vampir.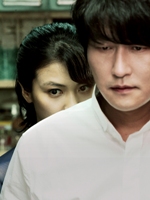 Un film pe care doar maiestria talentului unui mare regizor precum Park Chan-wook il putea pune atat de stralucit in scena. Un film care nu iese din tiparul obisnuit al productiilor marca Park Chan-wook, extrem de violent, presarat din plin cu umor negru si un comic de situatie amar si bizar, impletit cu ironii fine. Insa "Thirst" este in primul rand o opera de arta desavarsita, pornind de la indicatiile regizorale, jocul actorilor, scenariu, pana la imagini exceptional de bine redate, un montaj si o coloana sonora de nota 10. O adevarata bijuterie cinematografica ale carei sensuri cinefilii adevarati le vor savura dintr-o sorbire, dincolo de controversele pe care subiectul in sine le ridica. Recomandat doar unei anumite categorii de consumatori, si, evident, interzis minorilor.