Home » DIVERSE
The Villainess (2017) – Kim Ok-bin, "Nikita" coreeanã în cãutarea rãzbunãrii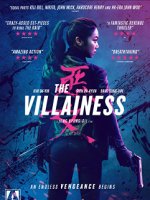 Regizorul si directorul de imagine coreean Jung Byung-gil a devenit cunoscut in 2012 cu cel de-al doilea film al carierei, "Confession of Murder", ce i-a adus premiul pentru Cel mai bun regizor debutant la Premiile Daejong, si cel pentru Cel mai bun scenariu la Premiile Baeksang, ambele din 2013. Cel mai nou film al sau, "The Villainess", incearca sa calce pe urmele succesului din 2013, castigand pana acum 3 premii si avand 5 nominalizari. Filmul a avut premiera anul acesta la Cannes, unde a fost proiectat in afara competitiei, insa s-a bucurat de 4 minute de "standing-ovation". Vandut in 136 de tari, filmul a fost un succes moderat de box-ofice in Coreea, unde a obtinut incasari de 8,8 milioane dolari. La 4 ani distanta de ultimul sau rol principal, Kim Ok-bin revine in forta pe marele ecran intr-un rol inedit pentru ea (cel putin pe marele ecran), cel al unei asasine profesioniste, care probabil ar fi castigat si cateva premii de interpretare daca scenariul se dezvolta in jurul dramei personajului ei si nu punea accentul in mod intentionat pe actiune. Shin Ha-kyun are un rol aproape secundar, desi oscileaza in jurul personajului principal atat de mult incat nu stii daca e in tabara celor rai sau a celor buni. De remarcat si prezenta in distributie a actorului Sung Joon (Hyde Jekyll, Me, Discovery of Love) si a actritei Kim Seo-hyung (nimeni alta decat Imparateasa Mama din Empress Ki).
Sook-hee (Kim Ok-bin) e o asasina profesionista originara din provincia Yanbian, din China. Viata ii e marcata de o copilarie nefericita traita in compania tatalui ei, un hot de bijuterii, care e ucis chiar sub ochii ei. Ramasa orfana de mica, Sook-hee jura sa-si razbune tatal si sa-l gaseasca pe ucigasul acestuia, iar in aceasta misiune e ajutata de cel caruia ii zice "domnul", Lee Joong-sang (Shin Ha-kyun). Acesta o creste, o antreneaza sa devina o asasina imbatabila si, ulterior, o ia de sotie si o aduce in tumultuosul Seul, unde isi desfasoara afacerile ilegale. Viata insa in scurt timp i se schimba nefericitei Sook-hee, cand sotul ei e ucis si ramane sa isi duca misiunea la indeplinire de una singura. In timpul unei misiuni e remarcata de o agentie guvernamentala secreta, care o recruteaza si ii ofera o intelegere: 10 ani de ucis la comanda in schimbul unei vieti libere cu o noua identitate.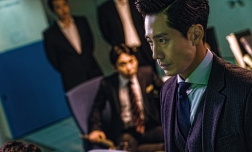 Nu scenariul este punctul forte al productiei "The Villainess", care la o prima vedere ai zice ca nu este decat o "Nikita" la indigo. Povestea in linii mari e simpla, dar datorita numeroaselor flashback-uri si a cadrelor intunecate (cea mai mare parte din film se desfasoara in decoruri semi-obscure), pot aparea confuzii in mintea privitorului. Apoi, fiind vorba despre un film in care se abordeaza o tema mai mult decat clasica in cinematografia coreeana, razbunarea, productia abunda in violenta dusa pana la extrem, ceea ce face filmul nerecomandat persoanelor minore. Nu toate aceste lucruri au ridicat publicul in picioare la Cannes, ci modul de filmare. Regizorul de imagine, Park Jung-hun, a surprins pe toata lumea cu tehnica de manuire a camerei mobile, folosind niste metode de filmare ultramoderne nemaintalnite cel putin in vreun film asiatic, daca nu chiar la nivel mondial. Si nu e vorba doar de scena de actiune de la inceput, fara indoiala una de-a dreptul virala (ca cea a infruntarii din sera dintre Lee Byung-hun si Choi Min-sik in "I Saw the Devil"), ce e filmata exact ca si cum ai fi protagonistul unui joc pe calculator de tip "shooter" in care trebuie sa impusti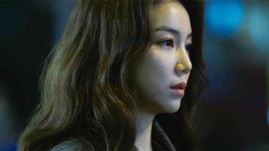 pe oricine iti iese in cale, ci si de alte scene, filmate din unghiuri aproape imposibile cu camera mobila atasata probabil pe o drona sau pe un dispozitiv mobil. Toate aceste metode de filmare dau spectatorului senzatia ca e in preajma personajelor, ca participa activ la scenele de actiune, fie ca e vorba de o urmarire pe motocicleta urmata de o reglare de conturi in stil Yanbian (cu securea sau sabiile), fie ca e vorba de scena infruntarii finale din autobuzul mergand pe autostrada. Kim Ok-bin arata o forma fizica de invidiat la cei 31 de ani ai ei, intr-un rol extrem de solicitant din punct de vedere fizic, cele 4 luni de zile cat au durat filmarile spunand totul. Insa experienta in stapanirea hapkido si taekwondo au ajutat-o sa faca fata cu succes provocarii carierei, putine actrite coreene putand face fata in acest moment in astfel de roluri. Desi e extrem de violent, "The Villainess" ne ofera doua ore pline de adrenalina si un spectacol vizual de exceptie, putandu-se spune despre regizorul de imagine ca e un adevarat deschizator de drumuri in cinematografia asiatica, care cu siguranta dupa acest film va deveni una mult mai inovativa ca pana acum.
Traducerea si adaptarea au fost efectuate in premiera in Romania de lasedan si gligac2002 (Asia Team) pentru asiacinefil.
Prezentare realizata de cris999 – asiacinefil