Home » ASIA TEAM ROMANIA
The Treasure Hunter (2009)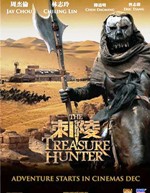 In ultima zi a anului 2009, regizorul taiwanez Kevin Chu lanseaza, la un an de la succesul "Kung Fu Dunk" un film de aventuri cum cinematografia din Taiwan nu a mai realizat vreodata: "Treasure Hunter". Filmul il are in rolul principal pe superstarul taiwanez al muzicii, Jay Chou, recent distribuit in remake-ul hollywoodian "The Green Hornet". In mai putin de un deceniu, acesta a devenit cel mai profitabil star al Asiei datorita abilitatilor sale muzicale, fiecare nou album situandu-l in fruntea tipurilor asiatice de muzica. De atunci, acesta si-a incercat norocul in film, regizand "Secret" si avand roluri ocazionale in filme ca "Curse of the Golden Flower" sau "Kung Fu Dunk", dar si in afaceri, avand in co-proprietate un lant de restaurante. Cealalta vedeta a filmului este Lin Chiling, un model taiwanez de 35 de ani care a debutat in 2008 in filmul lui John Woo "Red Cliff". Distributia e completata de Chen Daoming si mai ales de cunoscutul super-star al show-bizz-ului din China, Eric Tsang. Filmul se ridica la nivelul oricarei productii de gen hollywoodiene, filmul beneficiind de efecte speciale (mai de graba de inspiratie "Matrix") si slow-motion-uri bine calculate, cu o coloana sonora a la Ricky Ho care nu plictiseste.
In desertul nesfarsit din partea de Nord-Vest a Chinei, unde dinastii fara numar s-au ridicat si s-au prabusit inghitite de nisipul timpului, exista un mit al unei comori ingropate intr-un fantomatic Oras Pierdut. Un grup de Gardieni legendari pazeau orasul misterios si harta care ar fi putut duce la gasirea lui. Insa o organizatie internationala de hoti de antichitati reuseste sa puna mana pe harta orasului pierdut in desert. Printr-o intamplare aceasta ajunge in mana unui tanar onest si arogant, Qiaofei (Jay Chou), expert in artele martiale, care se ocupa cu recuperarea de antichitati si redarea acestora detinatorilor de drept. In momentul in care fiica mentorului sau, maestrul Tu, este rapita de un simpatic vanator de comori (Eric Tsnag), acesta trebuie sa predea harta in schimbul fetei. Dar lucrurile se complica in inima desertului, unde temuta legenda a gardienilor Orasului Pierdut prinde viata, iar harta este furata… chiar de la vanatorii de comori lipsiti de scrupule.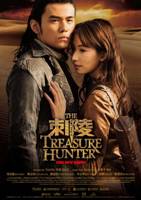 Un film de aventuri cu o nota de fantezie simpatica, deosebit de captivant, un soi de "noodles western" daca acest termen poate fi folosit ("kimchi western" a fost patentat deja) cu accente a la Tarantino, amestecat cu influente din "The Mummy" si "Giuvaierul Nilului". Scenariul filmului a fost scris de nu mai putin de 5 scenaristi supervizati de celebrul Ivy Ho, iar rolul interpretat de Jay Chou se aseamana cu cel al celebrilor Indiana Jones sau Rick O'Connell din "The Mummy", personajului lui Chou lipsindu-i sarmul si inteligenta celor doi. Pe alocuri Chou chiar pare enervant in rolul de erou pozitiv, datorita superficialitatii rezultate din aroganta personajului sau. O poveste care pe langa faptul ca este spectaculoasa, stie sa atinga si coarda sensibila, si sa te faca sa zambesti. Un film perfect pentru o seara de weekend alaturi de familie si prieteni.