Home » DIVERSE
The Top Secret: Murder in Mind (2016) – un thriller psihologic SF de senzaţie de la autorul trilogiei "Rurouni Kenshin" !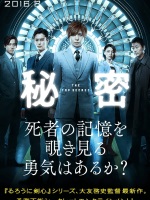 Regizorul trilogiei de succes "Rurouni Kenshin", Keishi Ohtomo, a revenit in prim plan dupa ultima parte din trilogie, in 2016, cu "The Top Secret: Murder in Mind", un thriller psihologic cu accente SF ce aminteste de anterioara lui productie "Platinum Data" (2013). De aceasta data insa scenariul l-a scris tot el, inspirandu-se dintr-o manga de suspans longeviva, publicata din 2001 pana in 2012, ce a fost mai apoi adaptata si intr-un anime, "Himitsu – Top Secret". Filmul porneste de la povestea din manga si pastreaza aceleasi personaje (cu o singura exceptie, excentricul psihiatru Saito, ce nu apare in manga si al carui personaj a fost creat special pentru povestea filmului). In rolurile principale au fost distribuiti Masaki Okada (Lingering Spirits, JoJo's Bizzare Adventure: The Diamond is Unbreakable, Confessions, Villain) in rolul lui Aoki, un detectiv ce stapaneste la perfectie psihologia criminalilor, si apreciatul Toma Ikuta in rolul sefului Departamentului 9, Maki, un departament secret din cadrul politiei japoneze al carui obiect de interes sunt cazurile bizare. Distributia este una numeroasa, insa fiecare personaj isi are partitura sa in aceasta lunga poveste (de 2 ore si 30 de minute) plina de surprize si mister, interpretarea fiind pe masura. La box-office-ul japonez, "The Top Secret: Murder in Mind" a obtinut doar 3,8 milioane de dolari incasari, cu mult sub adevarata valoare a productiei, unul din cele mai bune thrillere psihologice japoneze realizate in ultimii ani.
Aoki (Masaki Okada) e un tanar si talentat detectiv de investigatie a carui indemanare si intuitie in intelegerea mintii criminalilor e recunoscuta in toata politia japoneza. Intr-una din zile este solicitat de seful de echipa Tsuyoshi Maki (Toma Ikuta), un detectiv rece, distant si aparent arogant, pentru a fi cooptat in cadrul Departamentului 9. Departamentul 9 fusese fondat cu ani in urma de Maki impreuna cu raposatul sau partener Suzuki, ca unitate speciala a Politiei Metropolitane, ce folosea tehnologie de ultima ora pentru scanarea creierului uman. Scopul Departamentului era usurarea muncii criminalistilor si reducerea timpului de rezolvare a cazurilor, ceea ce in temeni financiari ar fi adus un important beneficiu bugetului institutiei. Departamentul 9 se lupta sa devina o agentie oficiala, de sine statatoare, dar se confrunta cu rivalitatea evidenta a celorlalte departamente, mult mai costisitoare prin metodele lor de lucru. Prima provocare majora apare in momentul in care un student e retinut pentru uciderea unei tinere. Aoki intuieste imediat modul in care a procedat criminalul, iar odata ajuns in Departamentul 9, el insusi obtine, prin tehnologia avansata utilizata de Departament, confirmarea intuitiei sale, castigand aprecierea distantului Maki. In momentul in care un caz mai vechi al unui criminal ce si-a macelarit familia este redeschis, analiza prin scanare a creierului autorului scoate la lumina cateva lucruri pe care ancheta oficiala le-a trecut cu vederea. In spatele scandalului public ce e pe cale sa izbucneasca (este pe cale politia sa rezolve cu adevarat cazurile de crima ?), secrete din trecutul personal al lui Maki incep sa iasa la suprafata, punandu-i la incercare atat rezistenta psihica cat si capacitatea de a le depasi. Totul pe fondul descoperirii unor lucruri socante despre criminalul in serie condamnat la moarte…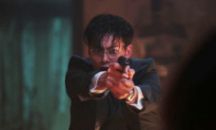 "The Top Secret: Murder in Mind" e un thriller psihologic SF de exceptie, o veritabila calatorie virtuala intr-un viitor poate nu prea indepartat, in care tehnologia va permite ca dintr-o simpla scanare a creierului uman sa putem intelege nu doar motivele pentru care reactionam intr-un anume fel in anumite situatii, ci si alte mecanisme psihologice ale mintii umane care astazi tin de domeniul psihologiei si psihiatriei. Desigur, totul este o fictiune captivanta (de unde si latura SF a productiei), dar poate intr-o zi, o descoperire mai mult sau mai putin intamplatoare va face posibila crearea unui dispozitiv, ca cel din film, care sa ne permita extragerea amintirilor unei persoane. Nu suna ademenitor un astfel de scenariu ? Exact pe acest lucru a mizat si regizorul scenarist Keishi Ohtomo, ce ne ofera un thriller intunecat despre tenebrele mintii umane pe care incearca sa le descifreze doi detectivi straluciti. Atmosfera e una care te bantuie, coloana sonora amplifica aceasta senzatie de ratacire in mintile si realitatile unor criminali, iar imaginile, intunecate si sinistre, nu fac decat sa starneasca si mai mult curiozitatea. Toma Ikuta in rolul lui Maki are una din cele mai bune interpretari a carierei sale, are o prezenta magnetica de-a dreptul, in timp ce Masaki Okada, in rolul mai tanarului sau partener de caz, atrage atentia in mod evident in special publicului feminin. Scenariul este consistent pana la un punct, dupa care intram pe taramul subiectivismului, povestea dilatandu-se si personalizandu-se. Insa per ansamblu nu se pierde coerenta firului epic, filmul ramanand captivant pana la final. Fara a dezvalui alte amanunte care ar strica din placerea vizionarii, "The Top Secret: Murder in Mind" ramane unul din cele mai intrigante thrillere psihologice japoneze realizate in ultima perioada, care cu siguranta va atrage pe amatorii genului ca un magnet.
Traducerea si adaptarea (inclusiv a segmentelor vorbite in engleza, adaugate manual) au fost efectuate in premiera in Romania de gligac2002 (Asia Team) pentru asiacinefil.
Prezentare realizata de cris999 – asiacinefil