Home » DIVERSE
The Thousand Faces of Dunjia (2017) – o fantezie SF în regia legendarului Yuen Woo-ping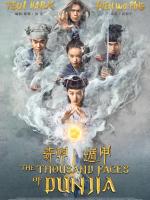 Legendarul Yuen Woo-ping revine in scaunul regizoral la 73 de ani cu o fantezie cu accente sf plina de efecte speciale, "The Thousand Faces of Dunjia". Cunoscut pentru coregrafia scenelor de lupta din filme celebre (Drunken Master, Black Mask, trilogia "The Matrix", Kill Bill 1-2, Crouching Tiger Hidden Dragon, Kung Fu Hustle, The Grandmaster, Man of Tai Chi sau Ip Man 3), cu o cariera pe masura si ca regizor (Drunken Master, Tiger Cage 1-2, Iron Monkey, True Legend, Crouching Tiger Hidden Dragon: Sword of Destiny), Yuen Woo-ping ramane una din cele mai de succes si influente figuri ale filmului de actiune din Hong Kong. "The Thousand Faces of Dunjia" a fost un succes de box-office in China, obtinand 46,1 milioane de dolari incasari. Mai mult decat atat, punctele forte ale productiei i-au adus deja 3 nominalizari la Premiile Filmului Asiatic ce se vor decerna pe 17 martie in Macao. E vorba de categoriile "Cel mai bun film de actiune", "Cele mai bune costume" si "Cele mai bune efecte vizuale". Filmul e un remake al productiei din 1982 "The Miracle Fighters", regizat de acelasi Yuen Woo-ping. Scenariul e scris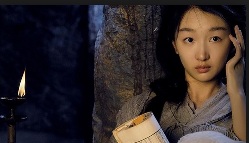 de cunoscutul Tsui Hark, ce a contribuit si la producerea filmului. Cu nume atat de importante la timona, nici distributia nu este una de neglijat. Chiar daca nu are nume foarte mari in distributie, filmul are parte de o echipa de actori in plina ascensiune in cinematografia chineza: Da Peng (din "Journey to the West: The Demons Strike Back", ce va aparea in acest an si in sequelul mult asteptat la "Monster Hunt"), Aarif Lee (din "Cold War" 1 si 2), actrita Ni Ni din recentul "Wukong" sau Zhou Dongyu (ce debuta in 2010 in rolul emotionant din filmul lui Zhang Yimou "Under the Hawthorn Tree", ce e una din cele mai curtate actrite chineze ale momentului de catre producatori).
Niste misterioase creaturi extraterestre se prabusesc undeva pe teritoriul Chinei medievale, amenintand rasa umana. Luand forme ciudate, acestea se strecoara in lumea oamenilor si o spioneaza, asteptand momentul oportun pentru a o distruge. Clanul Wuyin a studiat un text antic neoficial si a transmis cunostintele din generatie in generatie, in scopul gasirii "Dunjia", un instrument ascuns intr-o sfera ce poate invinge inamicul nevazut venit din Ceruri. Vremurile insa nu sunt prea bune pentru clanul Wuyin, a carui disparitie pare a fi iminenta. Profetia spune ca "Dunjia" poate fi deschisa doar de persoana potrivita, astfel ca aceasta va deveni si conducatorul clanului. In acest sens, Fratele al Doilea al clanului a plecat sa strabata tara in lung si-n lat, pentru gasirea noii capetenii a Clanului. In paralel, Libelula si ceilalti membri ai clanului sunt vigilenti, reusind sa dea de urma iscoadei extraterestre deghizate sub forma unui peste. In misiunea lor se amesteca din greseala un politist local incepator, Dao Yichang, astfel ca impreuna pornesc lupta pentru salvarea omenirii de planul diabolic al extraterestrilor.
Imaginatia nelimitata a scenaristului Tsui Hark ne poarta de aceasta data intr-o lume amenintata de niste creaturi extraterestre realizate 100% cu ajutorul efectelor speciale, rezultatul fiind un film cat se poate de spectaculos sub aspect vizual. Povestea este structurata pe mai multe capitole, ca si cum am avea in fata un foileton wuxia, si a fost scrisa in asa fel incat sa dea senzatia unui inceput de franciza, ce va putea fi exploatat finaciar in anii urmatori prin continuari. Piperata cu momente antologice de umor, povestea fantezista ce e impinsa spre science-fiction e construita in jurul catorva personaje principale pornite in cautarea unei arme legendare in masura a restabili echilibrul unei lumi pe cale sa se prabuseasca. Libelula (sau Sora a Doua, interpretata de actrita Ni Ni, ce seamana flagrant cu Shu Qi) e "adjuncta adjunctului" plecat prin tara in cautarea noului Sef al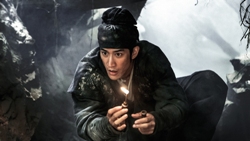 clanului, jucand rolul de sefa temporara a unui clan ai caror membri par a stapani la perfectie arta deghizarii si, desigur, artele martiale. Pare o luptatoare desavarsita, chiar seducatoare prin frumusetea sa atunci cand nu e deghizata in negustoreasa hada sau calugar taoist, si mai poseda o calitate: agerimea. Gandeste iute si actioneaza si mai si. Dar misiunea ei de gasire a iscoadei deghizate a extraterestrilor e ingreunata de o piedica neasteptata pusa de Dao Yichang (Aarif Lee), noul politist din Kaifeng. Dornic sa se remarce, strica ploile sefului sau direct, care decide sa-l puna la treaba, trimitandu-l pe urmele unor infractori imaginari, misiune pe care Dao o ia cat se poate de in serios. Nu e foarte inteligent, se lasa manat de impulsuri, iar naivitatea de care da uneori dovada e la un pas sa-l ingroape. Da de mai multe ori peste Libelula, in diferitele ei ipostaze, si fara sa realizeze, intre cei doi se naste o iubire la prima vedere. Anumite situatii ii vor aduce aproape si ii vor plasa in aceeasi tabara, mai ales ca dand dovada de mult curaj, Dao ii salveaza la un moment dat viata Libelulei cu un pret urias. Amuzant, antrenant si plin de imaginatie dar si de romantism, "The Thousand Faces of Dunjia" reuseste sa fie suficient de interesant pentru a-l urmari pana la final. Desi nu se ridica la nivelul altor productii similare chinezesti de gen si pare a se pierde in niste concepte confuze ce tin de astrologie, vrajitorie, alchimie si strategie de razboi (teme atat de dragi chinezilor), filmul se poate incadra cel mai simplu in categoria "nu trebuie sa intelegi totdeauna ce se intampla pentru a te bucura de spectacol". Asadar, vizionare placuta !
Traducerea, adaptarea si timingul au fost realizate in premiera in Romania de lasedan si gligac2002 (Asia Team) pentru asiacinefil.
Prezentare realizata de cris999 – asiacinefil