Home » DIVERSE
The Taming of the Shrew (2008) – Park Jung-ah între scorpie şi norã model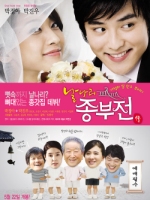 Pentru Yeon-soo (Park Jung-ah), fiecare zi din viata inseamna o continua distractie. Orfana de mama si fiica a unui speculant imobiliar – sau mai corect spus gangster (Lee Won-jong) -, e rasfatata de acesta si are toata lumea la picioarele ei. Dar intr-una din zile face ce face si agata un tanar atragator, bine crescut, in care vede printul la care viseaza din copilarie, Jeong-do (Park Jin-woo). Timid, perfectiunea intruchipata in opinia indraznetei Yeon-soo, Jeong-do este, insa, ca fire, opusul lui Yeon-soo. Cum extremele se atrag si indrazneala lui Yeon-soo grabeste acceptarea ei de catre cumintele Jeong-do, cei doi incep o relatie ce duce la o neasteptata… sarcina. Relatia celor doi tineri de la inceput nu este pe placul tatalui fetei, care visa sa o marite pe aceasta cu cineva potent din lumea politica, din motive evidente. Cand acesta se implica pentru a curma iubirea celor doi tineri, Yeon-soo fuge de acasa si se refugiaza la tara, la familia lui Jeong-do. Fiind o familie traditionala, mai marii acesteia, pusi in fata faptului implinit (sarcina), accepta casatoria, insa pana la aceasta, tanara trebuie sa treaca printr-o etapa pregatitoare, conform traditiei. Si astfel incepe… imblanzirea scorpiei.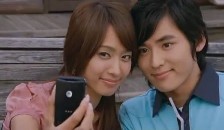 Filmul, dupa cum o spune si titlul, are la baza celebra piesa omonima a lui Shakespeare, "Imblanzirea scorpiei", fiind o adaptare moderna a ei la realitatile societatii contemporane coreene. Si, cum se putea altfel, tonul comic este pastrat de la inceput pana la sfarsit, spre delectarea spectatorilor. Protagonistii povestii sunt doi actori mai putin cunoscuti dar care au intrat extrem de bine in pielea personajelor interpretate, e vorba de Park Jung-ah si Park Jin-woo. Park Jung-ah e o fosta membra a formatiei de fete "Jewelry", ce a debutat in 2003 in filmul "Madeleine" si a aparut in mai multe seriale, cele mai recente fiind "Oh, My Ghost !" si "Glamorous Temptation". Insa rolul dn "Smile Again" a fost cel care i-a adus premiul pentru Cel mai bun rol secundar intr-un serial KBS. Nu intamplator in coloana sonora a filmului au fost incluse mai multe hit-uri ale formatiei Jewelry, cum e cazul lui "One More Time". In ce-l priveste pe Park Jin-woo, de acesta ne amintim din rolul de debut pe marele ecran in "My Little Bride", unde a avut-o ca partenera pe Moon Geun-young. Desi a mai aparut intr-o multime de seriale, nu a mai avut, de atunci, un rol care sa se bucure de popularitatea celui de la debut. In schimb, in rolurile secundare avem parte de o multime de figuri cunoscute, precum Lee Won-jong sau Yang Geum-seok, dar si de Kim Tae-ho, un actor care la un an de la filmari se stingea intr-un tragic accident de motocicleta.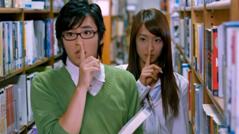 "The Taming of the Shrew" e o savuroasa comedie romantica de la sfarsitul perioadei de glorie a genului, de dupa renasterea filmului coreean de la inceputul anilor 2000. Se stie ca in paralel cu explozia Hallyu, si filmul coreean pentru marele ecran a progresat, iar principalul gen "vinovat" pentru aceasta renastere a fost chiar comedia. O serie de comedii cu gansgteri, romantice sau cu adolescenti (My Sassy Girl, Sex is Zero, My Wfe is a Gangster) au prins atat de bine la public incat producatorii au speculat momentul, iar in cativa ani asistam la o inflorire a genului comediilor romantice sau de actiune. Insa spre sfarsitul primului deceniu al acestui secol perioada a inceput sa apuna in primul rand datorita exploziei serialelor de televiziune, ce au acaparat publicul amator de romantism si umor. "The Taming of the Shrew" e o comedie plina de clisee, insa realizata in stilul vechi, neoccidentalizat, adica al comediilor de la inceputul anilor 2000. Povestea nu este una complicata, pe alocuri unele lucruri chiar scartaie putin in scenariu, dar nu deranjeaza. Comedia e cuvantul de ordine, insa aceasta se imbina cu romantismul si cu actiunea, ceea ce face filmul captivant. Actrita Park Jung-ah e o delectare in rolul "scorpiei" de bani gata in cautare de distractie si baieti frumosi, ce cade in capcana propriilor asteptari, acceptand inclusiv sa se lase "imblanzita" doar de dragul unui print modern timid si manierat ca Park Jin-woo. Totusi, acesta din urma parca e prea sters in rolul sau, intreaga atentie a camerelor de luat vederi fiind acaparata de Jung-ah. Mai mult decat atat, intrarea micii "scorpii"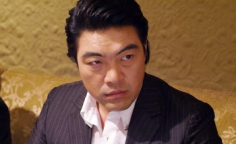 in lumea familiei viitorului ei sot aduce cu sine o avalansa de personaje secundare ce umbresc si mai mult expunerea lui Jin-woo, care aproape dispare din peisaj in a doua parte a filmului. Exista chimie intre cei doi, dar scenariul nu prea lasa ca aceasta sa se manifeste, accentul fiind pus pe latura comica a relationarii tinerei cu familia viitorului sot si viceversa, a lui cu familia viitoarei lui sotii. Umorul este de calitate, existand unele momente de-a dreptul exasperant de comice, si mai e ceva: jumatate din film actiunea se muta din agitatul Seul intr-un sat de pe coasta estica a Coreei, in care traditia e respectata de secole. Practic toata lumea se imbraca in costume traditionale, si o calatorie inapoi in evul mediu parca incepe, asistand la o adevarata lectie despre cultura si traditiile acestei natiuni, spusa intr-o nota cat se poate de vesela. Un film ce merita savurat pentru tonul sau optimist, umorul de calitate si prestatia unei Park Jung-ah incantatoare. Pacat ca in ziua de astazi nu se mai fac comedii autentic coreene, ca aceasta…
Traducerea si adaptarea au fost efectuate in premiera in Romania de gligac2002 (Asia Team) pentru asiacinefil.
Prezentare realizata de cris999 – asiacinefil