Home » NOUTÃŢI
"The Princess and the Matchmaker", o pereche fãrã de pereche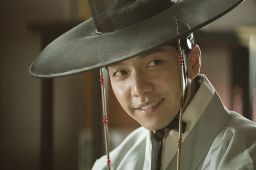 Lee Sung-gi este un actor talentat, un cantaret cu o voce foarte buna si o adevarata gazda a numeroase emisiuni de divertisment de succes, urmand a se vedea daca reteta a functionat foarte bine cu rolul din "The Princess and The Matchmaker". Filmul regizat de Hong Chang-pyo marcheaza intoarcerea starului coreean pe marele ecran dupa revenirea din armata de anul trecut. Desi filmarile la productie s-au terminat in 2015, filmul a fost tinut sub cheie pentru aproape trei ani.
Personajul central a scenariului este o printesa din perioada Joseon pe nume Songhwa, interpretata de Shim Eun-kyung. Regatul este parjolit de o seceta crunta si se crede ca daca printesa se va casatori, acest lucru va aduce ploaia, asa ca regele porunceste oamenilor sai sa gaseasca un candidat adecvat ("gunghap") din cei patru posibili. Termenul de "gunghap"se refera la obiceiul de a vedea cat de bine ar merge mariajul, folosindu-se de numele celor doi, zilele de nastere si alte elemente.
Lee Sung-gi este expertul in "gunghap", expert pus de rege sa vada compatibilitatea candidatilor cu printesa, dar nu baga de seama ca unul din candidati arata ciudat, fiind chiar printesa care s-a deghizat, dorind sa afle cat mai curand ce i-au sortit cerurile.
Filmul nu este unul istoric, ci mai degraba o comedie romantica ce se intampla in trecut, dar mesajul este in mod surprinzator unul progresiv: trebuie sa asculti vocea inimii, in loc sa asculti de o porunca.
"Am vrut sa fac acest film altfel decat filmele istorice existente. In loc sa am o poveste despre un barbat concentrat asupra luptei pentru putere, am ales o poveste amuzanta de iubire", a declarat regizorul.
Desi filmul este o comedie romantica, se pare ca uneori umorul lipseste, scenariul devenind usor confuz, iar comparatia unui ziarist cu "The Face Reader" este caraghioasa, tinand cont ca filmul din 2013 este unul din cele mai bune filme coreene din toate timpurile, cu o intriga superba, joc actoricesc pe masura, mesaj relevant si o balanta adecvata intre seriozitate si comedie.
Incepand din 28 februarie, coreenii cinefili ii pot vedea pe Lee Sung-gi si Shim Eun-kyung in "The Princess and The Matchmaker", un film despre o printesa ce refuza sa-si accepte soarta de a se casatori cu cineva impus de rege si isi ia destinul in propriile maini evadand din palat si mergand sa-si gaseasca alesul inimii. 9,7 milioane dolari a obtinut incasari productia in 2 saptamani de rulare in cinematografe. Un film cu actori din tanara generatie, ce nu reuseste sa depaseasca asteptarile, apropiindu-se flagrant de valoarea unui serial romantic de epoca modest de televiziune ce se adreseaza cu precadere publicului feminin.
Articol realizat de chocolate_cleo – asiacinefil