Home » DIVERSE
The Heirs (The Inheritors) (2013) – Lee Min Ho şi Park Shin-hye în noul serial tradus în premierã în Romãnia de asiacinefil !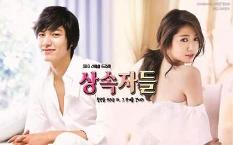 Dupa povesti de dragoste pasionale (When a Man Loves. That Winter, the Wind Blows), dupa lectii de omenie date de un personaj cu dizabilitati ce a reusit sa-si depaseasca conditia, oferind sperante semenilor sai (desigur, e vorba de personajul Shi On interpretat de Joo Won in "Good Doctor") si dupa lectia fantezist-comica de iubire oferita de So Ji-sub si Kong Hyo-jin in "Master's Sun", e timpul si pentru o poveste inspirata din anii tumultuosi ai tineretii, cel putin prin subiectul abordat, "The Heirs" (cunoscut si ca "The Inheritosr" sau "The One Who Wants To Wear The Crown, Bear The Crown") calcand pe urmele succesului international al serialului "Boys Over Flowers". Lumea in care serialul isi desfasoara actiunea e, ca in "Boys Over F,lowers" una exclusivista, a mostenitorilor afacerilor marilor imperii finanicare ale Coreei, lumea tinerilor elitisti ce-si fac studiile peste Ocean, tinuti in puf de parintii lor milionari, o lume in care prin intermediul iubirii ajunge sa-si faca loc o muritoare de rand. In ciuda subiectului ce pare deja unul tipic coreean, care cu siguranta ne va aduce din nou in fata ochilor o multime de clisee specifice genului, serialul are toate premisele pentru a fi un succes. Intai de toate e asteptat de toti fanii protagonistilor inca din primavara acestui an. In al doilea rand scenariul este scris de Kim Eun-sook, scenarista a numeroase seriale de succes, precum "Lovers in Paris", "Lovers", "The City Hall", "Secret Garden" si "Gentleman's Dignity", premiata in 2011 pentru scenariul lui "Secret Garden" iar in ultima zi a lui 2012, la SBS Drama Awards, cu premiul pentru intraga cariera de scenarista. Nu in ultimul rand, distributia e un alt atu al serialului, in rolurile principale aparand doi actori foarte indragiti, Lee Min-ho si Park Shin-hye. Pe Lee Min-ho l-am putut vedea ultima data in fantezia de epoca "Faith" si in serialul inspirat din benzile desenate "City Hunter", la cei 26 de ani ai sai aflandu-se la apogeul carierei, in acest an fiind recompensat cu premiul pentru "Cel mai popular actor asiatic". Si Park Shin-hye se afla pe val, aparand in acest an in filmul anului, in Coreea, "Miracle in Cell No 7" (ce i-a adus un pemiu de popularitate la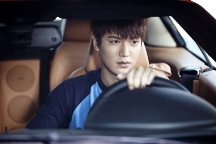 Baeksang Arts Awards") dar si in in scurt-metrajul "One Perfect Day". Rolurile din k-dramele "Tree of Heaven" si "GoongS" sunt deja istorie, ele i-au adus consacrarea la o varsta frageda (16, respectiv 17 ani), iar acum a sosit momentul unui rol important pe micul ecran alaturi de unul din cei mai populari actori ai momentului in Coreea (ci siguranta producatorii serialului "Heirs" au luat in considerare premiile de popularitate ale celor doi protagonisti in momentul in care i-au ales sa joace rolurile principale). Asteptarile de la acest serial sunt sporite de prezenta in scaunul regizoral al lui Kang Shin-hyo, regizorul lui "All In" si a lui "Midas". Timp de 3 saptamani, echipa de productie si implicit protagonistii s-au mutat in Statele Unite, la inceputul lui septembrie, unde s-au filmat secventele cuprinse in primele episoade (Los Angeles, plajele din Malibu si alte locatii), dupa care actiunea se muta in Coreea.
Serialul urmareste vietile unui grup de tineri privilegiati ce urmeaza a mosteni imperiile financiare ale parintilor lor. Elevi de liceu de elita la cele mai prestigioase institutii de invatamant de peste Ocean, rasfatati si aroganti, beneficiind de toate prvilegiile ce decurg din statutul lor social (totusi, in Coreea, procentul familiilor chaebol – detinatoare de conglomerate in lumea afacerilor este de sub 0,5% ), acestia par a avea totul sub control. Mai putin propiile lor sentimente. Kim Tan (Lee Min-ho) e mostenitorul Empire Group, un tanar aratos insa arogant si egoist, trimis la studii in State. In realitate, prezenta lui in State e o forma de exil, fratele lui vitreg mai mare, Kim Won, ramas in Coreea, punand la cale preluarea afacerilor companiei. In State, Kim Tan da peste Cha Eun Sung (Park Shi-hye), ce tocmai sosise in America in cautarea surorii ei mai mari. Kim Tan se indragosteste la prima vedere de fata, fara a realiza ca aceasta e de fapt, fiica menajerei familiei lui instarite din Coreea. Scurta lor poveste de iubire se incheie in momentul in care Kim Tan e adus cu picioarele pe pamant de sosirea logodnicei sale din Coreea, Rachel Yoo, ce are o misiune clara: sa-l aduca pe Kim Tan inapoi in tara. E momentul in care acesta trebuie sa aleaga intre obligatiile sale ca mostenitor al afacerii familiei si sentimentele sale fata de tanara de origine umila peste care a dat in America. Numai ca lucrurile se complica cand in scena intra si fratele lui Rachel, Choi Young Do, care se indragosteste la randu-i de Eun Sung, Cenusareasa ratacita in Palatul de Clestar…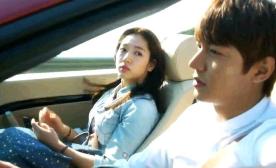 Un serial ce are in centrul sau din nou diferentele de clasa ce marcheaza societatea coreeana, ce merge pe clasica idée ca iubirea nu tine de originea sociala, ci de ceva greu de anticipat numit suflet. Veti vedea zugravite doua lumi, cea a tinerilor de bani gata, ce conduc masini costisitoare, motociclete modificate la cerere, ce-si terorizeaza si umilesc colegii de clasa de origine modesta, dar nefericiti, si lumea tinerilor umili, al carei exponent primordial e Eun Sung, care pe langa studii are tot felul de slujbe part-time, si care nu are timpul sa fie fericita. Eun Sung devine sablonul perfect pentru cunoscutul si mult amintitul personaj Candy, eroina ce trudeste din greu pentru a razbi in viata si care ajunge sa fie indragita de fiul unui milionar. Sau, daca vreti, o poveste a unei Cenusarese moderne ale carei rivale sunt femeile parvenite ce roiesc in jurul barbatilor cu bani. E de urmarit acest fir al serialului. Dincolo de toate asteptarile pe care le avem de la "The Heirs", "Master's Sun" ne-a invatat un lucru important: chimia dintre protagonisti e un factor total impredictibil. Nimeni n-ar fi pariat ca So Ji-sub se va potrivi atat de bine cu Gong Hyo-jin pe ecran, dar rezultatul a fost unul fenomenal. Si aceasta chimie a conribuit decisiv la succesul serialului, minute intregi din fiecare episod existand adevarate recitaluri actoricesti in doi, savurate de spectatori. Ne putem, oare, astepta, la ceva similar de la Le Min-ho si Park Shin-hye ? Daca e sa ne gandim la rolurile mari ale celor doi (Lee Min-ho in City Hunter si mai apoi in Faith, si Park Shin-hye in Goong S), premisele sunt incurajatoare. Datorita unei povsti complexe si a unui numar mai mare de cupluri si de personaje, cu siguranta episoadele nu vor fi monopolizate de cei doi si de povestea lor, insa poate de aceasta data chimia celor doi protagonisti va veni din altceva, nu din cuvinte…
Serialul a inceput sa fie difuzat de postul coreean SBS pe 9 octombrie 2013, fiind preconizate 20 de episoade. "The Heirs" este tradus in premiera in Romania de Asia Team pentru asiacinefil , colaboratorii la acest proiect fiind: cristinab, uruma, Nanuc si gligac2002.
Prezentare realizata de cris999 – asiacinefil