Home » DIVERSE
The Great Gift (2011) – o dramã de familie specialã oferitã în dar de Chuseok pentru asiacinefili !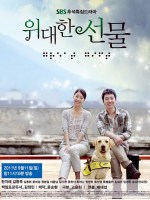 In urma cu 2 ani, cu ocazia sarbatoririi Chuseok-ului, postul coreean de televiziune SBS a difuzat o miniserie de 2 episoade intitulata "The Great Gift". Cu un rating de 5,2% la nivel national, miniseria a fost o placuta surpriza oferita de scenarista Go Yoon Hee (Rules of Dating, Love Exposure) si de regizorul Bae Tae Sup, un obisnuit al serialelor de familie de peste 100 de episoade precum "Love and Hate" sau "You Don't Know Women". "The Great Gift" este o drama de familie ideala de Chuseok, cand familiile se reunesc si isi comemoreaza mortii si se bucura de recolta noului an alaturi de cei dragi. Miniseria urmareste povestea a doua familii – a unei tinere care orbeste si incearca sa-si continue viata si sa-si implineasca visul de a deveni intr-o zi profesoara, in ciuda obstacolelor celor din jur si in general a societatii, sprijinita de parintii ei, si povestea unei familii dezorganizate a unui tanar politest trecut de 30 de ani dar care arata ca de 20, imatur si iresponsabil, indifrent la educatia propriei sale fiice. Povestea e spusa intr-un ritm alert, regizorul incercand sa prinda in cele 2 episoade cat mai multe elemente, in special ca povestea e intinsa pe durata mai multor ani, ceea ce este un mare dezavantaj pentru aceste miniserii. O poveste spusa mult mai lent si elaborat ar fi putut sa transmita o emotie mai puternica, insa si asa, "The Great Gift" transmite o multime de invataminte si mesaje positive, in spiritul armoniei familiale. In rolurile principale vom recunoaste doi actori indragiti. E vorba de Han Ji-hye, recent vazuta in "May Queen", "The Duo", "Summer Scent" sau in specialul KBS "The Pianist", care de aceasta data interpreteaza o fata oarba ce trebuie sa se descurce alaturi de simpaticul Tae-yang (Soare), un caine insotitos dragalas, si Kim Dong-wook (aflat in prezent in armata), ce a impresionat in special cu ultimul sau rol dinaintea inrolarii, din pelicula "The Concubine" (2012).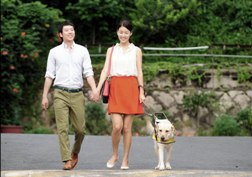 Ha Yeon (Han Ji-hye) are un cosmar in plina zi: viseaza ca intr-o zi insorita, brusc, cerul se intuneca de nori si incepe sa tune sis a fulgere. Dintr-odata fata isi pierde vederea si, bajbaind in intuneric, se indreapta spre marginea prapastiei, in care in cele din urma cade. In momentul in care isi deschide ochii constata ca nu a fost decat un cosmar, insa in scurt timp observa ca vederea ii evine tot mai incetosata, pana cand, intr-o zi, nu mai vde deloc. Parintii ei se adreseaza medicului oftalmolog, care ii avertizeaza sa fie pregatiti pentru momentul foarte apropiat cand fatal or va ramane oarba. Inevitabilul se produce, iar pentru a-si urma visul de a devein profesoara, tanara are nevoie de sprijinul parintilor, care se gandesc sa-i cumpere un caine insotitor. Dupa o prima incercare esuata, datorita fricii fetei de caini, aceasta ramane impresionata de povestea lui Tae-yang, un caine insotitor caruia recent i-a murit stapanul, caruia i-a ramas credincios si dupa moarte. Astfel ca se ataseaza imediat de Tae-yang, care devine prietenul de incredere ce o va ajuta sa-si implineasca visul. Ha Yeon e admisa la celebra Universitate Hanguk si starneste admiratia tuturor. Iar de aici pana la a devein profesoara de engleza mai e un singur pas. Pe care il face cu spijinul lui Koo Woo Ram, un politist local guraliv, increzut si iresponsabil, care o ajuta sa ajunga la timp la examenul de titularizare. Dar drumurile lor se vor mai intalni dupa un timp, de aceasta data in altfel de ipostaze, ce scot la iveala caracterul fiecaruia.
O miniserie superba oferita in dar de Chuseok de asiacinefil, traducerea proiectului fiind efectuata in premiera in Romania de Vic pentru asiacinefil, lucru pentru care ii multumim.
Prezentare realizata de cris999 – asiacinefil.com