Home » DIVERSE
The Fallen Angel (2010) – Toma Ikuta, geniu în depresie într-o ecranizare dupã Osamu Dazai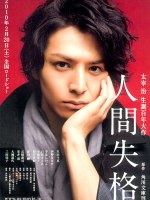 Nascut intr-o familie instarita, Oba Yozo (Toma Ikuta) e un copil ce aparent are o copilarie fericita. Locuieste intr-o resedinta somptuoasa, are o intreaga armata de servitori la dispozitie, e tratat regeste si, de ziua lui, marele vis i se implineste: tatal lui ii permite sa fie plimbat cu caleasca. Insa dincolo de luxul acestei vieti aparent fericite se ascund mari frustrari date de lipsa de afectiune a parintilor, care il fac la un moment dat pe micutul Oba sa exclame: "Imi pare rau… ca m-am nascut !". In perioada adolescentei, un coleg de clasa, vazandu-i desenul iesit din comun, ascuns cu grija intr-un dulap, ii prevede un viitor stralucit ca desenator, spunandu-i ca femei frumoase vor roi in jurul sau, fascinate de talentul sau. Ulterior, Oba il cunoaste pe Horiki (Yusuke Iseya), un pictor ratat care mereu ii cere bani imprumut, si care vede talentul din el, sugerandu-i sa il urmeze pentru a i-l cizela. In acest mod cei doi devin prieteni apropiati, Oba ajungand in anturajul mai mult sau mai putin artistic al lui Horiki, inconjurat de femei frumoase si alcool. Curand insa depresia va pune stapanire pe Oba, viata lui incepand sa se afunde in patima alcoolului si a propriilor esecuri ca fiinta umana.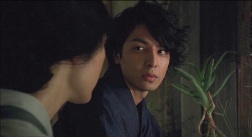 "Fallen Angel" (2010) (cunoscut cu titlul initial de "No Longer Human") a fost ultimul film al regizorului japonez Genjiro Arato, care 6 ani mai tarziu se stingea din viata la varsta de 70 de ani. Acesta a adaptat scenariul filmului dupa un cunoscut roman, "Ningen Shikkaku" ("No Longer Human"), scris de unul din cei mai remarcabili scriitori japonezi ai secolului XX, Osamu Dazai. In fapt, "No Longer Human" este un roman autobiografic, considerat capodopera intregii creatii literare a lui Dazai, fiind cel de-al doilea cel mai bine vandut roman din Japonia din toate timpurile, dupa "Kokoro" al lui Natsume Soseki. In ziua de azi, scrierile lui Osamu Dazai sunt considerate clasice pentru literatura japoneza, stilul lui fiind unul semi-autobiografic, cu multe experiente traite in viata reala de scriitor si transpuse in scrierile lui. Influentat de scriitori precum Ryunosuke Akutagawa sau Fyodor Dostoievski, Osamu Dazai e un personaj celebrat in Japonia, dar aproape cvasi-necunoscut in lumea occidentala, foarte putine din scrierile lui fiind traduse in alte limbi (din fericire iubitorii de literatura japoneza din Romania au sansa sa lectureze unul din romanele sale celebre, "Amurg", tradus in romana). In acelasi timp, Dazai a ramas in istoria literaturii japoneza si ca una din figurile literare cele mai infame, datorita vietii lui tumultoase, alimentate de anturajul femeilor cu moravuri usoare si de o constanta lupta cu alcoolul si depresia, aceste elemente regasindu-se in scrierile sale, cu precadere in "No Longer Human". Toate acestea au dus, in cele din urma, la sinuciderea sa in 1948, cand se afla pe culmile succesului, la doar 38 de ani. "No Longer Human", care s-ar putea traduce "Descalificat a fi o fiinta umana", e considerat de multi un fel de testament literar al scriitorului, in conditiile in care acesta si-a luat viata la scurt timp dupa publicarea ultimei parti a romanului sau.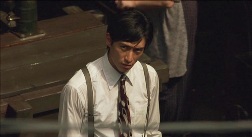 Filmul din 2010, un omagiu adus marelui scriitor, il are in rolul principal pe Toma Ikuta (Brainman, Grasshopper, Prophecy, The Top-secret: Murder in Mind), aflat la debutul pe marele ecran, secondat de mereu fascinantul Yusuke Iseya (Shinjuku Swan 1 si 2, JoJo's Bizarre Adventure, Joker Game, Mozu: The Movie). Productia, ce are o lungime de peste 130 de minute, i-a adus premiul pentru Cel mai bun debutant lui Toma Ikuta, a carui prestatie e cu adevarat remarcabila. Insa ritmul lent in care ne este dezvaluita povestea, durata extrem de lunga a filmului si lipsa acelei puternice voci narative din romanele lui Dazai (majoritatea narate la persoana intai) sunt tot atatea puncte slabe ale acestei realizari artistice de amploare, plasata in prima jumatate a secolului XX, intr-o Japonie marcata de un militarism exacerbat ce duce in cele din urma la invadarea Manciuriei. Personajul central, Oba Yozo, isi traieste drama in tacere, fara ca regizorul sa fi reusit sa transmita emotia data de o minutioasa analiza psihologica a unui personaj cazut in depresie. Isi iroseste viata in baruri, in anturajul femeilor frumoase care il atrag prea putin, iar focul pasiunii pentru desen e unul parca artificial, mult timp spectatorul nereusind sa realizeze care e, de fapt, acel lucru care face din acest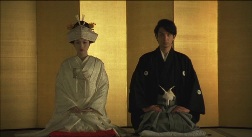 personaj unul exceptional, mistuit de suferinta de a fi ignorat de propria familie. Ce e demn de remarcat la acest film sunt decorurile, atmosfera de inceput de secol XX recreata pana in cele mai mici detalii, stilul boem de viata al scriitorilor acelei perioade, elementele victoriene de decor, anumite nuante subtile prin care se incearca patrunderea in mintea personajului principal si, desigur, interpretarea lui Toma Ikuta. Per ansamblu, un film autobiografic tipic japonez, in care plusurile si minusurile se contopesc si lasa loc imaginatiei spectatorului, singurul in masura sa judece daca ceea ce regizorul Genjiro Arato ofera chiar reuseste sa reconstituie cu fidelitate drama lui Oba Yozo din celebrul roman al lui Osamu Dazai.
Traducerea si adaptarea au fost efectuate in premiera in Romania de Elenas (Asia Team) pentru asiacinefil.
Prezentare realizata de cris999 – asiacinefil