Home » Uncategorized
The Deal (2015) – un thriller de senzaţie cu un Park Sung-woong dezlãnţuit !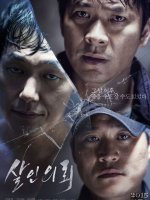 Min Tae-su (Kim Sang-kyung) e politist la o sectie de politie din Seul. Mai toata ziua si-o petrece pe teren, irosindu-si timpul impreuna cu colegul sau si tinandu-se de sotii. Cand insa vine vorba de lucru, Tae-su are un simt special, o intuitie care desi uneori e luata peste picior de colegii sai, in unele cazuri da roade. Iar pentru asta e respectat de intregul colectiv. Dar imaginea politiei in acest moment e puternic afectata datorita unui lant de crime comise de un psihopat in sud-estul capitalei. Crimele in serie nu ma contenesc, victime fiind femei ce sunt rapite si ucise cu sange rece. Nemultumirea publica creste, iar cand numarul victimelor ajunge la 7, se repune pe agenda publica in discutie tema pedepsei capitale. Presat de seful sau, Tae-su e trimis pe teren sa faca rost de indicii, iar intamplator, in timp ce isi facea planuri cu colegul sau unde sa-si petreaca noaptea la panda, primeste prin statie un anunt despre un accident cu fuga de la locul faptei, produs in apropierea zonei in care se aflau. Datorita intuitiei lui Tae-su, cei doi politisti reusesc sa dea de urma autorului accidentului, aflat pe fuga, un anume Jo Kang-chun (Park Sung-woong), pe care il si retin, acesta neimpotrivindu-se. Doar ca la o cercetare mai atenta, constata ca au prins pestele cel mare, mult cautatul criminal in serie. E doar inceputul unei povesti halucinante, ce are sa ne ofere numeroase rasturnari de situatie si momente de suspans ce vor pune la mare incercare nervii si inteligenta lui Tae-su si a intregii politii.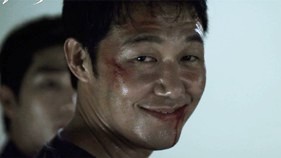 Regizorul debutant Son Yong-ho isi incearca norocul in industria de film cu "The Deal", o productie realizata cu buget redus, dar care reuseste sa convinga, in mod deloc suprinzator, demonstrand o data in plus ca atunci cand ai un scenariu de calitate, nu poti da gres indiferent cat de putin investesti intr-un film. Scenariul, al carui co-autor e Son Yong-ho, e scris de cel ce a si produs filmul, Ahn Young-jin, a carui experienta in producerea unui alt thriller similar, "Montage", se regaseste din plin in rasturnarile de situatii pe care ni le ofera scenariul, si in modul de ansamblu de abordare al subiectului. Si daca tot a venit vorba de "Montage", trebuie spus ca din 2013 pana in prezent, realizatorii coreeni nu au mai oferit un thriller la fel de captivant ca si acesta, cu multe situatii limita si cu surprize una si una. Pe protagonistul Kim Sang-kyung l-am mai vazut in "Montage", unde avea din nou rolul unui politist prins in mijlocul unui plan diabolic pe care il demonteaza datorita calitatilor sale, in timp ce pe Park Sung-woong, (Kim Yushin din "Gye-baek) l-am vazut recent in thrillerul "Office", dar daca acolo interpreta rolul pozitiv al unui politist, de aceasta data il vedem in toata splendoarea talentului sau intr-un rol negativ dus pana la extrem cu o naturalete care iti da fiori. Kim Sung-kyun, pe care l-am mai vazut in comedie dramatica "We Are Brothers", completeaza triunghiul de aur al acestui film, ce are in distributie in rolurile secundare multe figuri de actori cunoscuti din filme politiste.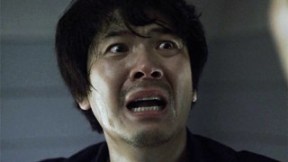 Ca realizare, constrangerile bugetare sunt vizibile in special spre final, cand regizorul a restrans durata filmului si a grabit desfasurarea evenimentelor, o durata de 2 ore fiind ideala pentru acest film de 107 minute. Dar si asa, in ciuda acestei mici dereglari de ritm, "The Deal" ofera tot ce are mai bun genul thriller/crima la momentul actual in cinematografia coreeana. Subiectul e unul din punctele forte ale filmului, ce porneste ca un film politist autentic coreean, dar care se transforma intr-un thriller captivant pe masura ce elementele de mister sunt exploatate exemplar de regizor (a se vedea ploaia, ce cade continuu si mentine o atmosfera incarcata pe toata durata filmului, in deplina consonanta cu trairile personajelor). Subiectul e coerent, nu se pierde in fire secundare inutile si in prea multe personaje, fapt ce sporeste consistenta scenariului. Alegoriile excelent redate sub forma unor imagini despre "cum ar fi fost unele lucru" ce se deruleaza in imaginatia personajelor dar in acelasi timp in fata ochilor acestora si ai spectatorilor sunt un alt lucru pozitiv ce nu poate fi trecut cu vederea la acest regizor debutant plin de idei stralucit puse in practica. Daca Kim Sang-kyun reuseste din nou sa ne convinga intr-un rol pozitiv ce i se potriveste de minune (politist dezordonat, cu simt al umorului dar si cu intuitie, incoruptibil, cu charisma), Park Sung-woong e devastator in rolul unui criminal in serie atroce. Poate doar Choi Min-sik in "I Saw the Devil" a mai interpretat la fel de credibil un psihopat in vreun film coreean, insa mai diabolic decat un criminal cu infatisarea lui Park Sung-woong ranjind nu poate exista personaj in cinematografia coreeana actuala. E pur si simplu demential acest actor in roluri negative, are puterea sa-ti creeze cosmaruri noaptea, iar imaginea lui sa te bantuie prin rolurile extreme carora le da viata. Una peste alta, un thriller de nota zece la nivelul lui "Montage", o adevarata delectare pentru fanii genului.
Traducerea a fost efectuata in premiera in Romania de gligac2002 (Asia Team) pentru asiacinefil.
Prezentare realizata de cris999 – asiacinefil