Home » DIVERSE
The Chronicles of Evil (2015) – o tentativã reuşitã de resuscitare a filmului poliţist coreean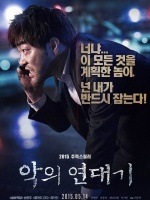 Capitanul Choi Chang-sik (Son Hyun-joo) e un politist devotat meseriei, cu o vasta experienta de mai bine de un deceniu, in care a vazut multe. Mai putin o promovare la Centru, intr-o functie "calduta" de birou. In momentul in care superiorii trag linie si analizeaza eficacitatea unora dintre politistii cu experienta, inspectorul sef, fost coleg de-al lui Chang-sik, incearca sa puna o vorba buna pentru promovarea acestuia. Tot ce ii cere e ca in decursul lunii evaluarii de catre superiori, sa nu faca vreo prostie care sa-i pericliteze promovarea. Cand totul parea a merge cum trebuie, se intampla un lucru mai putin obisnuit: Chang-sik e luat cu forta de un taximetrist, dus intr-o zona parasita, unde acesta incearca sa-l omoare cu un cutit. Incercand sa se apere de atacator, accidental acesta din urma e ucis de propriul cutit. Hotarat sa faca un autodenunt, Chang-sik il suna pe amicul inspector, dar acesta nu face decat sa puna sare pe rana, spunandu-i ca deja a vorbit cu superiorii lui pentru promovare, asa ca Chang-sik ezita. Sovaitor, decide sa aleaga drumul anevoios al minciunii, tainuind crima (fie ea si accidentala) pe cae a comis-o. Doar ca a doua zi lucrurile se complica cand un cadavru e gasit spanzurat de o macara la mare inaltime, iar Chang-sik constata ca a intrat fara voia lui intr-un joc periculos in spatele caruia nu stie cine se afla, dar care are legatura cu un caz petrecut in trecut…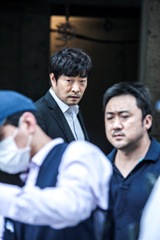 Unul din thriller-urile politiste de succes coreene ale acestui an, "The Chronicles of Evil", incearca sa readuca in prim plan un gen – cel politist – care a prins bine la public la inceputul anilor 2000. In ciuda bunelor intentii, filmul nu reuseste sa iasa prea mult in evidenta fata de alte filme de gen, chiar daca regizorul scenarist Baek Woon-hak (ce revine la 12 ani dupa filmul de debut) a incercat sa surprinda audienta cu intorsatura neasteptata pe care o ia povestea spre final. Scenariul este bun, insa la un moment dat regizorul se pierde in prea multe detalii tipice unei anchete politiste, care nu prea aveau relevanta pentru spectator. Mai mult, la un moment dat povestea pare a se rupe pentru cateva minute, schimbandu-se fara vreo importanta decorul, moment urmat de aparitia in scena a unuia din personajele negative, interpretat aproape de nerecunoscut fara obisnuitii ochelari de… Daniel Choi. In rolul principal, Son Hyun-joo (pe care ni-l amintim din filme precum "Hide and Seek", "Secretly Greatly", dar si din serialul "The Chaser" ce i-a adus 3 premii de interpretare) are o prestatie remarcabila in rolul unui politist cu un trecut ce ascunde unele secrete, insa are un mare defect: nu e un actor cu o carisma deosebita, in ciuda fantasticului sau talent. Acest lucru se simte, deoarece nu reuseste sa atraga simpatia spectatorului, insa la fel de drept e si faptul ca personajul sau, Choi Chang-sik, e unul prezentat tot timpul in exercitiul misiunii, nu in mijlocul familiei. Si aici e greseala regizorului, deoarace scenariul face la un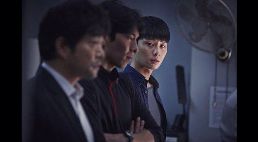 moment dat apel la calitatea lui de cap al familiei, de tata, pe cand personajul sau nu a fost prezentat in nici un cadru in mediul familial (decat pentru 30 de secunde, intr-o dimnineata cand se trezeste mahmur dupa o petrecere cu colegii, fara a acorda minimul de atentie sotiei si fiului care stau langa patul lui). Celelalte personaje, colegii de serviciu ai lui Chang-sik, sunt creionati dupa portretul tipic al politistului coreean ce-l vedem in alte productii similare: duri, traind pe cont propriu, imbracandu-se neglijent, avand un limbaj colorat si, uneori, o inteligenta indoielnica. Apelativul "frate" cu care se adreseaza unii altora aminteste de unitatea ce o vedem in cadrul politiei din Hong-Kong, doar ca in filmele coreene aceasta solidaritate parca e mai volatila, mai artificiala. Ma Dong-seok e perfect pentru astfel de roluri, insa poate cea mai placuta surpriza e distribuirea in film a tanarului Park Seo-joon (din "Kiss Me, Kill Me" si "She Was Pretty"), in rolul unui tanar politist ce abia invata culisele meseriei si faptul ca a fi politist inseamna, uneori, sa si calci stramb pentru ca unele lucruri sa iasa drept.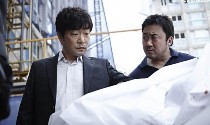 Cu o distributie foarte buna, dar cu nevoia acuta a unei vedete carismatice care sa iasa in evidenta, "The Chronicles of Evil" ofera tot ce are mai bun imbinarea genului politist cu thriller la momentul actual in cinematografia coreeana. Desi avem in fata un film captivant, unele clisee evidente te duc cu gandul la un "Montage" sau la un "Running Turtle", insa nimic nu e nou sub soare, totul se reinventeaza, inclusive genul politist. Cu plusuri si cu minusuri, "The Chronicles of Evil" isi merita succesul si cele aproape 15 milioane de dolari obtinute in acest an la box-office. Pornind de la aceasta premisa, nu putem decat sa-l recomandam tuturor iubitorilor de thrillere de calitate.
Traducerea si adaptarea au fost efectuate in premiera in Romania de gligac2002 (Asia Team) pentru asiacinefil.
Prezentare realizata de cris999 – asiacinefil