Home » DIVERSE
Summer Love (2015) – Lee Min-ho şi Yoona se îndrãgostesc într-o web-dramã de 2 episoade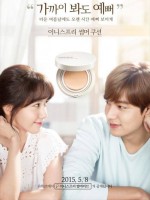 "Summer Love" e o foarte recenta web-drama coreeana (adica o mini-serie lansata exclusiv in mediul online) de 2 episoade, difuzate online pe data de 8 si 13 mai 2015. Nu putem vorbi de o mini-serie propriu-zisa, ci mai degraba de doua scurt-metraje ce balanseaza in jurul unui produs cosmetic realizat de o cunoscuta companie de cosmetice din Coreea, ce a si sponsorizat aceste doua filmulete. De fapt, "Summer Love" ne arata pana unde s-a ajuns in show-biz-ul coreean din dorinta egoista a unor companii de a face bani folosindu-se de imaginea unor actori populari. Actorul din rolul principal din "Gangnam Blues", Lee Min-ho, si Yoona, cunoscuta canbtareata din Girls' Generation, isi "tradeaza" actualii iubiti (Suzy Bae, respectiv Lee Seung Gi) – desigur, nu in viata reala – aparand impreuna intr-o poveste romantica despre doi studenti indragostiti ce nu sunt in stare sa-si exteriorizeze sentimentele.
Lee Min-ho si Yoona sunt prieteni vechi, intalnindu-se si discutand ca intre prieteni impreuna cu anturajul. In timp ce prietenii lui Min-ho sunt curiosi cum evolueaza relatia acestuia cu Yoona, inclusiv mamele lor auzind zvonuri despre relatia lor, Min-ho neaga ca ar exista ceva mai mult decat o simpla prietenie cu aceasta. Lucrurile insa devin deranjante pentru Min-ho cand afla ca la actuala intalnire, ce se dorea una intre baieti, isi va face aparitia si Yoona. Vizibil deranjat sau mai degraba rusinat ca va trebui sa stea alaturi de aceasta in fata prietenilor sai, care cu siguranta isi vor indrepta tirul de intrebari spre el, Min-ho primeste o lovitura de maciuca in mnoalele capului in momentul in care vede ca Yoona vine la intalnire insotita de un barbat. Incet, un usor sentiment de gelozie incepe sa-si faca loc in sufletul lui Min-ho, iar in momentul in care afla ca s-ar putea ca Yoona sa plece mult timp din Coreea pentru a urma "glasul inimii", devine de-a dreptul iritat. In consecinta, trebuie sa puna la cale un plan pentru a o cuceri definitiv.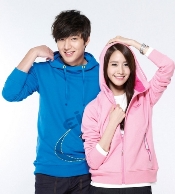 Lee Min-ho revine intr-un rol care i se potriveste perfect, cel de june etern student indragostit. Asadar, are un rol romantic, de care se achita cu naturalete, la fel ca Yoona, pe care o cunoastem bine din serialele "Cinderella Man" si "Prime Minister and I", si care pare putin trecuta de varsta primei iubiri. Dar, eh, se da cu putina pudra, ca tot cutiuta cu pudra e obiectul in jurul caruia graviteaza scenariul, si varsta se poate ascunde usor celor mai pretentiosi fani. Povestea este simpla, filmata in doua locatii, fara a exista pretentii artistice, singurul scop al mini-seriei fiind unul pur comercial si al convingerii publicului feminin de calitatea unor produse cosmetice. Unii actori, insa, nu ezita sa accepte pana si astfel de roluri atata timp cat banul vorbeste, insa nu ei sunt de invinovatit, ci sistemul, industria in sine, agentiile de impresariere care fac totul pentru a mentine o imagine mereu alaturi de fani, de publicul larg, a unor actori populari. Daca o celebritate nu ar fi platita sa recomande consumarea unui produs, punandu-si in joc popularitatea dobandita in alt domeniu decat in cel al industriei de publicitate, oare marile companii producatoare de masini, cosmetice, alimente din Coreea nu cumva ar da faliment ? Asa se face ca nume mari precum Lee Byung-hun, Kim Tae-hee, Soo Ae, sau pana si veteranul Ahn Sung-ki au acceptat sa apara in numeroase reclame tv, punandu-si in joc credibilitatea I castigand sume uriase de bani de-a lungul anilor din reclame. Lasand la o parte acest aspect, "Summer Love" ramane o web-drama simpatica, un respiro al celor doi protagonisti pana la inceperea sau finalizarea proiectelor serioase in care sunt angrenati (daca Lee Min-ho si-a luat o mica pauza odata cu finalizarea semi-esecului "Gangnam Blues", Yoona asteapta lansarea in acest an a productiei chineze "Goodbye Ani", remake dupa productia coreeana "Two Faces of My Girlfriend" unde e protagonista, participand in prezent si la filmarile serialului chinezesc "Wu Shen Zhao Zi Long" ce se va lansa in acest an.).
Traducerea, adaptarea si timingul au fost realizate in premiera in Romania de gligac2002 – Asia Team Romania pentru asiacinefil.
Prezentare realizata de cris999 – asiacinefil