Home » DIVERSE
Steel Rain (2017) – Peninsula Coreeanã e pe cale sã explodeze sub o ploaie de oţel…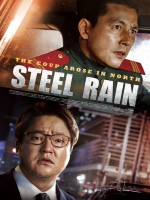 Yang Woo-seok, regizorul si scenaristul multipremiatului "The Attorney" (2013), a reusit sa dea lovitura si cu el de-al doilea film al carierei, "Steel Rain", lansat cu o saptamana inainte de Craciun. Avand un subiect extrem de captivant si de actualitate (pentru ca are in centrul sau problema relatiei dintre Coreea de Nord si Coreea de Sud), filmul a reusit sa domine box-office-ul coreean doar o saptamana, dupa care a fost detronat de "Along With the Gods: The Two Worlds", care nu a mai putut fi detronat 3 saptamani la rand. Cu toate acestea, "Steel Rain" a reusit sa se mentina in topul filmelor sfarsitului de an, obtinand incasari totale de 32,7 milioane dolari, ceea ce a facut din el al 9-lea film coreean al anului trecut. Ce e stiut mai putin e faptul ca regizorul Yang Woo-seok e un cunoscut autor de webtoon-uri (benzi desenate publicate in mediul online) in Coreea, acestea constituind sursa scenariilor sale. De aceasta data, "Steel Rain" are la baza un webtoon publicat din 2011 pana in 2016. Filmarile au durat mai mult decat de obicei, 4 luni, intinzandu-se din iarna pana in vara lui 2017. Rolurile principale le revin lui Jung Woo-sung si Kwak Do-won, ce colaboreaza din nou dupa "Asura: The City of Madness", doi actori cu trasee diferite in cariera, primul un star de prima mana al ultimelor doua decenii in cinematografia coreeana, al doilea un star de roluri secundare care in ultimii ani a avut o ascensiune de senzatie, realizand cateva roluri secundare memorabile in filme precum "The Mayor" sau "The Wailing". Restul distributiei e completat de nume "grele" precum Lee Kyoung-young, Kim Kap-soo, Kim Eui-sung sau Jo Woo-jin.
Eom Chul-woo (Jung Woo-sung) e un fost agent de top al Serviciului de Securitate nord-coreean ce primeste o misiune importanta de la un militar de rang inalt din Armata (Kim Kap-soo): sa ucida doi apropiati ai Liderului nord-coreean, ce ar fi planuit o lovitura de stat. Chul-woo accepta misiunea, dar lucrurile nu merg cum se astepta, caci complotistii lovesc pe nepregatite in cel mai sangeros mod cu putinta. In haosul creat de bulversanta lovitura de stat, Liderul nord-coreean e ranit, iar viata acestuia e salvata de Chul-woo, ce reuseste sa fuga cu acesta in Sud. Aici da peste un alt Chul-woo, Kwak Chul-woo (Kwak Do-won), seful de la Relatii Externe de la Casa Albastra, ce afla de lovitura de stat din Nord si de faptul ca Liderul nord-coreean a reusit sa fuga in Sud. Pentru a preveni un razboi intre cele doua tari, cei doi trebuie sa coopereze, punand la cale un plan secret extrem de periculos… Soarta intregii Peninsule e in joc…
Traducerea si adaptarea au fost efectuate in premiera in Romania de gligac2002 (Asia Team) pentru asiacinefil.
Prezentare realizata de cris999 – asiacinefil