Home » SOUNDTRACK
Soundtrack Master's Sun (2013) – Hyorin – Driving Me Crazy; Gummy – Day and Night; Yoon Mi Rae – Touch Love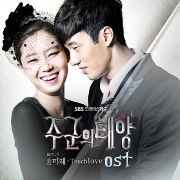 Hyorin – Driving Me Crazy
Hyorin (Hyolyn) e o cunoscuta cantareata, solista a formatiei Sistar, apreciata pentru talentul muzical si vocea cu un timbru aparte. Ca una din miile de tinere coreene ce viseaza la o cariera in show-biz, si Hyorin a participat la auditii si diverse selectii, debutand in 2010 ca membra a formatiei nou create Sistar (formata din 4 fete). In 2011, impreuna cu Bora, una din fete, a format subgrupul Sistar 19, ce a scos pe piata hitul "Ma Boy". Hyorin a participat apoi la un cunoscut show tv, "Immortal Songs 2", crescandu-i mult popularitatea, publicul apreciindu-i vocea. Participarea la mai multe emisiuni tv, calitatile vocale si prezenta scenica i-au determinat pe unii interpreti sud-coreeni sa o numeasca "Beyonce a Coreei". Recent a inceput si cariera de actrita, debutand in serialul de televiziune "Dream High 2". Hyorin a avut interpretari solo sau in duet pentru melodii de pe coloana soniora a serialelor "Glory Jane" si "Dream High 2", iar serialul "Master's Sun" i-a dat ocazia sa se afirme din nou cu melodia "Driving Me Crazy", tema muzicala principala a serialului in curs de difuzare in Coreea, ce se bucura de un real succes in ciuda subiectului mai putin obisnuit pentru o k-drama. Melodia a fost tradusa in romana pentru asiacinefil de Alinabv – Asia Team.

Gummy – Day and Night

Park Ji-yeon (cunoscuta sub numele de scena Gummy, "Paianjen", in coreeana) a debutat acum 10 ani, la varsta de 22 de ani. Pe atunci Hallyu era la ineputuril sale, iar muzica coreeana pop facea primii pasi spre recunoasterea sip e plan international, cel putin in Asia. 4 ani la rand Gummy a scos 4 albume, avand diverse colaborari cu alti "pioneri" ai k-pop-ului vremii. In 2011 a debutat si in Japonia, dupa ce si-a imbunatatit serios cunostintele de japoneza si despre cultura nipona, In acest an, la un deceniu de la debut, Gummy a sarbatorit cu fanii aniversarea. De-a lungul carierei, interpreta a fost rasplatita cu 5 premii pentru calitatile vocale dar si pentru popularitate. A interpretat numeroase melodii pentru coloanele sonore ale unor filme si seriale precum "A Moment to Remember", "Will It Snow this Christmas", "Dae Mul", "Sunny"- filmul din 2008, sau "Midas", iar in acest an a dat lovitura cu melodia de pe coloana sonora a serialului "That Winter, the Wind Blows", "Snow Flower", ce a devenit in scurt timp un hit. Producatorii serialului "Master's Sun" au contactat-o pentru a interpreta o melodie superba ce completeaza coloana soniora a serialului de succes. La 32 de ani, Gummy pregateste al doilea au album in japoneza, "Fate's". Melodia "Day and Night" a fost tradusa in romana pentru asiacinefil de Alinabv – Asia Team.

Yoon Mi Rae – Touch Love

Artista Yoon Mi Rae interpreteaza melodia "Touch Love" de pe coloana sonora a cunoscutei drame Master's Sun. Ultima ei participare la o coloana sonora a fost in urma cu 6 ani, in 2007 pentru drama "Bad Love".

"Touch Love " e compusa de directorul muzical al dramei, Oh Joon Sung. Este o balada R&B pop si reprezinta tema muzicala de dragoste pentru cuplu Gong Hyo Jin- So Ji Sub. Videoclipul surprinde scene cu cei doi din drama, precum si scene cu Seo In Guk, in care acesta pare si el atras de misterioasa Gong Hyo Jin. Melodia a fost tradusa in romana pentru asiacinefil de gligac2002 – Asia Team. Urmariti aceasta drama alaturi de noi ! Care cuplu va place mai mult ? Gong Hyo Jin- So Ji Sub sau Gong Hyo Jin – Seo In Guk ?
Articol realizat de Alinabv si cris999 – asiacinefil