Home » DIVERSE
Sori: Voice From the Heart (2016) – o fantezie de inspiraţie hollywoodianã spusã în stil coreean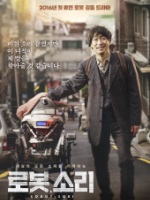 Lee Ho-jae, premiat pentru filmul de debut din 2009 "The Scam", se reinventeaza dupa o pauza de 7 ani, schimband genul thriller pentru o aventura plina de fantezie in "Sori: Voice From the Heart". Amintind putin de un "E.T" sau "Scurtcircuit", doua succese de box-office americane, filmul lui Lee Ho-jae a reusit sa obtina aproape 3 milioane de dolari incasari la box-office, fara a excela sub aspectul castigurilor. Poate si pentru ca din distributie nu fac parte nume de prim rang din cinematografia coreeana, sau poate ca aventurile fanteziste ce trimit oarecum spre SF nu sunt tocmai un gen gustat de cinefilii coreeni. Cert e ca rolul principal ii revine lui Lee Sung-min, un actor trecut de 45 de ani, care desi a debutat tarziu, in 2004, la neobisnuita varsta de 36 de ani, a reusit in ultimul deceniu sa se impuna ca actor talentat de roluri secundare, aparand in multe succese de box-office coreene, precum "The Unjust", "All About My Wife", "The Attorney", "Broken", "Kundo" sau "A Violent Prosecutor". In primul rol principal din cariera se descurca excelent, facand echipa cu nimeni alta decat Lee Ha-nui (Lee Honey), fosta Miss Coreea 2006, cu a ei voce inconfundabila, cunoscuta din "Tazza: The Hidden Card", "I Am the King" si din seriale precum "Shark", "Pasta" sau "Come Back, Mister". Lee Hee-joon interpreteaza, cu sau fara voia lui, rolul principal negativ, in timp ce Shim Eun-young din "Miss Granny" nu apare in acest film fizic, insa isi imprumuta vocea unui personaj cheie din film, satelitul S-19.
Hae Gwan (Lee Sung-min) e tatal unei familii fericite ce traieste in Daegu la inceputul anilor '90. In momentul in care fiica lui, micuta Yoo Joo, dispare pe neasteptate, nelinistea se abate asupra familiei. Din fericire, aceasta e gasita in fata unei cofetarii, ce de atunci devine "baza secreta" ce cimenteaza relatia tata-fiica pentru totdeauna. La mai mult de un deceniu distanta, il regasim pe acelasi Hae Gwan distrus, ratacind prin tara in cautarea fiicei sale. Aceasta e din nou data disparuta. Oficial, autoritatile au declarat-o decedata in urma unui incendiu izbucnit la metrou, insa cadavrul sau obiectele ei nu au fost niciodata gasite. Hae Gwan e obsedat de ideea gasirii fiicei sale, refuzand sa creada pozitia oficiala a autoritatilor, un adevar prea crud pentru el. De la barbatul aratos, imbracat la costum si mereu atent la aspectul exterior, a ajuns o epava, o umbra a ceea ce a fost odata. Si sotia lui s-a saturat de ratacirile lui, cerand divortul. Ajuns pe insula Guleop, unde primeste un pont ca ar fi fiica ei, se trezeste intr-o noapte tocmai cu un… satelit picat din cer in brate ! Curand, realizeaza ca satelitul nu e doar o bucata de fier vechi si ca acesta… vorbeste, oferindu-i informatii pretioase. In consecinta, decide sa se foloseasca de el pentru a-si gasi fiica. Doar ca pe urmele satelitului se afla si NIS, Serviciul secret sud-coreean, dar si NASA…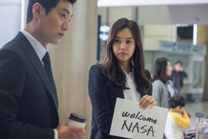 "Sori: Voice From the Heart" e un film ce aminteste flagrant de clasicul "E.T.", cu exceptia faptului ca nu avem de-a face cu extraterestri, ci cu un satelit ce pare o copie fidela a simpaticului robotel R2-D2 din "Razboiul Stelelor". E clar ca realizatorii coreeni au tras putin cu ochiul in ograda Hollywoodului, insa povestea e una originala, placuta de urmarit, ce contine de toate: drama, romantism, umor, actiune si, cum se putea altfel la un film coreean, multe lacrimi. Ar fi incorect sa vorbim de un film SF, cum unii s-au grabit – probabil din motive de marketing – sa-l promoveze, cel mai potrivit termen in locul SF ar fi fantezie, prezenta unui banal robot in prim plan nemaifiind, ca in filmele de pe vremuri, ceva ce tine neaparat de science fiction, in special daca ne referim la faptul ca Coreea zilelor noastre e una din tarile cu cea mai avansata tehnologie din lume in domeniu. In plus, realizatorii nu au scapat ocazia de a face o reclama pozitiva KARI, Institutul Coreean de Cercetare Aerospatiala, dupa modelul ridicarii in slavi a NASA de catre cineastii americani in filmele de gen. Avand ca tinta publicul de orice varsta, "Sori: Voice From the Heart" e o frumoasa aventura a cunoasterii de sine si a prieteniei, indiferent ca aceasta se leaga intre oameni sau intre oameni si entitati cu inteligenta artificiala. Hae Gwan, excelent interpretat de Lee Sung-min, e un tata disperat ce refuza sa accepte ca fiica ei ar fi murit intr-un incendiu petrecut cu un deceniu in urma. E drept ca autoritatile nu au gasit nici o dovada in sustinerea declararii decesului lui Yoo Joo, insa refugierea in speranta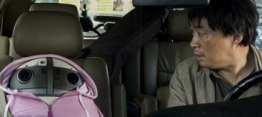 ca fata ei traieste undeva si poate intr-o zi o va gasi reuseste sa-l mentina pe linia de plutie pe acesta, desi numai viata nu e ceea ce el traieste. Calatoreste in lung si in lat, lipind peste tot afise cu fiica lui disparuta, si verifica fiecare informatie pe care o primeste. Ajuns pe o insula indepartata din Coreea, se trezeste cu un satelit cazut din cer, care, odata ce e pus in functiune de o cunostinta de-a lui, ii devine util prin informatiile pe care le furnizeaza. Si asa, sperantele regasirii dupa atata timp cu adevarat a fiicei sale renasc. Numai ca autoritatile nu pot trece neobservata caderea din cer a unui obiect neidentificat (ca daca ar fi identificat nu i s-ar spune asa, nu ?), si trimit NIS pe urmele satelitului pentru a-l recupera. Iar ca nebunia sa fie completa, pe fir intra si NASA, adevaratul proprietar al satelitului, interesat inaintea tuturor de recuperarea lui, acesta detinand informatii importante…
Un film de familie amuzant, antrenant si in multe parti emotionant, o evadare din monotonia temelor violente sau melodramatice din cinematografia coreeana a ultimilor ani.
Traducerea si adaptarea au fost efectuate in premiera in Romania de gligac2002 (Asia Team) pentru asiacinefil.
Prezentare realizata de cris999 – asiacinefil