Home » NOUTÃŢI
Song Seung-hoon şi Liu Yifei formeazã, oficial, un cuplu !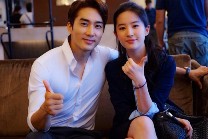 In timp ce toata lumea astepta cu sufletul la gura sa vada daca Song Seung-hoon decide sa se alature distributiei serialului "Saimdang, the Herstory", ce va marca mult asteptata revenire pe micul ecran a actritei Lee Young-ae, in urma cu cateva ore o stire a ajuns sa faca inconjurul lumii presei tabloide din China si Coreea de Sud, tot avandu-l pe Song Seung-hoon protagonist. Presa tabloida din China sustine faptul ca celebrul actor coreean se intalneste cu cunoscuta actrita chineza Liu Yifei (cunoscuta si sub numle de Crystal Liu). In sustinerea acestei afirmatii, presa chineza a publicat mai multe fotografii ale cuplului, afirmand chiar ca actorul coreean ar fi vizitat casa de vacanta a actritei si s-a intalnit cu familia acesteia. Diferenta de varsta intre cei doi actori e de 11 ani, Seung-hoon avand 38 de ani, in timp ce Liu Yifei are 27 de ani (urmand a implini 28 de ani pe 25 august).
Cei doi actori au colaborat recent la coproductia coreeano-chineza "The Third Way of Love", o melodrama romantica ce spune povestea trista de iubire a unui barbat ce provine dintr-o familie instarita si a unei inteligente si frumoase avocate, poveste ce se desfasoara in China. Filmarile au inceput cu un an in urma, insa vizitele repetate ale lui Song Seung-hoon in China pentru tot ce tine de filmari si promovarea filmului au fost tot atatea ocazii de a fi aproape de cea cu care a recunoscut ca se intalneste. Agentia lui Seung-hoon a confirmat zvonurile din presa chineza, dupa consultarea actorului. "Dupa incheierea filmarilor la "The Third Way of Love", cei doi nu au avut ocazia de a se vedea prea des, dar au pastrat legatura si asa a inceput relatia lor. Va rugam sa priviti aceasta relatie in mod pozitiv." De asemenea, agentia a mai declarat: "Nu e adevarat ca si-au intalnit fiecare parintii celuilalt. Nu au vorbit, inca, de casatorie."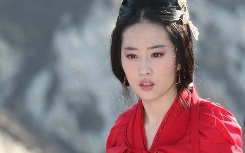 Daca toata suflarea iubitoare de k-drame stie cine este Song Seung-hoon, asiacinefilii au un avantaj cand vine vorba de actrita Liu Yifei, deoarece au avut ocazia de a o vedea in mai multe productii chinezesti traduse in exclusivitate si in premiera in Romania de echipa Asia Team: "For Love or Money" (unde Liu Yifei apare alaturi de Rain), trilogia "The Four", unde Liu Yifei interpreteaza personajul imobilizat in caruciorul cu rotile), "The Assassins" (unde apare alaturi de Chow Yun-fat), "White Vengeance" sau "A Chinese Ghost Story". Liu Yifei nu a avut o copilarie extraordinar de fericita, fiind unica fiica a cuplului An Shaokang (tatal, primul secretar al ambasadei chineze in Franta si profesor universitar de franceza) si Liu Xiaoli (mama, fosta dansatoare). Cand Liu Yifei a implinit 10 ani, parintii ei au divortat, ea fiind crescuta in continuare de mama sa. De la aceeasi varsta a inceput modellingul, a invatat sa cante, sa danseze si sa cante la pian. Dupa divortul mamei, Liu a primit un important sprijin de la nasul ei, Chen Jinfei, presedintele Beijing Tongchan Investment Group, care ocupa pozitia 21 in topul Forbes al celor mai bogati oameni din China in 2001, cu o avere estimata in acel moment la 2,8 miliarde de dolari ! La 11 ani s-a mutat cu mama ei in Statele Unite, urmand cursurile in New York, iar in 2002 a revenit in China,m a luat numele de scena actual si si-a inceput cariera in lumea filmului, inscriindu-se la 15 ani la Academia de film din Beijing, pe care a absolvit-o in 2006. A debutat pe micul ecran chiar de cand a inceput sa frecventeze Academia de Film, aparand in mai multe seriale de epoca si fantezie celebre, precum Chinese Paladin, Demi-Gods and Semi-Devils sau The Return of the Condor Heroes. A debutat si in muzica, chiar in Japonia, iar in 2008 a aparut in primul rol major intr-un film, "The Forbidden Kingdom", alaturi de Jet Li si Jackie Chan. Azi e una din cele mai cunoscute actrite chineze ale momentului, pe langa productiile amintite fiind recent distribuita si in blockbuster-ul hollywoodian The Outcast.
Ramane de vazut daca diferenta de vasta nu va fi o piedica in calea evolutiei relatiei celor doi indragiti actori catre o eventuala casatorie.
Articol realizat de cris999 – asiacinefil