Home » DIVERSE
Something in the Rain (2018) – Son Ye-jin revine pe micul ecran dupã 5 ani !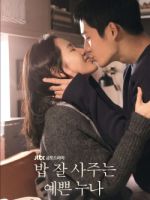 Son Ye-jin si Jung Hae-in interpreteaza rolurile principale in k-drama romantica "Something in the Rain", ce are in limba coreeana un titlu atipic: "Noona cea draguta ce-mi cumpara de mancare". Daca Jung Hae-in se afla in fata primului sau rol principal din cariera, atat dintr-un serial (asiacinefilii probabil si-l amintesc din Prison Playbook sau White Nights) cat si dintr-un film (a fost vazut recent in The King's Case Note), Son Ye-jin revine pe micul ecran la 5 ani distanta de la anteriorul sau rol, din "Shark", si dupa ani fructuosi in productii de succes pentru marele ecran, precum "The Pirates" sau "The Last Princess". "Something in the Rain" (sau, daca vreti, "Noona cea draguta ce-mi cumpara de mancare"), produs de JTBC, isi are propria poveste, iar aceasta e strans legata de povestea celebrului cuplu din viata reala Song Joong-ki/Song Hye-kyo (cuplu numit de presa mondena Song/Song). Regizorul serialului, An Pan-seok, ce a regizat si premiatul "Secret Love Affair" pentru acelasi post tv, a dezvaluit cum i-a venit ideea acestui titlu atipic. Serialul spune povestea relatiei romantice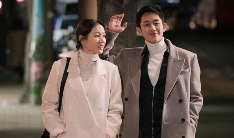 dintre o femeie trecuta de 30 de ani si un barbat mai tanar cu multi ani decat ea. In argoul k-dramelor, o asemenea idila poarta denumirea de "idila tip noona" (termenul "noona" fiind unul duios pentru o sora mai mare sau o femeie mai in varsta). Regizorul a declarat ca a fost inspirat in alegerea titlului de o fraza rostita de actrita Song Hye-kyo, care in gluma spunea intr-un interviu ca "Pentru Song Joong-ki si Yoo Ah-in, sunt "noona" ce le cumpara de mancare". Replica s-a dovedit a fi fost rostita de viitoarea sotie a lui Song Joong-ki cu luni inainte ca relatia celor doi parteneri din "Descendants of the Sun" sa devina publica.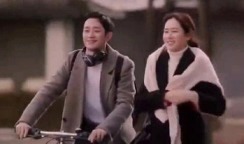 Jin-a e o femeie singura de 35 de ani ce lucreaza ca supervisor la un lant de cafenele. Cercul de persoane cu care interactioneaza se rezuma la colegele de serviciu si la cea mai buna prietena a ei, Gyeong-seon. In rest, toata ziua are de-a face cu clienti dificili si cu un sef si mai dificil, astfel ca slujba nu-i ofera prea multe satisfactii. Stiind cat de mult isi doresc parintii ei sa se casatoreasca, Jin-a nu are curajul de a le spune acestora ca mult-speratul viitor ginere tocmai a lasat-o balta pentru o fata mai tanara. Soarele pare a rasari si pe strada ei in momentul in care Jun-hui, fratele mai mic al bunei sale prietene Gyeong-seon, se intoarce pe neasteptate dupa 3 ani petrecuti peste hotare. Cunoscandu-l ca pe o persoana copilaroasa si lipsita de maturitate, cu surprindere constata ca acesta s-a schimbat in perioada cat a lipsit din tara. Din vorba in vorba, luand cina impreuna si intervenind tot felul de situatii in care el o numeste "sora mai mare care il hraneste", de fata cu ceilalti, intre cei doi se infiripa o relatie romantica. Poate, aceasta, evolua de la stadiul de "cunostinte" la cea de "cuplu autentic" ?
Serialul are 16 episoade, ratingul lor fiind unul relativ ridicat pentru o k-drama difuzata de un post tv ce nu are deplina acoperire nationala, cu o medie de 5,3% pe episode (cel mai ridicat rating a fost atins de episodul 6,1% la nivel national). Melodiile de pe coloana sonora sunt interpretate de Rachel Yamagata, o interpreta, textiera si pianista americana ale carei melodii au aparut in multe filme si seriale de peste Ocean si nu numai. Vizionare placuta !
Traducere in premiera si exclusivitate pe asiacinefil oferita de ATR !
Prezentare realizata de cris999 – asiacinefil