Home » DIVERSE
Snow on the Blades (2014) – samuraiul modern, între onoare şi transformare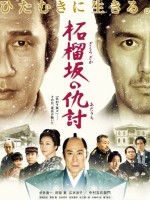 Filmul lui Setsuro Wakamatsu, "Snow on the Blades" (cu titlul literal "Revenge of the Pomegranate Tree Hill") continua trendul ultimilor ani in materie de filme "jidaigeki" (filme de epoca cu samurai) in cinematografia japoneza, ce insista obsesiv pe perioada de trecere de la Sogunat la Era Meiji. Productia din 2014 are la baza o nuvela cuprinsa in colectia de nuvele "Goroji dono Oshimatsu" publicata in 2003 de Jiro Asada. Acesta e un celebru autor japonez, ale carui scrieri au stat la baza a numroase ecranizari in Japonia si Coreea, printre care "Railroad Man" (1999), "Failan" (2001) sau "When the Last Sword is Drawn" (2003). Pentru iubitorii de k-drame, trebuie spus ca serialul in curs de difuzare "Come Back, Mister" are la baza una din scrierile sale. In rolurile principale, Wakamatsu a distribuit 2 actori de top, Kiichi Nakai si Hiroshi Abe. Kiichi Nakai a fost distribuit in peste 60 de filme si seriale, multe cunoscute si la noi, precum "Musashi", "Dororo", "The Warring States", "Wild 7" sau "Wings of the Kirin" (unde a aparut chiar alaturi de Hiroshi Abe), insa apogeul carierei l-a atins in 2004, cand Academia Japoneza de Film l-a rasplatit cu premiul de excelenta pentru rolul principal din productia "When the Last Sword is Drawn" (film care, coincidenta sau nu, are la baza tot una din nuvelele lui Jiro Asada din colectia "Goroji dono Oshimatsu". Hiroshi Abe e unul din cei mai indragiti actori japonezi ai momentului, ce nu mai are nevoie de nici o prezentare. In rolul principal feminin, iubitorii de filme japoneze o pot recunoaste pe celebra Ryoko Hirosue din "Lingering Spirits", "Go, Masao !" sau "Departures", care si de aceasta data e incantatoare prin blandetea pe care o emana in rolul sotiei intelegatoare de samurai. Filmul a avut 4 nominalizari in acest an la premiile Academiei Japoneze de Film si are o coloana sonora semnata de inconfundabilul Joe Hisaishi.
Perioada de sfarsit a Sogunatului, anul 1860. Shimura Kingo (Kiichi Nakai) e un modest vasal ce lucreaza in Edo si e propus sa devina asistent de palanchin al Tairo (Primul Ministru). Indemanatic in manuirea sabiei, acesta e acceptat in anturajul Primului Ministru, insotind transportarea acestuia in palanchin, alaturi de alte garzi de corp. Toate lucrurile par a merge bine pentru Kingo, care tot acum se casatoreste cu Setsu (Ryoko Hirosue) si, in plus, devine si cap al familiei, dupa retragerea tatalui sau, ce-i acorda incredere deplina. Intr-una din zile, insa, gaseste un bilet in care e anuntat ca in acea zi, Tairo va fi ucis. Ca un vasal supus, ii arata biletul Primului Ministru, insa acesta se lasa in voia Cerului, considerand ca daca Cerul va dori, il va proteja, si daca nu va dori, il va lua la el. Fara a lua masuri de pecautie suplimentare, cu un numar redus de garzi si pe o vreme ingreunata de intetirea ninsorii, palanchinul il transporta pe Tairo la Curte, pentru a participa la Festivalul Piersicului. Ceea ce urmeaza sa se intample ii va schimba radical viata credinciosului Kingo…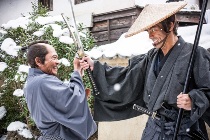 "Snow on the Blades" este, dincolo de subiectul sau ce pare desprins din filmele lui Hideo Gosha, o drama profunda despre conditia samuraiului intr-o perioada de schimbari sociale majore. Era Meiji aduce cu sine deschiderea totala a societatii japoneze spre lumea occidentala, cu transformari cu consecinte uneori dure la nivel social. Prin abolirea domeniilor feudale si crearea prefecturilor ca forma de organizare administrativa, practic samuraii vasali total dependenti de seniorul lor se vedeau ruinati. Ei primeau stipendii anuale constand intr-o anumita cota de orez ce-i asigura hrana lui si familiei sale; odata cu schimbarea oranduirii, samuraii, care nu stiau altceva decat sa manuiasca sabia, se vedeau obligati sa-si gaseasca ceva de lucru pentru a supravietui. Duelurile si folosirea sabiei e interzisa de autoritati, moda timpurilor se schimba, iar insasi straiele medievale ce-l defineau pe samurai devin demodate si luate in deradere. Samuraiul asista, fara voia lui, la disparitia unei lumi, a unui univers ce gravita in jurul artei de a manui sabia. Procesul e unul dureros si umilitor, cu atat mai mult cu cat societatea e necrutatoare fata de trecut, Sogunatul fiind considerat vinovat pentru inapoierea Japoniei fata de Occident.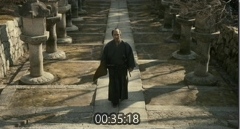 Apar noi categorii sociale, noi meserii; daca comertul cu kimonouri cunoaste un evident recul in fata patraunderii hainelor de moda occidentala, ce schimba complet imaginea societatii japoneze (costume ingrijite, palarii, rochii in stil occidental), in schimb apare categoria oamenilor de afaceri hrapareti, deseori asociati cu interlopi, ce calca in picioare orice principii cand vine vorba de recuperarea investitiilor sau imprumuturilor acordate. Exista o scena memorabila in film, in care samuraiul, omul trcutului, ajunge fata in fata cu omul de afaceri, omul modern al prezentului. Replica lui Kingo, samuraiul, e taioasa precum lama unei sabii: "Hei, omule de afaceri, samuraiul nu a disparut. Desi aratam altfel, suntem peste tot !" Scena are o incarcatura emotionala deosebita, ca si cum trecutul si prezentul se afla fata in fata, din ciocnirea lor nascandu-se mentalitatea de viitor a unei natiuni ce va deveni in scurt timp cea mai mare putere din Extremul Orient.
Fara a excela la capitolul actiune, latura comerciala fiind trecuta pe plan secund, povestea e bine structurata, mai multe fire epice si alternanta intre trecut si prezent scotand-o din imobilismul specific dramelor de epoca japoneze. Cu o coloana sonora de calitate si cu costume si decoruri de toata frumusetea, filmul pune usor in evidenta calitatile actoricesti ale celor 3 protagonisti ai povestii. Amintind de realismul trilogiei samuraiului a lui Yoji Yamada, "Snow on the Blades" ne ofera un spectacol vizual aparte pe fundalul unor vremnuri zbuciumate, in care pe ruinele Sogunatului medieval se plamadea Japonia moderna. Va reusi samuraiul sa supravietuiasca condamnarii sale de catre istorie ?
Traducerea si adaptarea au fost efectuate in premiera in Romania de lasedan si gligac2002 (Asia Team) pentru asiacinefil.
Prezentare realizata de cris999 – asiacinefil