Home » DIVERSE
Snow in Sea Breeze (2015) – Park Hae-jin într-o melodramã romanticã tulburãtoare
Kim Jeong-kwon, regizorul lui "Ditto", "A Man Who Went to Mars" si "Ba Bo: Miracle of a Giving Fool" isi face revenirea in industria de film la 7 ani distanta de la ultimul sau film, "Heartbreak Library", cum se poutea altfel daca nu cu o melodrama, stilul ce i-a adus celebritatea. Impreuna cu scenaristul debutant Kim Goon-young, acesta scrie scenariul ce sta la baza noi sale productii "Snow in Sea Breeze" (cunoscut si ca "Snow is on the Sea"), filmata in decursul a doua luni la inceputul anului 2012. Problemele legate de buget au intarziat premiera filmului pana in ianuarie 2015. In rolurile principale il vedem pe Park Hae-jin inainte de a deveni celebru, la debutul pe marele ecran (abia anul viitor va aparea in al doilea sau film de lungmetraj, inspirat dintr-un serial de televiziune de succes intitulat "Cheese in the Trap"). In 2012, Park Hae-jin era doar un actor de seriale promitator ce se apropian vertiginos de 30 de ani, care se remarcase in 2008 in East of Eden si a carui adevarata ascensiune incepe abia in 2013 cu rolul din serialul "My Love From the Star", urmat de "Doctor Stranger", "Bad Guys" si "Cheese in the Trap". Partenera lui, simpatica Lee Young-ah, a aparut in cateva filme modeste ("Two Faces of My Girlfriend" e cel mai cunoscut, filmul ei de debut) si a prins cateva roluri bune in seriale de televiziune precum "King's Dream", "Vampire Prosecutor" 1 si 2 sau "Iljimae". Cei doi formeaza in acest film un cuplu frumos, cu o evidenta chimie, a caror relatie agreabila merge la sufletul spectatorilor. Desi vremea melodramelor a apus de ceva timp in cinematografia coreeana, e clar ca reinventarea genului e o necesitate. "Snow in Sea Breeze" nu aduce mai nimic in plus fata de melodramele clasice coreene ale anilor 2000, insa reuseste prin carisma celor doi protagonisti sa satisfaca asteptarile amatorilor de melodrame romantice.
Kim Son Mi (Lee Young-ah) lucreaza la un laborator de parfumuri. Sta toata ziua cu nasul in eprubete, cautand elixirul fericirii femeilor, esenta perfecta de parfum. Preocupata mai mult de slujba ei, e mai tot timpul cu capul in nori, intarziind la o cina romantica cu prietenul ei din cauza ca adoarme in autobuz si pierde cadoul ce i l-a pregatit acestuia, un parfum special. Poate a fost mai bine asa, deoarece in aceeasi seara acesta ii transmite dorinta de… a se desparti de ea. Stand sa-si inece amarul in alcool pe malul raului Han, da peste un tanar ce o priveste insistent in timp ce-si mananca ramenul. Privirile insistente se datorau sunetelor scoase de o cutiuta muzicala veche, defecta, pe care tanara le asculta retraind amintiri din trecut, iar tanarul era Lee Sang Woo (Park Hae-jin), un inotator de performanta si totodata directorul unui acvariu vizitat de public. Desigur, aceasta prima intalnire nu avea cum sa nu se lase cu un final neprevazut, vajnicul inotator sfarsindu-si cina… in raul Han, datorita aiuritei sale partenere ocazionale de discutii. Gasind cutiuta muzicala uitata de fugara inspaimantata de ce a facut, se ghideaza dupa cartea de vizita gasita in ea si asa ajunge la laboratorul unde lucreaza Son Mi. Din vorba in vorba cei doi se apropie, dar in scurt timp relatia lor abia nascuta va fi supusa la o grea incercare…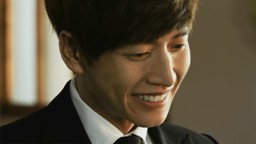 "Snow in Sea Breeze" urmeaza reteta anterioarelor melodrame ale regizorului Kim Jeong-kwon, povestea fiind initial una romantica cu accente usor comice, ce mai apoi se transforma, pe masura ce adevarul iese la suprafata, intr-o previzibila drama dusa la extrem. Si totusi, finalul este unul oarecum surprinzator, fiind cam singurul ce iese din monotonia unui film plin de clisee. Expert in construirea romantismului, regizorul ne ajuta sa ne familiarizam repede cu cei doi protagonisti simpatici, cu toate ca mai apoi in fiecare clipa tragedia parca pandeste dupa colt, asteptand momentul prielnic sa isi intre in rol. Fara a avea parte de un teatralism exagerat, filmul reuseste sa-si pastreze realismul, scotand la iveala drama persoanelor ce sufera de o maladie inca incurabila, cum e cazul prietenului din copilarie al lui Son Mi, Woo Ho, bolnav de leucemie. La randul sau, Sang Woo a suferit si el o drama in familie, pierzandu-si sora mai mica tot in urma luptei cu o boala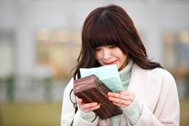 necrutatoare, astfel ca toate aceste nenorociri comune ii apropie pe cei doi indragostiti, ii invata sa pretuiasca clipa si iubirea. De aceea relatia lor devine una sudata, incercarile la care viata ii va supune doar intarindu-le vointa si determinarea. Park Hae-jin e talentat, incantator, aratos, insa e eclipsat de partenera ei din film, Lee Young-ah, mult mai dezinvolta si mai deschisa, ce pare ca isi traieste rolul la maxim pe toata durata filmului. Una peste alta, fara prea multe de spus, "Snow in Sea Breeze" e o melodrama romantica obisnuita pentru cinematografia coreeana, care nici nu exceleaza, dar nici nu dezamageste, ce are tot ce isi doreste un iubitor al genului, de la romantism si umor la drama si multe lacrimi. Un film emotionant despre o iubire sincera, asa cum numai coreenii stiu sa faca si sa o exprime in imagini, ce merita vizionat.
Traducerea si adaptarea au fost efectuate in premiera in Romania de gligac2002 (Asia Team) pentru asiacinefil.
Prezentare realizata de cris999 – asiacinefil