Home » ASIA TEAM ROMANIA
Shadows in the Palace (2007)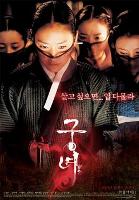 "Shadows in the Palace" este filmul de debut al scenaristei Kim Mee-jeung, care a facut parte din echipa de productie a unor filme ca "King and the Clown" sau "Once Upon a Time in a Battlefield". De altfel, filmarile (care nu au avut la dispozitie un buget prea mare) s-au realizat in aceeasi locatie unde s-a filmat si "King and the Clown". Filmul poate fi considerat o impletire de genuri: partial drama de epoca, partial film de mister, si partial film de groaza. E vorba de fapt de o fictiune despre asa-numitele "gungnyeo", in fapt servitoare de la palatul regal care trebuiau sa-l slujeasca pe rege in societatea traditionala coreeana.
Palatul tipic din perioada dinastiei Joseon era divizat in mai multe parti. Una din aceste parti era destinata asa-numitelor "slujitoare de la palat". Odata intrate in acest univers, tinerele fete jurau supunere, respectarea cutumelor si celibat, dedicandu-si vietile bunastarii regelui si tanarului lui mostenitor. Insa in spatele usilor inchise exista o ierarhie, o dinamica complexa si multe intrigi si secrete ascunse. "Shadows in the Palace" spune o astfel de poveste: regele Joseonului, neavand urmas cu regina lui, o lasa insarcinata pe concubina lui, Hee bin, care ii daruieste un fiu. Imparateasa-mama conditioneaza recunoasterea acestui prunc ca mostenitor al tronului de obligativitatea ca copilul sa fie adoptat de regina ca fiu, fapt care ar fi dus la transformarea ambitioasei concubine intr-o simpla mama-purtatoare. Aceasta refuza acest rol, avand ambitii mult mai mari, pe fondul pasiunii regelui fata de ea. Pe acest fundal, cea mai credincioasa slujitoare a concubinei este gasita spanzurata. Chun-ryung, o doctorita de la Palat, constata in urma autopsiei ca slujitoarea fusese strangulata, nefiind vorba de o sinucidere, cum I se sugereaza pentru a nu izbucni un imens scandal la Palat. In acelasi timp, insa, scoate la iveala un adevar de neiertat: cu putin timp in urma, slujitoarea daduse nastere unui prunc. Prinsa intre dorinta de a afla adevarul si cutumele care consemneaza pedeapsa cu moartea pentru slujitoarele care isi pierd fecioria cu altcineva in afara regelui, asupra tinerei doctorite incep sa se faca presiuni pentru ascunderea adevarului.
In afara de faptul ca filmul are in distributie aproape in intregime actrite, si partea de productie, de filmare si de regie a fost realizata in principal de femei. Daca va asteptati, din acest motiv, la un film mai sensibil, asteptarile va vor fi inselate, "Shadows…" prezentand in unele cadre scene de cruzime medievala care oricand pot concura cu filme similare ale genului (maini taiate, unghii smulse, ace implantate in corp si multe alte lucruri infioratoare). Violenta filmului nu face decat sa redea cruzimea unui sistem in care femeile si trupurile lor sunt niste simple spite la o roata care se invarte neincetat, ducand spre afirmarea ambitiilor unora si a slabiciunilor celorlalte.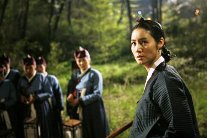 Filmul incearca reconstituirea unei franturi dintr-o pagina de istorie nescrisa. Este greu sa intelegi viata slujitoarelor de la Palat din trecut in lipsa inregistrarilor in arhive despre ele. Pentru cinefilul contemporan, obisnuit cu regulile unei altfel de societati, acest lucru va fi cu atat mai greu de inteles, ca urmare a vidului cultural intre acele vremuri si vremurile de astazi. In general, filmele a caror actiune este plasata in trecut sfarsesc prin a ne spune mai multe despre societatea in care traim in present decat despre epoca prezentata pe ecran. Sa fie acesta un lucru condamnabil ? Filmul este, in definitiv, un act de imaginative, iar faptele istorice, atunci cand sunt putin cunoscute, nu fac decat sa permita imaginatiei sa se exprime. "Shadows in the Palace" este un exercitiu de imaginatie despre o lume care chiar daca a existat intr-o cu totul alta forma, reuseste sa ofere cinefilului o experienta inedita si terifianta, fara a-i curma apetitul pentru arta cinematografica.