Home » NOUTÃŢI
Ryosuke Yamada şi Nishida Toshiyuki împreunã într-un nou film fantastic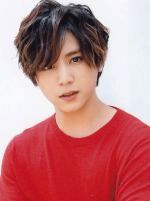 Inainte ca "Fullmetal Alchemist" sa ajunga pe marile ecrane in decembrie 2017, fanii artistului Ryosuke Yamada ("Assassination Classroom", "Grasshopper") din formatia Hey! Say! JUMP, se pot bucura de un alt film, de data aceasta Yamada jucand alaturi de Nishida Toshiyuki in adaptarea romanului lui Keigo Higashino, "Namiya Zakkaten no Kiseki" (Miracolul de la Magazinul Universal Namiya). Scenariul descrie legaturile dintre oameni si miracole, doi oameni traind in perioade de timp diferite, in 1980 si 2012, perioade care pot fi conectate prin intermediul unei… scrisori.
Filmul va fi scos pe piata in toamna lui 2017. Acesta este primul film in care Yamada si Nishida colaboreaza. Filmul va fi regizat de Ryuichi Hiroki, iar filmarile vor incepe in ianuarie 2017.
In anul 2012, trei delincventi, inclusiv Atsuya (jucat de Yamada), se refugiaza intr-un magazin vechi si se hotarasc sa astepte acolo venirea zorilor si apoi sa fuga, dar descopera ca ascunzatoarea lor, un magazin obisnuit, fusese detinuta de un batran care oferea sfaturi celor ingrijorati prin intermediul scrisorilor. Ceva ciudat se intampla in timpul noptii si Atsuya realizeaza ca o scrisoare va fi pusa in cutia postala, la miezul noptii. Este o scrisoare care cere un sfat, adresata batranului Namiya de la Magazinului Universal Namiya, scrisa de o persoana cu 32 de ani in urma. Desi greu de inteles cum, cutia postala este conectata cu trecutul, in anul 1980. Confuz, Atsuya scrie, totusi, un raspuns in locul proprietarului magazinului. Grupul de delincventi continua sa raspunda, si scrisorile apar cu incapatanare.
Pentru ca structura povestii este complicata, Higashino subliniaza ca: "Este posibil intr-un roman, dar va fi o provocare din punct de vedere creativ. Sunt nerabdator sa vad cum va iesi." Regizorul Ryuichi Hiroki continua "Este si pentru mine o provocare sa vad cate elemente fantastice din roman pot sa folosesc si cat de departe pot sa merg cu ele." Ramane de vazut cat de buna va fi adaptarea romanului lui Higashino (de altfel captivant, la prima vedere), unul din cei mai apreciati romancieri japonezi ai momentului, ale carui romane au stat la baza a numeroase ecranizari de-a lungul timpului, precum "Suspect X", "Into the White Night", "The Wings of the Kirin", "Platinum Data", "Broken" sau serialul japonez "Galileo" (si "Galileo 2").
Articol realizat de chocolate_cleo – asiacinefil