Home » NOUTÃŢI
Revolta democraticã din 1987 din Coreea – scenariu de film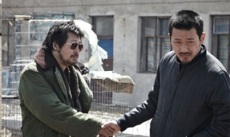 Cativa din greii cinematografiei coreene, printre Kim Yoon-seok din ""Will You Be There" si Ha Jung-woo din "Tunnel", sunt in ultima faza a negocierilor pentru a juca impreuna in "1987". Kang Dong-won ("Master") ar putea aparea si el intr-un rol special. Kim Tae-ri ("The Handmaiden") va avea rolul principal feminin.
Inca din 1972, de la implementarea Constitutiei Yusin de catre presedintele Park Chung-hee, presedintii sud-coreeni erau alesi in mod indirect de catre un colegiu electoral (care era desemnat de catre regim). Acest sistem a rezistat chiar si dupa ce Park a fost asasinat si inlocuit de Choi Kyu-ha, inlocuit de Chun Doo-hwan prin lovitura de stat din 12 decembrie. Poreclit 'Macelarul din Gwangju', fostul presedinte era cunoscut pentru punerea in aplicare a politicilor sale printr-o lege martiala stricta si prin cresterea prezentei militare in orase pasnice, exercitand astfel un control total asupra tarii. In 1980, fortele de politie au suprimat in mod brutal prin bataie, impuscare si ucidere demonstratiile studentilor din cadrul Revoltei din Gwangju (eveniment reflectat in productia "May 18").
In incercarea de a-si spori puterea si imaginea la nivel national si international, Chun Doo-hwan a decis sa tina alegeri in 1985, sub pretextul unei democratii care s-a dovedit a fi falsa. Rezultatul a aratat o victorie majora a opozitiei condusa de Kim Dae Jung si Kim Young Sam. Principalul punct din programul opozitiei era reprezentat de alegerile directe prezidentiale, iar Doo-hwan a initiat o campanie de intarziere, deliberare si amanare, dezbatandu-se luni de zile in Parlament, iar in 13 aprilie 1987 Chun a suspendat orice discutie pana dupa Olimpiada, spre nemultuirea coreenilor care au inceput demonstratiile.
In aceasta perioada, miscarea muncitoreasca, studentii si bisericile s-au sprijinit reciproc si au format o alianta pentru a pune presiune pe regim. Totul a dus la o mobilizare a unei parti a societatii coreene, care alaturi de opozitie a format rezistenta care s-a generalizat in timpul evenimentelor decisive din iunie.
In 1980, multi activisti studenti luptau impotriva lui Chun Doo-hwan, a dictaturii sale si a urmarilor masacrului din Gwangju. Park Jong-chul, presedintele Consiliului Studentilor din cadrul Departamentului Lingvistic al Universitatii Nationale Seul, a fost unul din acei student. Retinut in urma unei investigari, Park a refuzat sa dezvaluie locul in care se ascundeau alti cativa activisti. In timpul interogarii, autoritatile au folosit tortura (tehnica inecului), acesta murind pe 14 ianuarie. Evenimentele care au cauzat moartea lui Park Jong-chul au fost initial ascunse, dar CPAJ (Asociatia Preotilor Pentru Justitie) a dezvaluit adevarul pe 18 mai.
Odata cu intensificarea demonstratiilor, studentii Universitatii Yonsei au demonstrat la universitate pe 9 iunie si in timpul protestelor, studentul Lee Han-yeol a fost ranit grav cand o grenada cu gaz i-a strapuns craniul. In conditie critica, acesta a devenit rapid un simbol al protestelor. A decedat din cauza ranilor pe 5 iulie, dupa ce regimul a fost de acord cu cererile demonstrantilor.
Filmul "1987", regizat de Jung Joon-hwan ("Save the Green Planet", "Hwayi"), va arunca o privire mai atenta la aceasta lupta istorica dintre coreenii care doreau o democratie adevarata si transparenta, si presedintele tarii, care alaturi de autoritati a incercat sa mentina un control total.
Kim Yoon-seok si Kang Dong-won au mai lucrat cu regizorul Jung Joon-hwan in "Hwayi" si "Love for Sale", dar si impreuna in mai multe filme precum "Jeon Woo-chi" si in recentul "The Priests". Ha Jung-woo si Kim Yoon-seok au mai colaborat si ei la blockbuster-ul "The Chaser" si la "Yellow Sea".
Filmarile la "1987" vor incepe in a doua jumatate a lui 2017.
Articol realizat de chocolate_cleo – asiacinefil