Home » SOUNDTRACK
Red Cliff (2008) soundtrack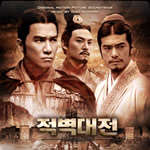 Interpreta: Alan
Melodie: "Xin Zhan" ("Red Cliff")
Muzica: Taro Iwashiro
Traducerea in romana: Asia Team Romania
Alan Dawa Dolma este o cantareata chineza cu origini tibetane, nascuta in 1987, extrem de activa in industria muzicala japoneza. La 20 de ani, in 2007, a debutat in Japonia, cu un single, "Ashita e no Sanka". In acest an interpreta si-a lansat si primul ei album, "Voice of Earth".

Alan mai e cunoscuta si pentru interpretarile ei la erhu (acea vioara traditionala chinezeasca), dar si pentru faptul ca toate incasarile din lansarea noii sale melodii, in 2008, au fost donate Crucii Rosii pentru ajutorarea victimelor cutremurului din Sichuan, provincia ei de bastina. In mai 2008, a fost prezenta pe scena festivalului de film de la Cannes, unde a interpretat tema muzicala a filmului "Red Cliff", actuala melodie. Mai trebuie spus ca pentru versiunea in japoneza a filmului a existat si o versiune in japoneza a melodiei.
Melodia a fost compusa de cunoscutul si apreciatul Taro Iwashiro, cel care a compus coloana sonora a numeroase filme de exceptie: "Blood and Bones", "Memories of Murder", "Spring Snow" sau "The Blue Wolf", fiind supranumit si "Ennio Morricone al Japoniei".