Home » DIVERSE
Rampant (2018) – Hyun Bin, Jang Dong-gun şi invazia de zombi din Joseon !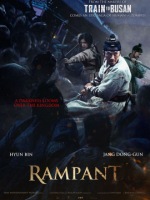 Echipa formata din regizorul Kim Sung-hoon si scenaristul Hwang Jo-yoon se reuneste dupa doar un an de la precedenta colaborare la blockbusterul "Confidential Assignment" pentru un nou proiect indraznet, "Rampant". Si din nou rolul principal i-a fost propus – si in cele din urma acceptat – de Hyun Bin, care se afla in fata celui de-al doilea rol intr-un film de epoca dupa "The Fatal Encounter" (2014). Mai mult, daca nu s-ar fi stins in tragicul accident de anul trecut, intr-un rol secundar l-am fi vazut, astazi, si pe indragitul Kim Ju-hyuk (cu care cei amintiti au colaborat, de asemenea, la "Confidential Assignment"), ce a fost inlocuit in cele din urma de Kim Tae-woo. Jang Dong-gun e celalalt star al productiei, acesta interpretand rolul negativ al unui ministru rapace din perioada tarzie a Joseonului. Cu multe figuri cunoscute in rolurile secundare, "Rampant" reuseste sa fie o productie atractiva pana la un anumit punct, mai exact pana in momentul in care realitatea istorica se intersecteaza cu fictiunea scenariului. Ca realizare, filmul nu dezamageste, e mereu dinamic, nu presupune un efort considerabil urmarirea subiectului ce e unul destul de simplist, astfel ca sub aspect vizual amatorii de aventura si actiune vor fi delectati din plin de maiestria in manuirea sabiei a celor doi protagonisti, de decoruri, costume, imagini spectaculoase. In mod paradoxal, exact ceea ce realizatorii au considerat punctul forte al filmului, s-a dovedit a fi ceea ce a dezamagit cel mai mult. E vorba de un scenariu construit pe de o parte in jurul unei intrigi politice la Curte (asta e partea pozitiva), si pe de alta parte in jurul unei teme de import, hollywoodiene, cea a "mortilor vii". Tema e una perimata, pana si la Hollywood perioada de glorie a acestui gen de filme era in anii '70-'80, cele mai reusite si celebre productii fiind cele ale lui George A. Romero. Pentru cinematografia coreeana, "Rampant" e al doilea film, dupa "Train to Busan", ce abordeaza o asemenea tema, plasata de aceasta data in decorul istoric al Joseonului de secol XIX. Producatorul – nu e deloc o coincidenta – e aceeasi companie coreeana Next Entertainment World care a produs si "Pandora" si "Train to Busan", deci e evident ca a mizat pe apetitul coreenilor pentru zombi, insa daca "Train to Busan" a beneficiat de un marketing agresiv si de o perioada de lansare ideala in plina vara – perioada de concedii -, "Rampant" nu a avut parte de acelasi tratament la box-office, lansat fiind in plina toamna. Desi s-a investit aproape dublu decat in "Train to Busan", aproximativ 15 milioane de dolari, incasarile de la box-office au fost dezamagitoare, nereusind sa depaseasca 12 milioane dolari. De ce a esuat ? E simplu de spus, dupa ce vizionezi filmul. Scenariul e predictibil, personajele sunt tipice pentru acest gen de filme, iar regizorul nu si-a dat silinta sa le dezvolte prea mult, cu toate ca filmul are peste 2 ore. In plus, zombi in Joseon…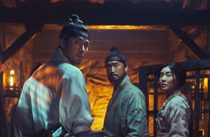 e similar cu extraterestri in Vestul salbatic, ceva mult prea fantezist pentru o tara fara o traditie in aceasta directie (vampirii, zombi sunt subiecte de import pe meleagurile coreene, ce nu au radacini in traditia populara, deci acceptarea lor de catre societatea conservatiare coreeana e putin mai dificila). E ciudat sa vezi zombi in hanbok sau cu celebrele palarii tipice nobililor din Joseon, mergand clatinandu-se in cautare de sange… Si se pare ca insusi publicul autohton nu prea a gustat aceasta reteta, indiferent cat de populari au fost actorii din rolurile principale. "Rampant" nu este un film rau, insa e ceea ce americanii numesc "film de popcorn": il vizionezi, iti ofera timp de doua ore adrenalina si tensiune pentru ca subiectul este unul tratat cat se poate de serios in ciuda unor usoare accente comice aduse in principal de prezenta actorului Jeong Man-sik in ipostaza de eunuc personal al lui Hyun Bin, dar la final nu raman prea multe lucruri de spus, iar dupa cateva zile i-ai uitat pana si titlul. Altfel spus, nimic memorabil, doar entertainment de moment.
Traducerea, adaptarea si timingul au fost realizate in premiera in Romania de gligac2002 (Asia Team) pentru asiacinefil.
Przentare realizata de cris999 – asiacinefil