Home » NOUTÃŢI, Uncategorized
RAIN şi Kim Tae Hee se cãsãtoresc!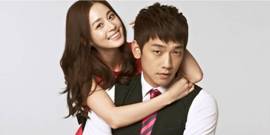 Pe 17 ianuarie, RAIN a postat pe Instagram o scrisoare scrisa de mana in care anunta logodna sa cu actrita Kim Tae Hee. Era si timpul!
"Buna ziua, sper ca toata lumea este sanatoasa in aceasta perioada atat de rece. Sunt Jung Ji Hoon. Au trecut deja 16 ani de cand am debutat. Fanii care au fost alaturi de mine in tot acest timp au devenit femei frumoase si mame.
Acum, pentru ca eu sunt fiul cel mare al familiei, trebuie sa incerc si eu sa devin un sot devotat. Kim Tae Hee a fost mereu alaturi de mine, fara incetare, in vremuri triste si vesele si nu inceteaza sa ma uimeasca. Increderea si iubirea unuia pentru celalalt este la fel de puternica precum la inceput si am decis sa facem acest pas.
Pentru ca traim niste vremuri mai dificile (N.T pe 9 decembrie 2016, dupa numeroase mitinguri, s-a anuntat ca presedintele Coreei de Sud, Park Geun-hye, a fost pusa sub acuzare de Adunarea Nationala, fiind obligata sa predea fraiele statului Primului Ministru), acest eveniment va fi unul retras si modest. Ne cerem scuze pentru ca nu putem dezvalui detalii legate de nunta.
Inca o data, va multumesc tuturor pentru dragostea si sprijinul acordat in peste 16 ani. Voi continua sa merg mai departe cu cariera mea, ca actor si cantaret, facandu-le pe ambele cu modestie si responsabilitate.
'She is the best present to me.' (Este cel mai bun cadou pentru mine).
N.T. RAIN face o trimitere la titlul melodiei produse de PSY, cu care RAIN a revenit pe 15 ianuarie in industria de muzica dupa trei ani, acesta fiind si titlul melodiei, multi banuind inca de la inceput ca este vorba de Kim Tae Hee).
La scurt timp dupa ce RAIN a postat scrisoarea pe Instagram, actrita Kim tae Hee a lasat un mesaj fanilor ei prin intermediul agentiei sale.
"Buna ziua, suntem Lua Entertainment,
A venit vremea ca actrita Kim Tae Hee si actorul si cantaretul Jung Ji Hoon (RAIN) sa intareasca legatura dintre ei si sa devina in mod oficial parteneri, asa ca dorim sa aducem la cunostinta ca cei doi doresc sa sa tina o ceremonie pioasa si modesta, sub indrumarea Bisericii Catolice, si pentru ca parintii celor doi doresc ca sa participe doar familiile, nu putem da detalii legate de nunta si nu au fost facute planuri pentru o luna de miere.
Kim Tae Hee doreste sa multumeasca tuturor pentru dragostea si sprijinul acordat si va face tot posibilul ca sa traiasca ca o familie exemplara, alaturi de viitorul sot. Va multumim inca o data pentru sprijin si va dorim un an cu mult noroc!"
FELICITARI SI CASA DE PIATRA!
Articol realizat de chocolate_cleo – asiacinefil