Home » DIVERSE
Psychokinesis (2018) – Ryoo Seung-ryong pe urmele supereroilor de la Hollywood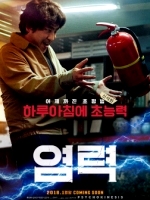 Suk-hun (Ryoo Seung-ryong) lucreaza ca agent de paza la o banca, fara a avea o viata iesita din comun. E un tata de varsta mijlocie obisnuit, ce-si are propriile pacate, parasindu-si cu multi ani in urma sotia si fiica. La un moment dat, acesta realizeaza ca a dobandit o putere paranormala, abilitate care ii va schimba pentru totdeauna viata: poate muta obiectele din jurul sau cu ajutorul puterii mintii ! Si de ce sa nu profite de acest dar divin pentru a avea un trai mai usor ? Drept urmare se gandeste sa faca bani lucrand ca magician intr-un club de noapte. Aflat inca sub impactul schimbarii bruste intervenite in viata sa, Suk-hun primeste intr-o zi un telefon de la fiica ei, Roo-mi (Shim Eun-kyung), care il cauta pentru prima oara in zece ani. Acesta ii da o veste trista, anume ca mama ei a murit pe neasteptate in timp ce incerca sa se opuna cu indarjire unei companii lacome ce incearca sa redezvolte zona. Afland de situatia fiicei sale, care a preluat restaurantul de la mama ei, dar si a altor chiriasi din cartier, ce sunt presati de conglomeratul ce vrea cu orice pret sa demoleze toate constructiile din zona, Suk-hun isi pune noua abilitate dobandita in slujba apararii localnicilor.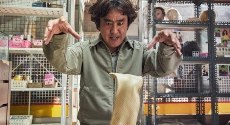 "Psychokinesis" e prima incercare a cinematografiei coreene de a calca pe urmele filmelor cu supereroi ce prind atat de bine la Hollywood. "Haunters" din 2011, cu Gang Dong-won si Ko Soo, se apropie cat de cat de aceasta tematica, insa acesta nu a fost atat de spectaculos precum actuala realizare, desi a avut un subiect mult mai intresant. Chiar daca nu s-a bucurat de succesul scontat, in ciuda faptului ca producatorii au distribuit in rolul principal un actor multipremiat – Ryoo Seung-ryong si o actrita populara dupa aparitia in "Miss Granny", Shim Eun-kyung, avandu-l pe Park Jung-min (Dongju: Portrait of a Poet) in rol secundar, filmul a debutat bine la box-office, fiind numarul 1 in saptamana premierei in privinta incasarilor. Ulterior s-a prabusit la box-office, semn ca povestea nu a convins publicul coreean, nereusind sa treaca de borna 1 milion de bilete vandute si de 7 milioane dolari incasari. Filmarile au inceput in urma cu un an si au durat aproape 4 luni, cu inca cateva luni bune necesare post-procesarii, etapa in care echipa de la efecte vizuale a intervenit pe materialul brut. Regia si scenariul sunt semnate de Yeon Sang-ho, autorul succesului "Train to Busan", regizorul de 40 de ani facand parte din tanara generatie de regizori coreeni fascinati de stilul hollywoodian de abordare a unei tematici.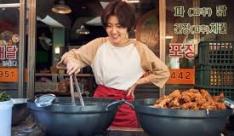 "Psychokinesis" e o fantezie de actiune si aventura in care Ryoo Seung-ryong nu este un supererou in sensul hollywoodian al cuvantului. Nu ia infatisari desprinse din benzile desenate, nu imbraca costume care sa-i puna in evidenta muschii sau forta fizica, si nici macar fizicul sau nu este unul "tras prin inel" ca al unui Superman sau Batman. Nu are misiunea de a salva lumea ori universul, nu este agent sub acoperire, singurul motiv pentru care imbraca elegantul costum negru fiind de a aparea pe scena clubului de noapte unde face numere de iluzionism. E un supererou atipic, ce a rupt legatura cu familia sa, dar pentru protejarea careia va face intr-un final tot ce-i sta in putinta. Dincolo de nota de fantezie si umor negru, filmul aduce si elemente ale realitatii cotidiene in poveste, ce tin de constiinta sociala, problema redezvoltarii urbane (care in Coreea a fost surprinsa in atat de multe productii de pe micul si marele ecran) sau chiar a brutalitatii politiei impotriva chiriasilor evacuati, ajungandu-se din nou la clasica tema a nedreptatii sociale. Scenariul evolueaza spre o confruntare intre chiriasii evacuati din zona ce urmeaza a fi redezvoltata si niste gangsteri angajati de conglomeratul ce doreste redezvoltarea, o confruntare in care eroul nostru va tine partea, desigur, celor napastuiti si nedreptatiti. Confruntarea din film aminteste de un incident din istoria recenta ce a ramas viu in memoria coreenilor, "dezastrul din Yongsan": in 20 ianuarie 2008, 40 de chiriasi evacuati au ocupat acoperisul unei cladiri cu 4 etaje din Yongsan, in centrul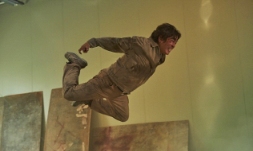 Seulului, protestand impotriva insuficientelor compensatii primite in schimbul redezvoltarii zonei. A urmat o confruntare cu jandarmii, insa inaintea asaltului jandarmilor, un incendiu a izbucnit si 5 protestari si un politist si-au pierdut viata. Seful politiei din Seul a demisionat, procuratura a concluzionat ca incendiul a izbucnit de la cocktailurile Molotov ale protestatarilor, iar in memoria colectiva a ramas un mare semn de intrebare legat de oportunitatea interventiei rapide a jandarmilor, care au precipitat lucrurile si au dus la tragedie. Un amestec de umor si efecte speciale subliniaza toate aceste aspecte, ce fac ca filmul sa nu fie unul superficial, dandu-i o incarcatura emotionala ancorata in realitate. Una peste alta, un film reusit, daca ne gandim ca e prima tentativa a cineastilor coreeni de a calca pe urmele filmelor cu supereroi de la Hollywood. Ramane de vazut daca acest gen va fi explorat in anii urmatori si cine se va incumeta sa o mai faca, cert e ca de acum, drumul a fost deschis.
Traducerea si adaptarea au fost efectuate in premiera in Romania de gligac2002 (Asia Team) pentru asiacinefil.
Prezentare realizata de cris999 – asiacinefil