Home » ASIA TEAM ROMANIA
Paa (2009)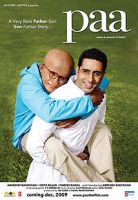 "Paa" este o drama regizata de R.Balki, nimeni altul decat regizorul laudatului "Less Sugar". In rolurile principale joaca tatal si fiul – Amitabh si Abhisheck Bachchan, amandoi cu prestatii remarcabile. Insa eroul acestui film este Amitabh, actorul veteran care la 67 de ani a suferit o transformare fizica deosebita cu ajutorul echipei de la make-up, care a reusit sa-l faca de nerecunoscut in rolul Auro. Umorul sarcastic al regizorului din primul sau film din cariera ("Less Sugar") atinge desavarsirea in "Paa". Filmul a fost inteligent narat, departandu-se de accentele melodramatice care ar fi facut deliciul regizorilor din Extremul Orient. Selectia copiilor actori merita mentionata, acestia interpretandu-si partitura natural si fiind, totodata, extrem de haiosi. Scenariul este superb, iar editarea video este pe masura. Toti criticii au fost unanimi in privinta prestatiei lui Amitabh Bachchan, despre care se spune ca ar fi meritat toate premiile din lume pentru acest rol. In schimb, fiul sau Abhishek are un rol foarte matur, iar daca la inceput ai fi tentat sa il urasti, pe parcurs ajungi sa-l intelegi perfect. Coloana sonora e asigurata de veteranul Ilaiyaraaja.
Filmul a fost filmat in Malaezia si Marea Britanie. Initial filmarile trebuiau sa se faca la Cambridge, insa datorita unui conflict de orar cu o festivitate de absolvire, filmarile au fost mutate la Bury St. Edmunds. Machiajul lui Amitabh a fost facut de o echipa de la Hollywood condusa de Christien Tinsley (faimoasa pentru munca de la Catwoman si The Passion of Christ) si Dominie Till (responsabila cu machiajul la trilogia Stapanul Inelelor). Filmul a fost inspirat din realizarea din 1996 a lui Francis Ford Coppola, "Jack". "Paa" este, totodata, si primul film produs de Abhishek Bachchan pentru compania familiei sale, AB Corp. Ltd. Acesta nu doar ca a fost unul din actorii principali, ci a fost si principalul organizator al muncii de productie (aspectele legate de buget, de marketing, si, in general de intreaga productie a filmului au cazut in sarcina lui).
Auro (Amitabh Bachchan) este un baiat inteligent si ingenious de 12 ani care sufera de o boala foarte rara: progeria. Din punct de vedere mental are mintea normal a unui copil de 12 ani, insa fizic arata ca si cum ar avea de 5 ori mai mult. In ciuda situatiei sale, Auro este un baietel foarte fericit. Traieste impreuna cu mama lui, care e ginecolog de meserie. Amol Arte (Abhishek Bachchan) e un tanar politician idealist, care iese in mijlocul oamenilor de rand pentru a le arata ca notiunea de "politica" nu este un termen condamnabil. In scurt timp se dovedeste ca Auro este fiul lui Amol, insa mama lui Auro ascunde acest lucru. Auro afla adevarul si isi doreste sa mearga in Delhi cu tatal sau. Treptat, acesta va incerca sa-i apropie pe parintii lui, insa mama lui rezista, inca afectata de faptul ca Amol dorise sa faca avort cand aflase prima oara ca a ramas insarcinata. Va reusi Auro sa-i impace pe parintii lui inainte ca necrutatoarea boala sa-l distruga ?
Un film care cu siguranta va fi o experienta de care va veti aminti mult timp de acum inainte. "Paa" va va lasa cu o lacrima in ochi dar si cu un zambet pe buze. Un film de nota 10 care va avea, se pare un sequel, "Maa", iar rolul mamei a fost oferit sotiei lui Amitabh Bachchan, Jaya Bachchan. Vizionare placuta !