Home » DIVERSE
Out of Inferno (2013) – Louis Koo şi Sean Lau într-o misiune de supravieţuire la limita imposibilului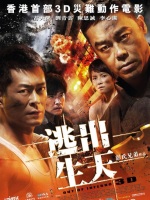 "Out of Inferno" este prima productie despre un dezastru realizata in Hong Hong in 3D si una din putinele productii de gen chinezesti ale ultimului deceniu. Cea mai memorabila productie-dezastru realizata in China e "Aftershock", despre cutremurul din Tangshan din 1976, un film cu 14 premii si 22 de nominalizari in regia lui Feng Xiaogang. Din 2010 au trecut deja 3 ani, iar in octombrie 2012, cunoscutii si prolificii frati Pang lansau in Hong Kong si pe continent o productie comerciala de actiune despre un incendiu ce cuprinde un zgarie nori dintr-un oras din sudul Chinei. Acest proiect a fost conceput de cativa ani, scenariul fiind scris de regretatul Szeto Kam-luen, unul din cei mai buni scenaristi ai filmului din Hong Kong (The Longest Nite, Exiled, The Accident, Flash Point, Shamo, Motorway, SPL), care a decedat in octombrie 2012 la doar 48 de ani. De altfel, fratii Pang au tinut sa dedice filmul acestuia, specificand acest lucru la final.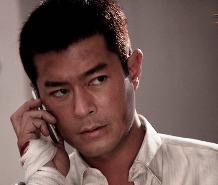 Filmarile, desi au fost ajutate de efecte speciale pentru a spori spectaculozitatea scenelor, au fost realizate la scara mare, adica in locatii reale, nu intr-un studio, pentru a fi asigurata autenticitatea scenelor de incendiu. De altfel, scopul celor doi regizori a fost pe deplin atins, imaginea flacarilor scotand la suprafata teama viscerala a protagonistilor si contribuind la realismul trairilor acestora. "Out of Inferno" a obtinut peste 21 de milioane de dolari incasari la box-office in China, fiind unul din filmele de succes ale anului ce se incheie. "Out of Inferno" ramane totusi departe de succesul productiei coreene "The Tower", care in 2012, cu o tema similara, a obtinut peste 35 de milioane de dolari incasari. In rolurile principale il revedem pe Sean Lau Ching Wan, care la 49 de ani e unul din veteranii filmului din Hong Kong si care revine intr-un rol de pompier dupa "Lifeline" (1998), si pe Louis Koo (din Drug War, Triple Tap, Connected sau The Accident), un actor ce nu mai are nevoie de nici o prezentare. In rolul rpincipal negativ a fost distribuita Angelica Lee, nimeni alta decat sotia unuia din regizori, Oxide Pang.
T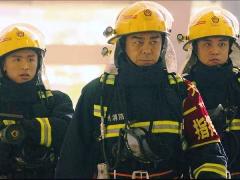 ai Kwan, pompier, casatorit cu Si Lok, asteapta un copil. Perspectiva aceasta Il determina pe primul sa-si dea demisia, pentru a putea consacra mai mult timp familiei, sau poate pentru a nu fi pentru ei o permanenta sursa de stres si Ingrijorare. Ei bine, Tai Kwan, In ziua aceea, se va Intalni cu sotia lui la Guangzhou International Commercial Centre, unde ea merge la o clinica la control ginecologic. Dar intalnirea nu are loc la cabinet, cum probabil si sotia, si medicul asteptau, ci are loc datorita unui context nefericit: In cladire se da alarma de incendiu, In urma nefunctionarii aerului conditionat din cauza umiditatii excesive. Keung, seful protectiei In caz de incendiu din cladire, frate cu Tai Kwan, organizeaza evacuarea invitatilor la o receptie, trimitandu-i pe scari In jos. In schimb incendiul, pornit la subsol, se propaga de jos In sus, practic publicul nemaiputand coborI. Acesta e trimis la etajul 15, unde ajunge scara-turn pe care vor putea coborI In siguranta. Keung se Intalneste cu Si Lok, cumnata lui, si Impreuna merg catre etajul de refugiu, care le ofera protectie Impotriva incendiului. Dar aici, surpriza: cantitati uriase de substante periculoase sunt depozitate ! Iar acestea nu Intarzie sa explodeze. Cum si daca vor reusi sa se salveze eroii nostri, ramane sa descoperiti urmarind filmul pana la final.
Un film-dezastru antrenant, care va va tine captivi in fata ecranelor din primul pana in ultimul moment. Multumiri pentru traducerea efectuata in premiera in Romania de lasedan (Asia Team) pentru asiacinefil.
Prezentare realizata e lasedan si cris999 – asiacinefil