Home » DIVERSE
Once Upon a Time in a Highschool (The Spirit of Jeet Kune Do) (2004) – Bruce Lee, un liceu şi o amintire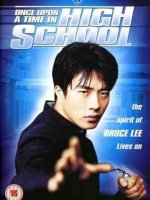 Ha Yu, inainte de a devein celebru cu doua filme de mare succes – A Dirty Carnival si A Frozen Flower – a regizat "The Spirit of Jeet Kune Do" (cunoscut si ca "Once Upon a Time in a Highschool"). Filmul a castigat premiul pentru scenografie la Festivalul Blue Dragon in 2004, avandu-l in rolul principal pe superstarul Kwon Sang Woo (71 into the Fire, More Than Blue, Almost Love). Filmul are parte de o linie a povestii placuta, profunda si plina de sensuri, actiunea declansandu-se relativ tarziu, regizorul lasand oportunitatea fiecarui personaj sa se desfasoare, sa acumuleze tensiune, care spre final sa se descarce intr-un mod aproape salbatic. Filmul in sine este violent pe alocuri, insa realist si, intr-o oarecare masura, daca e sa facem raportarea la orice scoala obisnuita din lume, mereu de actualitate. In fapt, avem parte de o imagine brutala a scolilor coreene de la sfarsitului anilor '70, insa titlul filmului nu tradeaza o productie de actiune sau un tribut adus lui Bruce Lee, ci mai degraba avem in fata o drama din care se pot trage o multime de invataminte. Trimiterile la Bruce Lee au rolul de a fi un exemplu pentru personajul central, anii '70 fiind marcati la nivel mondial de ascensiunea celui ce avea sa devina idolul unei intregi generatii de tineri rebeli (cu sau fara cauza).
1978, Coreea de Sud. Kim Hyun-soo este transferat de la un liceu obisnuit la unul cu profil pregatitor militar, de baieti. Regulile nescrise sunt cele care fac legea in liceu, bobocii fiind exploatati de cei din anii mai mari, iar pedepsele patrulelor studentesti sau paznicului militar al liceului sunt extrem de dure. Dupa ce parcurge aceste etape umilitoare, Hyun-soo se imprieteneste cu Woo-sik, batausul clasei, la care apelau toti cei care aveau nevoie de protectie. Impreuna cu Hamburger si Cheetah, se formeaza o gasca a clasei in care, pe nesimtite, se leaga prietenia. Dar in scurt timp apare in peisaj o fata de la un liceu de fete, Eun-ju, de care Hyun-soo se indragosteste imediat. Mai oportunist, Woo-sik intra pe fir, iar acest lucru va duce in timp la o fisura in prietenia celor doi. Dincolo de latura romantica, filmul prezinta duritatea vietii intr-un liceu militar din Coreea sfarsitului anilor '70, tradari si prietenii, lectii de viata unice intr-un universe scolar in care Bruce Lee este privit drept idol de tinerii acelor timpuri.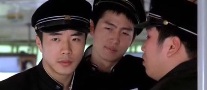 O drama captivanta, ce starneste amintiri fiecaruia din anii de liceu, de la rivalitatile intre colegii de clasa la fiorii primei iubiri, de la spiritul expansiv al fiecaruia la dezinteresul pentru povetele profesorilor. Un film special, interesant, cu un final destul de ambiguu pentru cei neobisnuiti cu filmele coreene, si poate un deznodamant destul de neasteptat.al povestii de iubire. Insa de aceasta data, lipsa unei rezolvari satisfacatoare a scenariului functioneaza perfect tocmai datorita extravagantei discursului narativ de la nceput pana la sfarsit. Vizionare placuta !
Prezentare realizata de cris999 – asiacinefil.com