Home » DIVERSE
Once Upon a Time (2017) – Liu Yifei şi o iubire cât o mie de mile de piersici înfloriţi…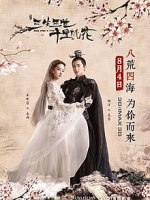 "Once Upon a Time" (2017) a fost unul din succesele de box-office ale acestei veri in China, alaturi de "Wu Kong" si "Brotherhood of Blades 2". Filmul marcheaza o inedita colaborare in echipa de productie intre doi nominalizati la Oscar, e vorba de Zhao Xioading si Anthony LaMolinara. Zhao Xiaoding e regizorul de imagine preferat al lui Zhang Yimou, ce a asigurat filmarea unor productii precum "The Great Wall", "Coming Home", "The Flowers of War" sau "Curse of the Golden Flower", fiind nominalizat la Oscar pentru Cea mai buna imagine cu "House of Flying Daggers". Anthony LaMolinara e un specialist in efecte speciale de la Hollywood, nominalizat la Oscar (pentru efectele vizuale din "Spider Man") si castigator de Oscar (pentru efectele vizuale din "Spider Man 2"). Cei doi debuteaza ca regizori cu "Once Upon a Time", un film lansat in cinematografe cu o luna in urma, cu un buget de nu mai putin de 22,5 milioane dolari, ce a adus producatorilor incasari de 83 de milioane dolari. Povestea ce a stat la baza scenariului e celebra in China, "Three Lives Three Worlds, Ten Miles Peach Blossoms" (cunoscuta si sub numele de "To the Sky Kingdom"), fiind scrisa de TangQi Gongzi. La inceputul acestui an a fost difuzat un serial inspirat din acelasi roman, "Eternal Love", foarte popular in China, unde a avut, in mediul online, 35 de miliarde de vizualizari cu peste 29 de milioane de comentarii ! Locul protagonistilor serialului, Yang Mi si Mark Chao, e luat in film de celebra Liu Yifei (Night Peacock, The Third Way of Love, For Love or Money, The Four), ce revine intr-o fantezie romantica la 6 ani distanta de "A Chinese Fairy Tale", si Yang Yang, un cantaret si actor de televiziune (The Lost Tomb, The Four – serialul, Love 020) cu 4 ani mai mic decat partenera sa. Filmul a fost bine primit de fanii chinezi ai povestii, insa pentru publicul occidental neobisnuit cu fanteziile chinezesti ce au la baza ideea reincarnarii, firul epic poate parea putin incurcat.
Printesa Bai Qian (Liu Yifei) e o Nemuritoare Regala din Qingqiu, un regat magic in care vietuiesc personaje cu puteri supranaturale. Ea insasi e o Vulpe cu Noua Cozi cu chip uman, ce are 140.000 de ani. Ajunsa spre sfarsitul varstei propice maritisului, aceasta se delecteaza toata ziua prin dumbrava de piersici infloriti in compania ulciorului cu dulcele vin de piersici care o face sa uite de toate grijile. Cand isi revine din euforie, afla ca de fapt e logodita cu Printul Mostenitor al Regatului Cerului, Ye Hua, o logodna din interes, "predestinata", cu cineva pe care nu l-a mai vazut niciodata… sau cel putin asa are ea impresia. La o petrecere tinuta la Marea Sudului, isi cunoaste logodnicul si afla ca acesta e si tatal unui baietel a carui viata Qian i-o salveaza din mainile Reginei Demonilor, ce se infiltrase la eveniment. Bulgaras de Orez, cum il porecleste pe copilas, pe numele adevarat A Li, in mod suprinzator ii spune "mama", tulburand-o si mai mult, mai ales ca toata lumea vorbeste de Qian si de Printul Ye Hua ca de un cuplu ce e impreuna de mult timp, ca si casatorit. Treptat, Qian ajunge sa descopere iubirea adevarata in compania Printului, insa un secret teribil ce vine dintr-o viata anterioara va rasturna toate asteptarile…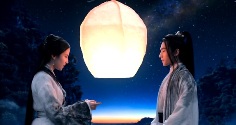 "Once Upon a Time" e o fantezie romantica ce debuteaza ca un basm, cu personaje de basm amuzante si decoruri viu colorate si vesele. Dupa primele cadre ai spune ca ai in fata o fantezie de familie destinata publicului minor, in genul unei "Veronica" clasice de la noi. Dar nu dupa mult timp, filmul isi schimba tonalitatea, punand accentul pe povestea romantica ce se infiripa intre cei doi protagonisti, Printesa Qian, interpretata de eterna Vulpita cu Noua Cozi a filmului de fantezie chinezesc, Liu Yifei, ce are o priza deosebita la public cand apare in roluri principale in fantezii sau de epoca, si Printul Ye Hua, interpretat destul de ezitant de Yang Yang, un actor de televiziune din tanara generatie a carui chimie cu Liu Yifei e mai degraba trasa de par. Intre ei intervine si Bulgaras de Orez, un copilas simpatic ce se pretinde rodul iubirii celor doi, dar de care Printesa Qian nu-si aminteste. Cheia intelegerii povestii incurcate a filmului sta in ideea de karma si reincarnare, doua notiuni mai putin cunoscute publicului occidental. Lipsa de experienta ca regizori a celor doi cineasti debutanti face ca unele aspecte cruciale ale firului epic sa nu fie lamurite de la inceput, acestia probabil deducand ca toata lumea a vazut serialul "Eternal Love" sau a citit celebrul roman ce a fost ecranizat. Ideea este ca atat Printul cat si Printesa sunt o reincarnare a unor personaje care s-au mai intalnit in cel putin o existenta anterioara, pe fundalul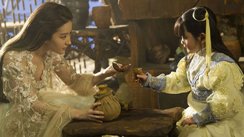 unei confruntari epice intre fortele Binelui si cele ale Raului, intre Regatul Cerului si Clanul Demonului, in urma cu 70.000 de ani. Acest indiciu cu siguranta va ajuta un spectator neavizat sa inteleaga cat de cat unele lucruri ce se petrec in film fara vreo explicatie prealabila. In rest, ca realizare, filmul se ridica la nivelul asteptarilor: decoruri minunate, chiar daca multe sunt facute pe calculator; costume superbe, ca a unor adevarati printi si printese de basm; efecte vizuale si sonore de mare rafinament si spectaculozitate. Liu Yifei isi interpreteaza rolul incantator, insa Yang Yang nu se ridica la nivelul asteptarilor publicului, refuzand sa iasa din etalonul specific printilor de basm, lipsiti parca de personalitate, dar atat de… ideali pentru orice printesa. Un film placut de urmarit, insa probabil serialul se ridica peste nivelul sau, dat fiind faptul ca povestea e extinsa si explicata in amanunt pe durata a 58 de episoade a 45 de minute fiecare. Cine doreste sa inteleaga mai bine povestea si conexiunile intre personaje, poate urmari, daca nu a facut-o deja, si serialul "Eternal Love", cu siguranta va merita.
Traducerea adaptarea si timingul au fost efectuate in premiera in Romania de gligac2002 (Asia Team) pentru asiacinefil.
Prezentare realizata de cris999 – asiacinefil