Home » DIVERSE
Old Bicycle (2015) – un bunic, un nepot şi o bicicletã veche…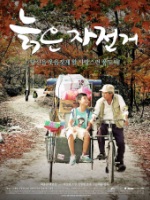 Regizorul si scenaristul Moon Hee-young isi uneste fortele cu mult mai cunoscutul scenarist Lee Man-hee ("71 Into the Fire", "R2B: Return to Base", "Operation Chromite") pentru a ne aduce in fata ochilor o productie independenta emotionanta despre o prietenie ce invinge orice bariere intre un nepot si bunicul sau. Lee Man-hee e cel care a scris povestea originala, iar cand vorbim despre tematica copilariei vazute prin ochii unui copil nu putem sa nu ne amintim de un alt scenariu emotionant de-al lui, cel al productiei "When I Turned Nine" (2004). Protagonistii povestii sunt Choi Jong-won, unul din veteranii de top ai filmului coreean, indragit din zeci de filme si seriale, si actorul copil Park Min-sang, care la 11 ani bifeaza primul rol principal din cariera. In rolurile secundare nu pot fi trecuti cu vederea Park Sang-myeon sau Jo An (din Shinning Romance). Fiind o productie independenta, realizata cu buget redus, filmarile au durat doar o luna, de la sfarsitul lui august pana la sfarsitul lui septembrie 2014. Dificultatile financiare au facut ca premiera in cinematografe sa aiba loc abia peste un an, in noiembrie 2015.
Bunicul Choi, cum ii spune lumea, e un batranel artagos, ce se ia la harta cu toti, avand un mare defect: e dependent de bautura. Are o bicicleta veche in care cara tot felul de maruntisuri pe care le vinde prin piata, din profitul obtinut platindu-si cand apuca chiria intr-o camera inchiriata, restul ducandu-se pe vinul de orez. Comerciantii din piata ii stiu naravul si il accepta asa cum e, si, in ciuda conflictelor dese in care intra, e simpatizat de toata lumea, de la omul de rand la seful de post. Intr-una din zile in viata lui apare micul Pung-do, nepotul sau. Ramas orfan in urma mortii tatalui sau, acesta isi cauta bunicul in speranta ca nu va ajunge la orfelinat. Dar ca si bunicul sau, Pung-do e si el o fire incapatanata. Ce se intampla cand doua persoane incapatanate trebuie sa se impace cu soarta si sa imparta acelasi acoperis, care de multe ori e chiar cerul liber ? Desigur, ajung sa faca compromisuri, pentru ca, vorba ceea: "sangele apa nu se face". Trebuind sa se accepte unul pe celalalt si sa devina familia ce nu au fost vreodata, cei doi ajung, si cu ajutorul oamenilor simpli din piata, sa lucreze cot la cot si astfel ia nastere o relatie de prietenie bunic-nepot unica. Va avea soarta rabdare cu cei doi ?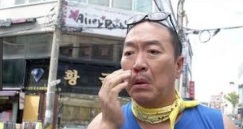 "Old Bicycle" exploreaza prietenia care se naste intre un nepot si bunicul sau, in momentul in care Pung-do, ajuns in voia sortii dupa moartea tatalui sau, isi cauta bunicul pentru a ramane in grija acestuia, alternativa orfelinatului nefiind deloc una benefica dezvoltarii sale intelectuale si umane. Istet si artagos, pus pe sotii si mereu dornic sa obtina ceea ce-si propune, Pung-do isi cunoaste bunicul intr-un moment delicat al vietii acestuia. Relatia cu fiul sau decedat se racise cu multi ani in urma, astfel ca vestea mortii acestuia il lasa indiferent. Cum la fel de indiferent e si la intentiile nepotului sau de a ramane in grija lui. Cazut in patima alcoolului, singura lui preocupare e sa isi asigure fondurile zilnice pentru a-si cumpara vin de orez. Incapatanarea si istetimea lui Pung-do il vor face pe bunic sa se deschida si, treptat, sa cedeze insistentelor nepotului sau, acceptandu-l in grija sa. Treptat, cei doi se descopera pe sine: Pung-do se maturizeaza, invatand lectii pretioase de viata de la bunicul sau, in timp ce bunicul artagos realizeaza ca avand acum o familie, trebuie sa iasa cu fruntea sus de pe scena vietii si sa lase ceva in urma sa. Prietenia ce ia nastere intre cei doi e una induiosatoare, dincolo de anumite momente comice ce ii dau culoare. Desi realizat cu un buget de film independent, "Old Bicycle" reuseste sa te captiveze prin simplitatea sa. Regizorul ne ofera franturi din vietile unor oameni simpli, ce-si duc traiul vanzand maruntisuri zi de zi prin piete, ce nu au vise marete ci cel mult niste sperante tipic omenesti, realizabile cu pasiune si munca dedicata. Remarcabila interpretarea actorului veteran Choi Jong-won, un bunic care va va merge cu siguranta la suflet prin hazul si omenia sa, in ciuda defectelor numeroase pe care le are. Chiar daca scenariul nu ofera nimic spectaculos, "Old Bicycle" ramane un film de familie de vazut, ce nu abuzeaza de latura melodramatica pentru a ne transmite mesajul sau cald si profund uman.
Traducerea si adaptarea au fost efectuate in premiera in Romania de Elenas (Asia Team) pentru asiacinefil.
Prezentare realizata de cris999 – asiacinefil