Home » NOUTÃŢI
Nume mari pe micile ecrane în 2016 !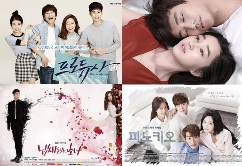 Seriale ce se anunta a fi de succes vor fi difuzate in 2016. Motivul pentru care sunt atat de asteptate este datorita distributiei: multi actori tineri, unul mai frumos si celebru decat celalalt!
In sfarsit il avem pe Song Joong Ki intr-un nou serial, la KBS2, in "Descendants of the Sun", incepand din februarie. Actorul joaca rolul unui soldat dupa ce in viata reala si-a incheiat serviciul militar obligatoriu. Rolul sau este al unui soldat al Fortelor Speciale.
Au aparut temeri ca felul in care arata va fi in defavoarea personajului jucat, insa temerile au fost alungate dupa ce a aparut primul teaser al serialului. Actorul arata mai sexy si se vede ca s-a maturizat frumos. Partenera sa Song Hye Kyo este o alegere potrivita si se pare ca va fi un serial cu un rating foarte bun.
Park Hae Jin se intoarce la tvN in serialul "Cheese in the Trap" jucand rolul lui Yoo Jeong, un tip perfect. A fost prima alegere pentru acest rol si dupa aflarea noutatii, fanii asteapta cu nerabdare sa vada transformarea actorului. Park Hae Jin ce joaca rolul lui Yoo Jeong, este tipul perfect care e invidiat de toata lumea. Acesta, insa, este mereu suspicios si imprevizibil. Rolurile in care era un tip aratos sau un psihopat il vor ajuta cu siguranta pentru a portretiza mai bine acest rol. Dupa mai multe amanari, serialul a debutat in sfarsit in aceasta saptamana pe micul ecran.
Jung Ji Hoon se intoarce si el pe micile ecrane in serialul celor de la SBS numit "Please Come Back, Mister", cu un scenariu bazat pe un roman japonez. Povestea este despre o femeie si un barbat care revin la viata cu o conditie. Jung Ji Hoon joaca rolul lui Lee Hae Joon, un om de 40 de ani care moare de epuizare la locul de munca si revine la viata fiind un tanar de 30 de ani. RAIN (Jung Ji Hoon) va juca alaturi de Lee Min Jeong si Oh Yeon Seo.
Lee Jin Wook se intoarce la MBC cu serialul "Goodbye, Mr. Black", cu un scenariu adaptat dupa un desen animat. Acesta va juca alaturi de Moon Chae Won.
Lee Jin Wook il va juca pe Cha Ji Won (Black) ce risca sa moara in repetate randuri macinat de dorinta de a se razbuna.
Lee Je Hoon si Jo Jin Woong se intorc la tvN in "Signal" si Jeong Kyeong Ho cu "Happy Ending Once Again" alaturi de Jang Nara.
Acestor seriale li se adauga cele cu actori consacrati, precum "Jang Young-sil", ce marcheaza revenirea lui Song Il-gook pe micul ecran (serial a carui difuzare a inceput chiar in a doua zi a acestui an), "Moon Lovers" cu Lee Jun-ki, in toamna lui 2016, si tot atunci mult asteptata revenirea a lui Lee Young-ae in "Saimdang, the Herstory". Cu siguranta vor mai fi surprize in acest an, astfel ca iubitorii de k-drame cu siguranta nu se vor plictisi.
(Sursa: Hancinema)
Articol realizat de chocolate_cleo – asiacinefil