Home » DIVERSE
Now and Forever (2006) – o producţie memorabilã de profunzimea lui "A Moment to Remember"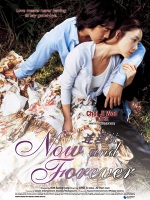 Intr-o zi deosebita ca cea de 8 martie, ce cadou putea fi mai potrivit decat un film deosebit ? Iar cand din distributie face parte o mare stea a filmului coreean, ca Choi Ji-woo, aceasta nu poate constitui decat o garantie a calitatii. Iar "Now and Forever", desi a fost realizat in anul 2006, poate fi alaturat, in galeria filmelor memorabile coreene, unui "A Moment to Remember" fara nici un fel de probleme. Este o veritabila realizare de exceptie, cu un scenariu ce nu te lasa sa ratacesti in explicatii inutile, fara scene de umplutura, care imbina doua genuri diametral opuse: comedia si melodrama. Daca credeati ca nu exista comedii… melodramatice, adica acel gen de filme la care cu un ochi razi si cu unul plangi, "Now and Forever" va va demonstra contrariul. Ce imagine mai realista despre viata poate fi zugravita intr-un film decat aceea care te face sa razi si te amuzi copios, si, totusi, in final, sa sfarsesti in lacrimi ? Nu stiu cati dintre voi au avut sansa de a-l vedea pe actorul din rolul principal, Jo Han-seon, interpretand vreun rol intr-un film. In "Now and Forever" se afla la al doilea rol intr-un film pentru marele ecran, iar ceea ce veti vedea in acest film este o perfecta metamorfozare din rolul comic al unui playboy mereu cu zambetul pe buze in rolul dramatic al unui barbat indragostit responsabil. Atat zambetele cat si lacrimile sunt atat de credibile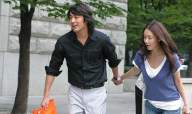 si naturale incat potrivirea cu partenera sa din film, mult mai experimentata Choi Ji-woo este perfecta. Cu siguranta daca acest actor ar fi optat pentru o cariera cu precadere pe micul ecran, in seriale de televiziune (pana in prezent are la activ un rol intr-o k-drama, in 2004, si 8 filme pentru marele ecran), cu siguranta si-ar fi gasit locul alaturi de un So Ji-sub sau Song Seung-hoon. Are o frumusete care nu ar fi trecut neobservata doamnelor si domnisoarelor, iar interpretarea din acest film ne arata ca are si talent, atat pentru roluri comice cat si dramatice. In ce o priveste pe Choi Ji-woo, orice cuvinte sunt de prisos. E o actrita desavarsita, si chiar daca pana in prezent cariera i-a fost marcata de roluri melodramatice care i-a adus celebritatea in intreaga lume a iubitorilor de k-drama, in "Now and Forever" demonstreaza o extraodinara capacitate de a interpreta si roluri comice, cu o dezinvoltura si cu un optimism debordant. Regia si scenariul sunt semnate de "anonimul" Kim Seong-jung, care a realizat un film stralucit, ce a ramas, din pacate, pana in prezent, si singurul din cariera sa.
Min Su (Jo Han-seon) este ceea ce in termeni moderni am putea defini prin cuvantul "playboy": un tanar ce-si traieste viata la maxim, seducand si abandonand femei naïve pe banda rulanta si cu zambetul pe buze. Are o decapotabila ce atrage privirile oricarei domnisoare materialiste si e co-fondator al unei companii ce se ocupa cu crearea de jocuri video. Mereu imbracat la patru ace si cu un comportament arogant si superficial, duce o viata pe picior mare, necunoscand pana la 30 de ani iubirea adevarata. Facand ochi dulci unei domnite in trafic, Min Su are un accident usor, iar asociatul sau decide sa-l trimita la un control medical la o clinica, ranile minore putand ascunde leziuni interne majore. Intamplarea face ca in drum spre spital sa o cunoasca pe Hye-won (Choi Ji-woo), ce astepta intr-un refugiu un autobus care intarsia sa mai soseasca. Udata leaorca de masina lui Min Su, acesta din urma opreste si o ea cu el spre destinatia fetei. Hye-won pare a fi o asistenta inr-un spital, si face mandrul playboy ce face si fata isi uita celularul in masina. Acum exista pretextul seducerii acesteia, si chiar face un pariu cu asociatul sau ca in 3 zile a cucerit-o. Ce nu stie el e ca Hye-won va fi fata de care se va indragosti iremediabil, si pentru care va fi dispus sa renunte la viata sa libertina.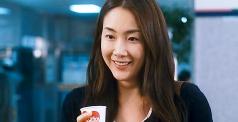 Daca doriti sa vedeti un film care sa va tulbure fiecare particica a sufletului, in mod sigur nu trebuie sa ratati "Now and Forever". Povestea e una banala, ca miliarde de povesti de iubire, indiferent de loc si timp, ce se nasc din intamplare, si care cu fiecare pas ne umple sufletul de emotii care pe final cu greu pot fi controlate. Reintalnim copacul iubirii (ce l-am vazut si in My Sassy Girl, Tree of Heaven, Road No One etc) ca laitmotiv si pretext al amintirii iubirii, iar finalul ne aduce aminte de lacrimile lui Lee Byung-hoon din incheierea lui "Once in a Summer", undeva pe o banca… Si melodia de final este una foarte cunoscuta in Coreea (asemanatoare ca popularitate unui "Bo Go Ship Da" din Stairway to Heaven), interpretata si reinterpretata de multi cantareti coreeni. Cel care a cantat-o prima data (in 1996), si care apare si pe fundalul sonor al filmului este "Regele baladelor", Shin Seung-hoon, o voce apreciata de peste 2 decenii in Coreea, cunoscuta pentru melodii de pe coloana sonora a multor seriale si filme de succes: "Eye of Iris" (IRIS), I Believe (din filmul "My Sassy Girl"), melodia de pe fundalul serialului "Forget me Not", "It's still love din "A Love to Kill" etc. "Now and Forever" e un film in care totul este la superlativ, o poveste ce nu poate lipsi din sufletul iubitorilor filmului coreean.
Articol realizat de cris999 – asiacinefil.com