Home » DIVERSE
My Love, Don't Cross That River (2014) – documentarul coreean ce a rescris istoria filmului independent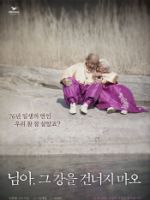 "My Love, Don't Cross That River" (2014) este un documentar coreean eveniment, regizat de debutantul Jin Mo-young. Urmarind povestea ultimelor luni impreuna a unui cuplu casatorit de 76 de ani, documentarul a avut premiera la Festivalul International de Film Documentar DMZ in 2013, unde a castigat Premiul Audientei, iar la un an distanta producatorul a decis sa inscrie filmul in circuitul cinematografic autohton. Rezultatul a fost fantastic: realizat cu un buget de 110.000 $, filmul a castigat la box-office colosala suma de 34,3 milioane dolari ! Povestea cuplului de batrani a impresionat o intreaga tara, lumea mergand sa vada productia mai mult din auzite si din recomandarile celor ce au vazut-o, fara a se investi vreo suma colosala in promovarea filmului. "My Love, Don't Cross That River" a devenit, astfel, cel mai de succes film independent (documentar) din Coreea din toate timpurile. In prima saptamana de rulare in cinematografe, filmul a fost in fruntea box-office-ului, cu 4,6 milioane dolari incasari, surclasand productii hollywoodiene cu bugete uriase, gen "Interstellar" sau "Exodus: Gods and Kings". Pana in prezent, filmul a castigat 3 premii si a avut 3 nominalizari. Ramane sa vedem daca va fi premiat si la Baeksang Arts Awards (mai mult ca sigur). Cuplul din acest film, el – Jo Byeong-man (98 de ani) si ea – Kang Kye-yeol (89 de ani) a aparut intr-un documentar KBS in 2011, pe care regizorul filmului l-a vazut. A dat repede fuga in munti, in zona unde acestia locuiau (Hoengseong, in provincia Gangwon) si i-a intrebat daca poate sa le transpuna povestea intr-un film. Obtinand acordul acestora, regizorul si-a luat echipa de filmare si a filmat actualul documentar despre viata celor doi de zi cu zi, documentar ce e rodul a nu mai putin de 15 luni de filmari.
Jo Byeong-man (98 de ani) si Kang Kye-yeol (89 de ani) sunt un cuplu casatorit de nu mai putin de 76 de ani. Ea l-a intalnit prima oara la 14 ani, el ramasese orfan de parinti si s-a angajat la familia fetei ca zilier. Iubirea care s-a nascut intre cei doi a durat 76 de ani, pana in zilele noastre, cand ii regasim traindu-si viata in cel mai simplu mod cu putinta in munti, izolati de lume. Si cu multe amintiri… Ca niste copii, nu ezita sa imprastie frunzele si sa se joace cu ele toamna, sa se bulgareasca iarna si sa se bucure de natura ce prinde din nou viata primavara. Privindu-i, ai spune ca sunt cel mai fericit si lipsit de griji cuplu din lume si nu poti sa nu fii curios care e secretul longevitatii fericirii lor, caci se iubesc la fel de puternic ca in prima zi. Familia numeroasa ii viziteaza in momentele festive, cum e sfarsitul de an si ziua de nastere a bunicii Kang, iar in viata e zi cu zi aventurile celor doua cateluse ale familiei le alina dorul de tinerete. Niciodata nu au simtit singuratatea impreuna, si-au trait viata din plin, in ciuda nenorocirilor aduse de destin, pe care ni le vor dezvalui pe parcurs. Si totusi, sfarsitul bate la usa… Poate iubirea lor sa invinga tristetea despartirii de aceasta lume ?
Un semi-documentar de exceptie, ce va va impresiona pana la lacrimi prin simplitatea lui si prin povestea emotionanta de viata a celor doi batranei. Poate fi trecut impreuna raul ce desparte lumea noastra de cea de dincolo, a singuratatii ?
Mai multe detalii depsre acest documentar puteti citi in urmatorul articol realizat de colega noastra chocolate_cleo: http://www.asiacinefil.com/my-love-dont-cross-that-river-documentarul-despre-adevarata-iubire/
Traducerea si adaptarea documentarului a fost realizata de gligac2002 (Asia Team) pentru asiacinefil, in premira in Romania !
Prezentare realizata de cris999 – asiacinefil